A Look Into Thrill Island on Icon of the Seas
Royal Caribbean has everyone talking about their newest upcoming ship, Icon of the Seas. Royal Caribbean previously detailed their Surfside neighborhood, a part of the ship specifically designed for families. It has everything a family needs: play structures, a kid-friendly buffet, water slides, and an infinity pool. But many were wondering what's on the ship for those without small children, and the answer is Thrill Island. The latest episode of Royal Caribbean's "Making an Icon" video series tells us more about one of the newest neighborhoods, called "Thrill Island."
Thrill Island is for adventure
Thrill Island is located on the aft of Deck 16 on Icon of the Seas. It's home to a variety of thrilling adventures that people of all ages can enjoy. From tried and true Royal Caribbean attractions like FlowRider and the rock wall, to new elements like Crown's Edge, Thrill Island has it all.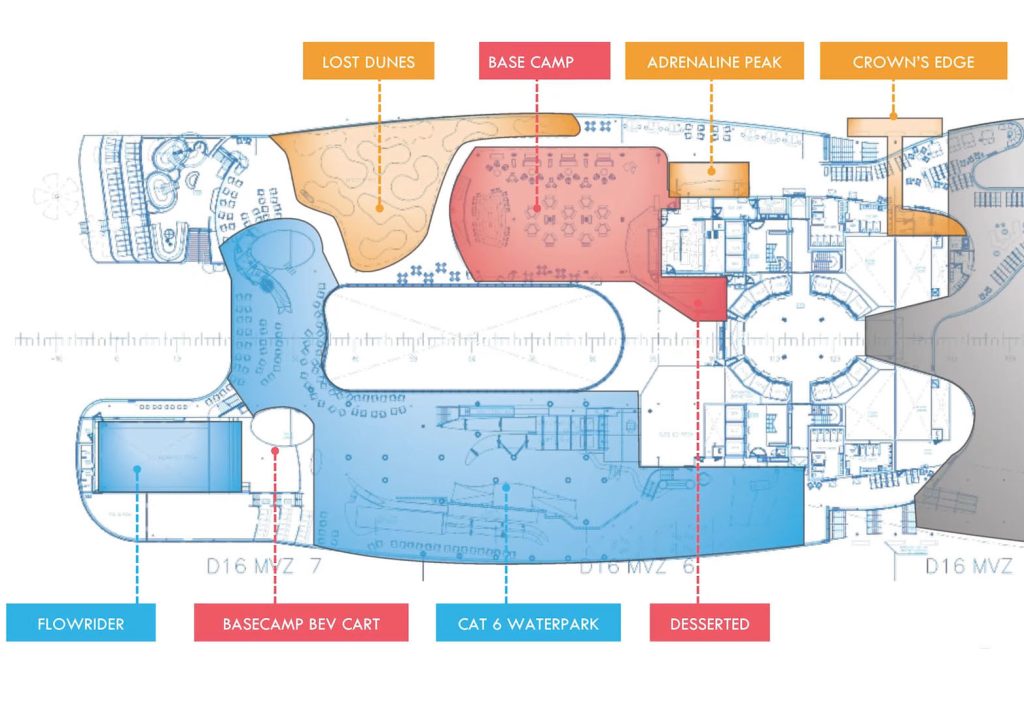 It's not just adventure, though. Royal Caribbean has done a fantastic job at theming this neighborhood to a level only seen in the best theme parks. Thrill Island is supposed to resemble a lost island, with colorful distressed wood and pieces of shipwreck found throughout the space. It's a welcome change from the Sports Area that serves a similar function on the Oasis-class ships. That area feels very industrial, with lots of white steel and little shade or ambiance.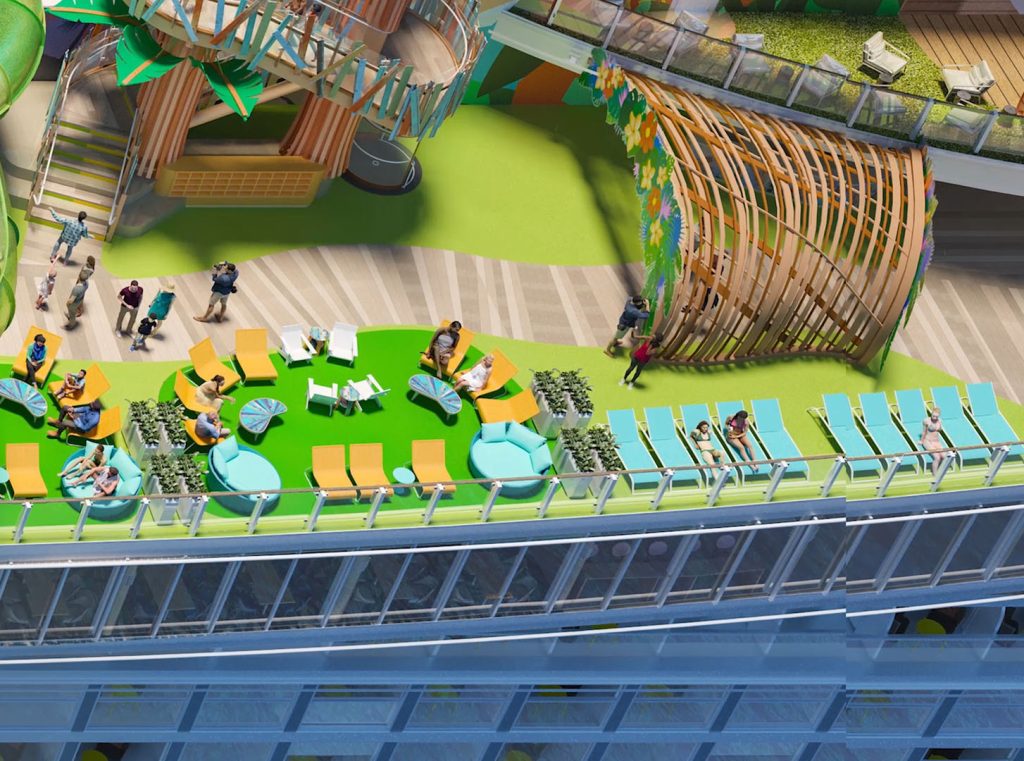 On Thrill Island, Royal Caribbean tried to update the whole experience to make it a multi-generational area. Guests will find lots of shade, comfy seating, snacks, and bars near the many attractions. It makes it truly multi-generational, so Grandma and Grandpa can relax while watching their older grandkids scaling the rock wall or surfing on FlowRider. 
Category 6 Waterpark
While other cruise lines like Carnival have featured waterslides for years, Royal Caribbean was late to the water slide craze, but they really stepped up their game once they got into it. Over the years, they've added bowl slides, slingshot slides, and even a water coaster on the Navigator of the Seas. But the Icon of the Seas will take it to the next level with the Category 6 Waterpark, which takes up the starboard side of Thrill Island.
Category 6 Waterpark will be the largest waterpark at sea. With a footprint of 17,010 square feet and six record-breaking slides, it can even put some land-based waterparks to shame.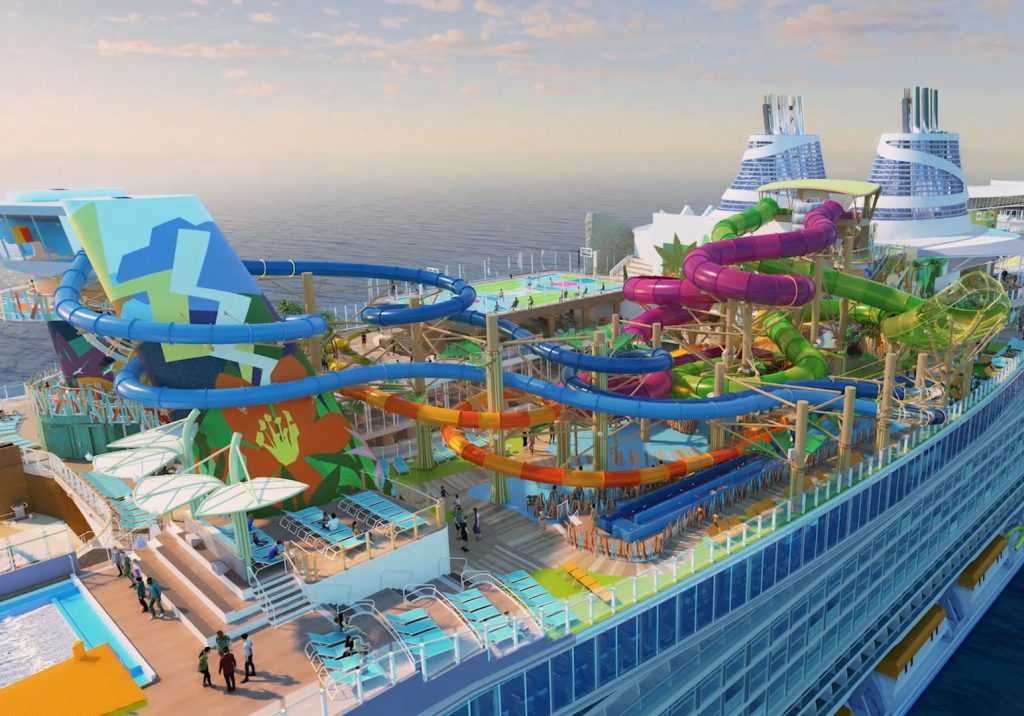 The slides here are completely unique, not just a rehash of Royal Caribbean's Perfect Storm slides found on their other ships. 
Frightening Bolt – the tallest drop slide at sea
Frightening Bolt is the most intense of the bunch and will intimidate even the bravest people. You get in the slide, and the floor drops from under you, sending you 46 feet down and through a full 360-degree loop. 
Storm Chasers- first duo-mat racing slides at sea
Sliding down a water slide face-first on a waterslide just feels different. It's much more exhilarating, and you feel the water splash your face as you speed down the inclines. Storm Chasers is a dueling mat slide so you can challenge your friend or family member to see who's fastest. 
Hurricane Hunter – first family raft slide at sea
Hurricane Hunter is a family raft slide that can seat four people per tube. That's right; Royal Caribbean managed to pack a large-format waterslide on a cruise ship (technically two if you read below). Hurricane Hunter is a mostly enclosed tube and will send your family through 425 feet of twists and turns.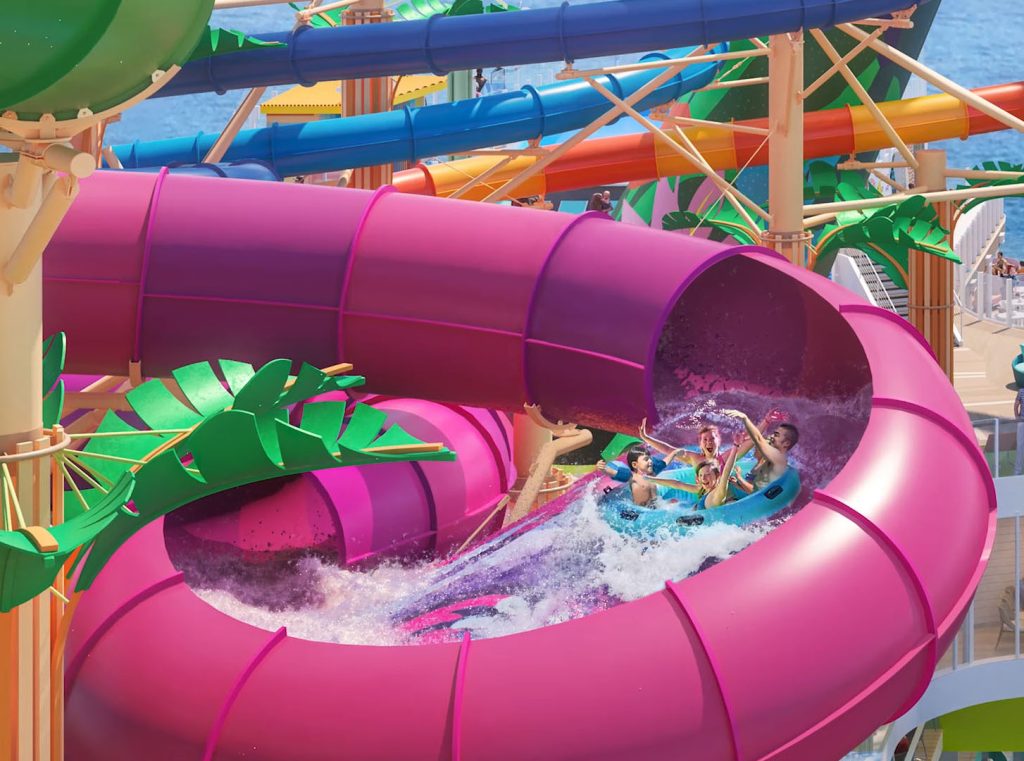 Storm Surge – first suspended family slide raft
The second family rate slide, Storm Surge, has an open slingshot element. Towards the end of the ride, the slide shoots up an open lotus leaf, giving guests an amazing ocean view while experiencing near-zero gravity.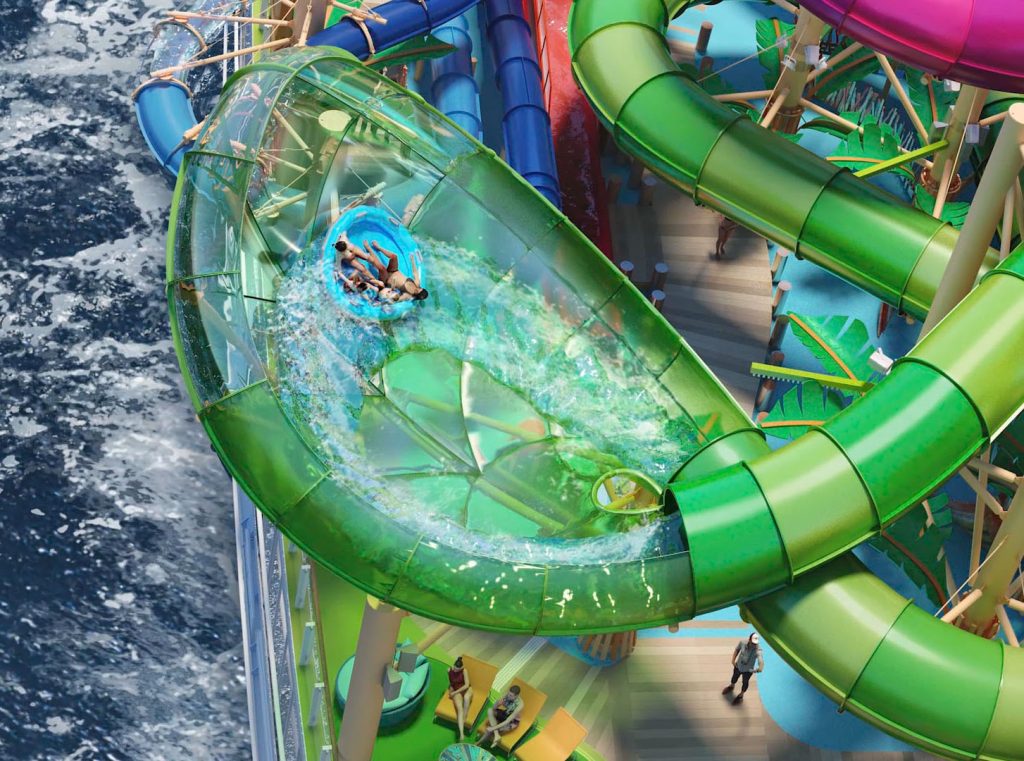 Pressure Drop – first open freefall slide at sea
Sometimes you don't need anything fancy to make a slide exhilarating. Pressure Drop is a straight 108-foot drop, but what sets it apart is that it's an open slide that has a 66-degree incline. Guests will have to push themselves into a near-vertical drop with an open tube. 
Adrenaline Peak in Thrill Island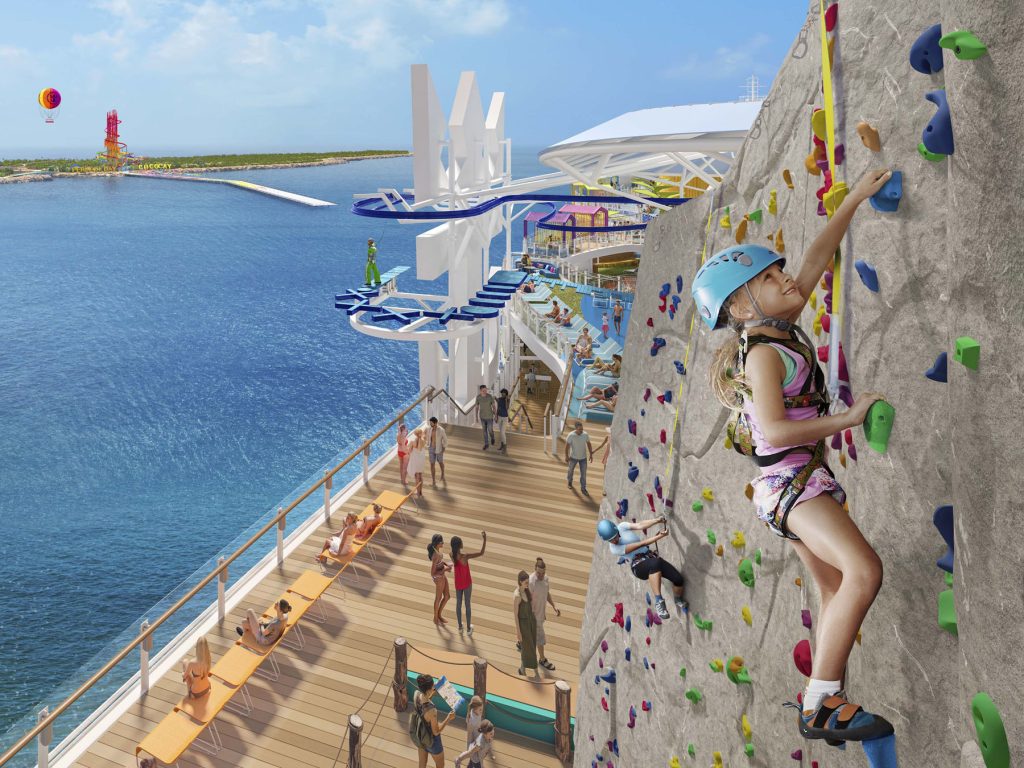 Climbing walls and Royal Caribbean ships go hand-in-hand, and Icon of the Seas is no different. On Icon of the Seas, the wall gets an actual name, Adrenaline Peak. The massive wall features five different lanes, some offering identical courses so friends can race against each other. At the top of each lane is a buzzer that sounds off when someone makes it to the top. 
Crown's Edge in Thrill Island
Carnival, Royal Caribbean, and MSC all have featured ropes courses on some of their ships, and now Royal Caribbean is adding one with a unique take. Called "Crown's Edge," this attraction straps guests in a harness and has them scale a massive 49-foot by 44-foot Crown and Anchor logo on the side of the ship. At the end of the course, guests will stand on a platform that will drop out from beneath them, leaving them dangling 150 feet over the water as they glide back to safety.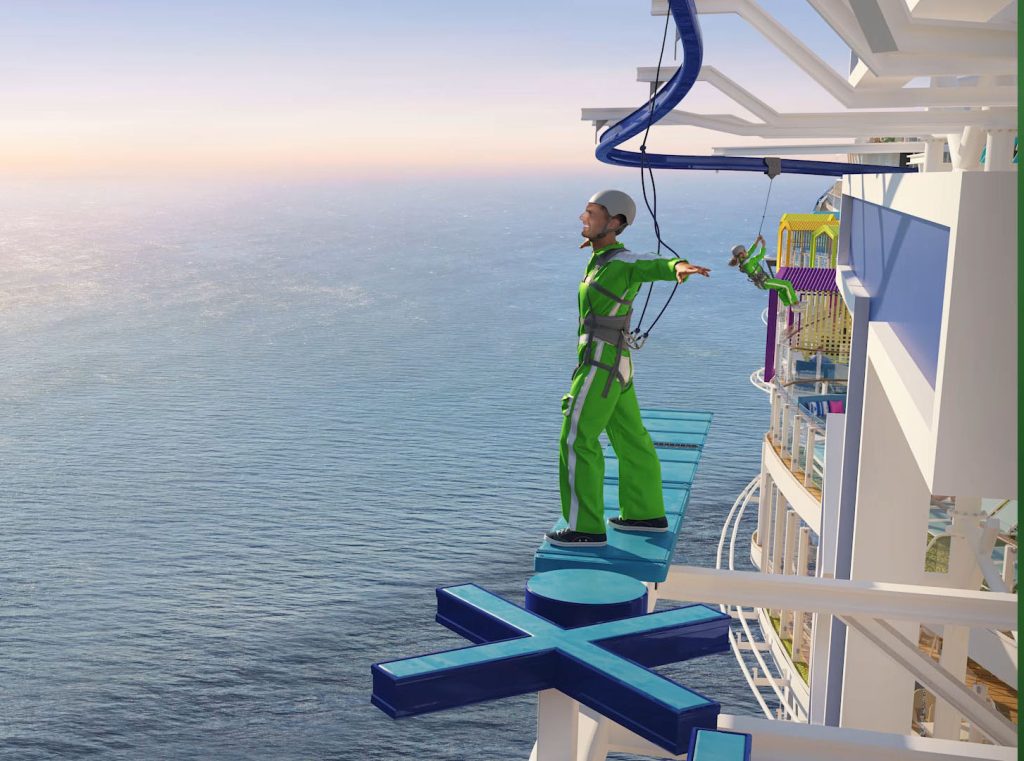 While Royal Caribbean has shown us a lot of videos and renders about the drop and glide portion of Crown's Edge, they never really showed us the other side. Will it be an entire ropes course, or is it just a quick walk over the ship's side and a glide back? We're not sure. According to the most recent video, guests will be required to suit up in a helmet and jumpsuit. 
Flowrider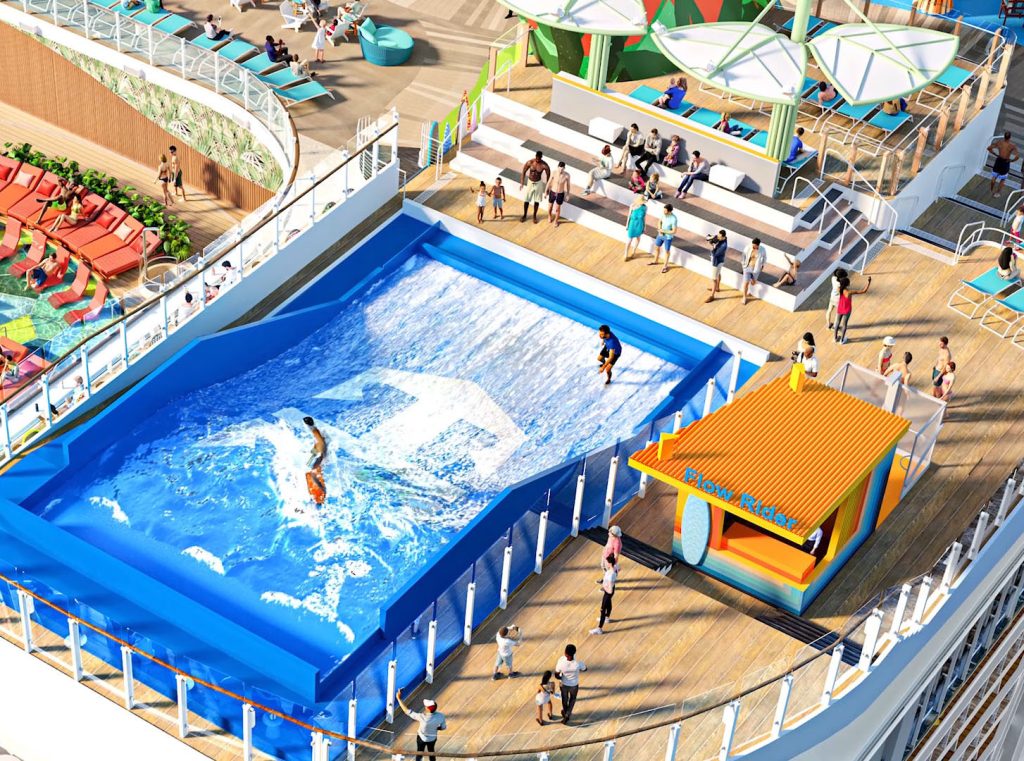 Like the climbing wall, FlowRider is another staple of a Royal Caribbean ship. On Icon of the Seas, there's only one FlowRider (compared to two offered on most Oasis-class ships). They also flipped it around, so if you're taking pictures while people are on it, you get beautiful views of the ocean around them instead of the other ships where you just see white metal. 
Lost Dunes mini-golf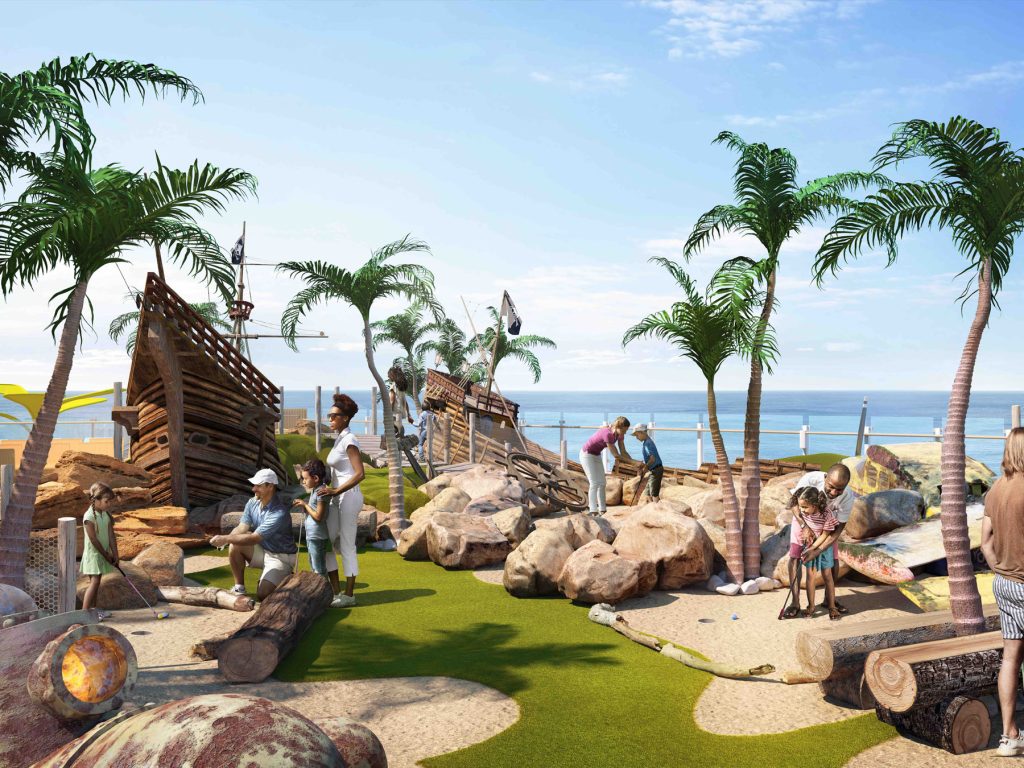 Mini-golf is a cruise ship staple, so course Icon of the Seas has one. This one, called Lost Dunes, is exquisitely themed. Continuing the "deserted island" theme, guests will play alongside downed plans and shipwrecks. The renders look beautiful; it'll be interesting to see how it translated in real life. I also hope they add in some shade, as some of their other mini-golf courses can be downright oppressive in the hot summer sun. 
Thrill Island food and drink options
Thrill Island will also offer a couple of food and beverage options, so you don't have to leave the thrill for long. Base Camp is an eatery between the mini-golf course and Adrenaline Peak and will feature hamburgers, handheld sandwiches, and sides. The menu hasn't been released yet, but in the video, Royal Caribbean noted that this restaurant has both complimentary and extra charge options. A stand-alone Base Camp bar cart will also be available on the other side of the ship near the Category 6 Waterpark. 
Guests can also get fancy milkshakes from Desserted. This venue will offer over-the-top milkshakes, both regular and spiked versions. Since Johnny Rockets won't be on Icon of the Seas, it's nice to see that they'll still have a milkshake option. Then again, I don't know if I'd want to drink a large milkshake before trying to climb a 50 feet rock wall.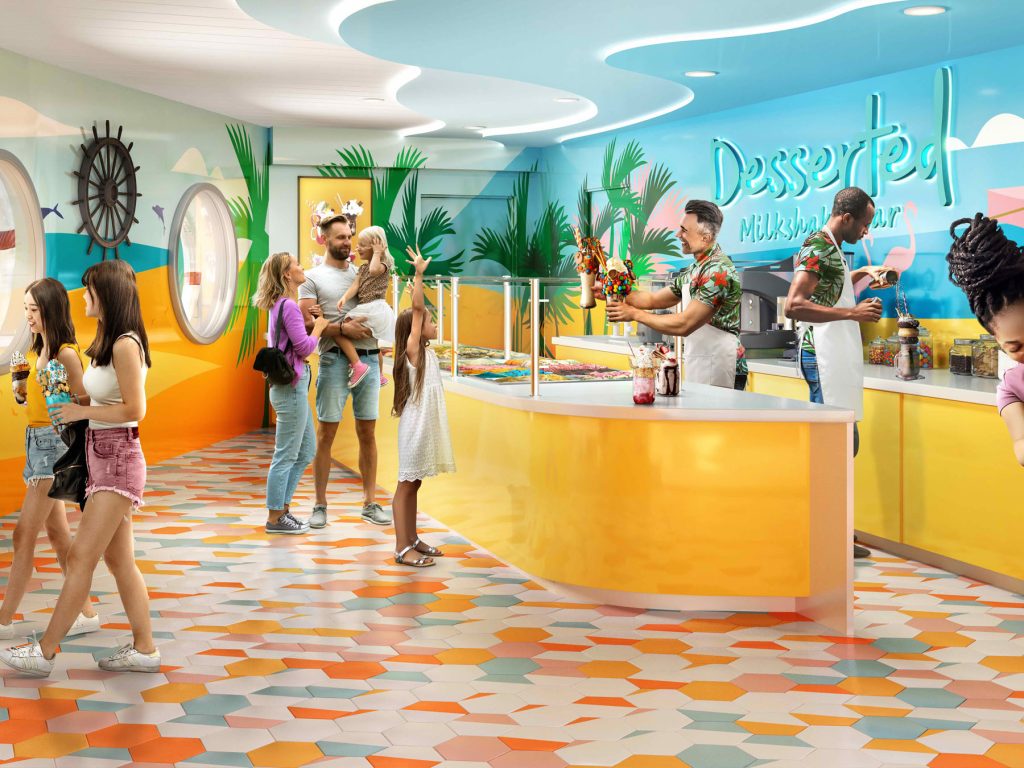 Thrill Island is completely unique for a cruise ship
The scale of Thrill Island is massive, and there's nothing like this neighborhood on any other cruise ship. Carnival has always been a big player in this space, with a sizeable "Ultimate Playground" zone on their Excel-class ships, but this blows that out of the water. On top of that, the theming through the whole area takes it to the next level.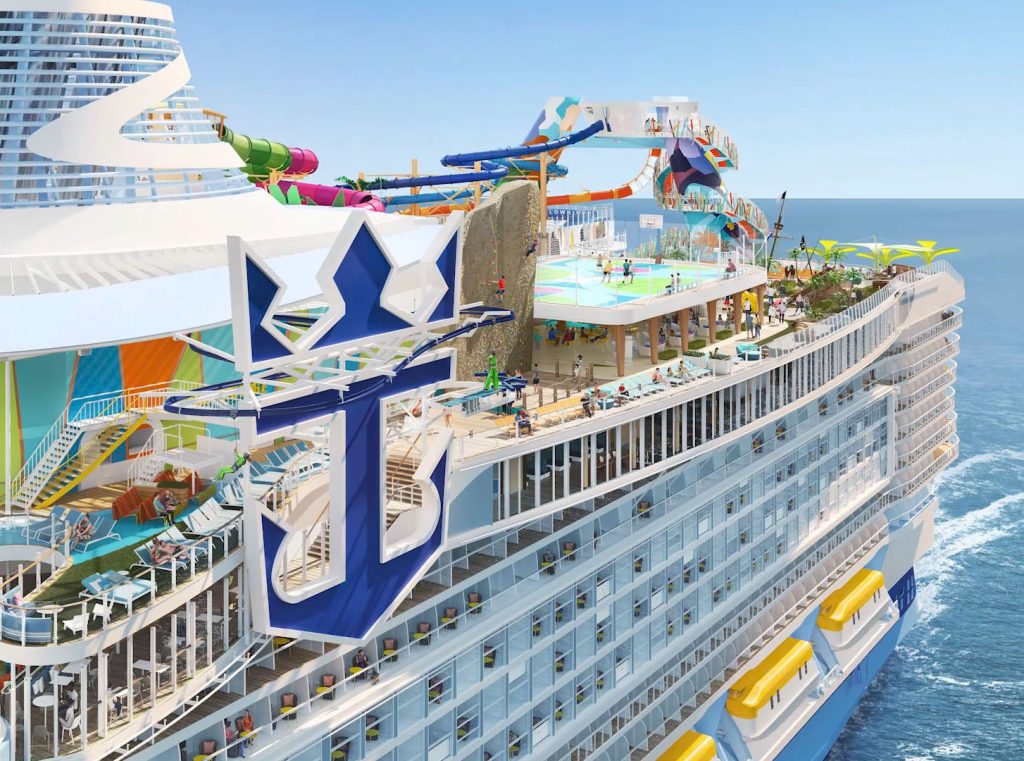 Unfortunately, the downside is that this area will bring in plenty of negative comments from those complaining that Icon of the Seas will feel more like a floating theme park filled with kids than a relaxing vacation.
It is true, the last two neighborhoods they've shared have been heavily family and adventure focused and can have a theme park feel. But there are still several other neighborhoods with a more relaxing feel. Hopefully, Royal Caribbean will share more about those in their next update.
You can watch the whole Making an Icon episode below:
Want to stay up to date on Icon of the Seas?
Follow us on Facebook, Twitter, or sign up for our newsletter.
CruiseSpotlight is an Amazon Associate. We may earn a commission when you click links to retailers and purchase goods.