Surfing on the High Seas – FlowRider on a Cruise Ship
Last Updated on December 17, 2020
Imagine surfing on top of 60,000 gallons of water per second while being over 150 feet over the ocean. The fresh sea breeze caressing your face as the water rushes by you at almost 20 mph. That's what you experience when you try FlowRider, a unique artificial surfing experience. The simulator sends powerful jets of water over a soft incline to create the experience of surfing on a wave. Experienced riders will effortlessly float on top, shredding water like a pro surfer in Hawaii. Less experienced riders will wobble around until they hit the pad and are pushed to the top of the incline by the water.
FlowRider technology originally debuted internationally in 1995, but there were pretty hard to find. By 2000, only 25 FlowRiders dotted the globe, so you really had to seek them out if you wanted to try them. In 2006, Royal Caribbean scored the exclusive cruise ship rights and installed their first FlowRider on the Freedom of the Seas. Now, many of their major ships have at least one FlowRider machines, with the Oasis-class ships having 2 (see a list of ships below).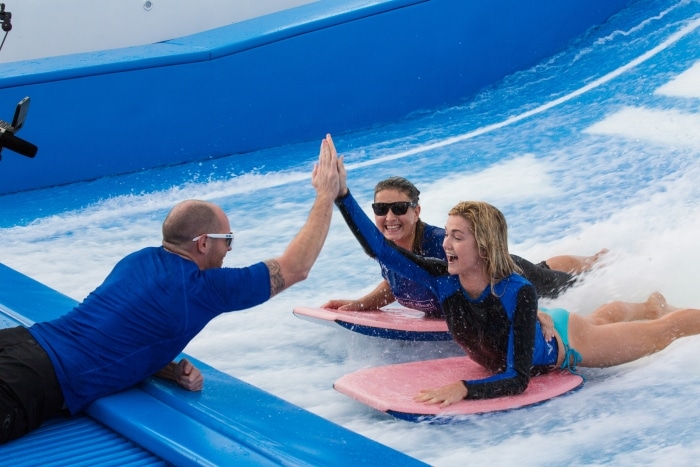 When riding, you have the option of standing or laying down on a boogie board. Lying down is usually the easiest, although even that takes some practice.
Who can go on FlowRider?
There aren't a ton of requirements for FlowRider. For boogie boarding, riders must be at least 52 inches. For stand-up surfing, riders must be at least 58″. FlowRider is a physical activity so go with your best judgment. While the floor is padded, most people will take a tumble or two, so as long as you're ok with that, you should be good. Be sure to wear well-fitting bathing suits and attire as the water can really tug on them.
How much does FlowRider cost?
The good news is that FlowRider is included in the cost of your Royal Caribbean cruise. Any passenger who meets the requirements can hop on a board and try it out without paying anything extra. It can get crowded though during sea days and cruises with lots of kids (like summer cruises). Check out the times in your Cruise Compass to see when it's open.
If you'd prefer smaller lines and are willing to pony out some extra cash, Royal Caribbean does offer additional packages to reserve instruction time. They have 3 options:
Group lesson – $69

These lessons last about an hour and have 6 to 8 other guests. You'll get hands-on instruction on how to ride it.

Private session (no assistance) – $345

Rent out the simulator for your whole party. This includes supervision by staff for safety but no instruction or assistance.

Private session (with assistance) – $552

Rent out the simulator for your whole party with instruction and assistance.
Of course, price and availability may vary. You can book these ahead of time on your Royal Caribbean Cruise Planner.
That being said, we believe most people will be fine with the free option, but if you would like help to master it or want a fun group activity (bachelor's party, corporate event, etc.), paying a little extra might be worth it.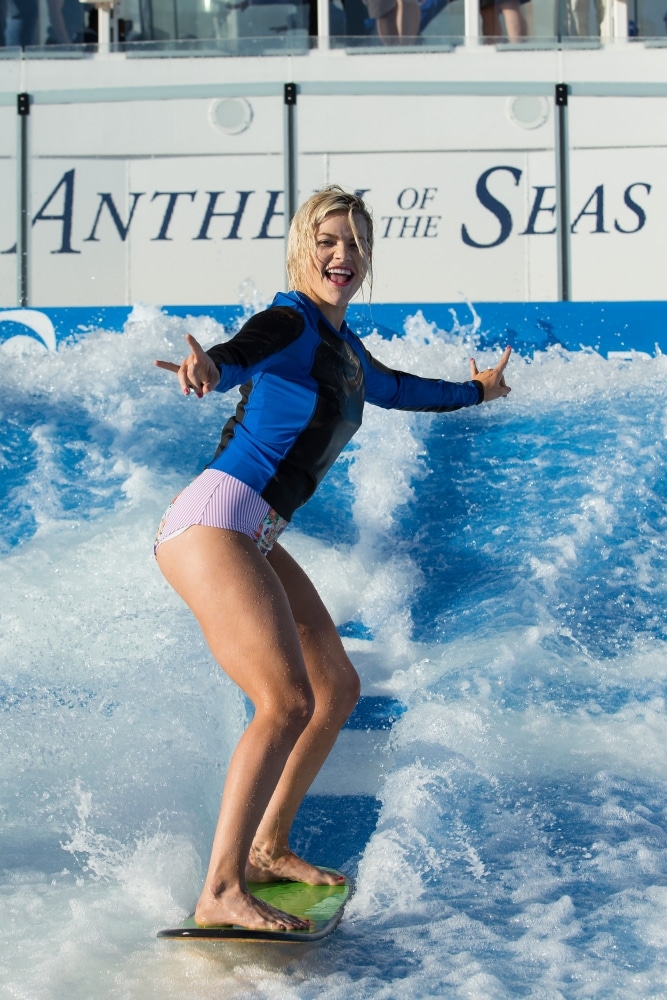 Which cruise ships have FlowRider?
Try FlowRider yourself on any of these cruise ships:
Not going on a Royal Caribbean cruise?
You can also find FlowRider at the Grand Turk Cruise Center in Grand Turk. This port was built by Carnival and has a large free pool to enjoy and some great beaches. It's usually around $40 per person to try the FlowRider here, but that price can vary.
CruiseSpotlight is an Amazon Associate. We may earn a commission when you click links to retailers and purchase goods.