How I Picked My Weekend Getaway Cruise on the Carnival Sunrise
This week, I booked my first ever weekend cruise, a 4-day cruise on the Carnival Sunrise. I just got back from a fantastic vacation in Iceland (it wasn't a cruise, so I won't go into it here), but it was an adventure-packed trip, and I thought the next trip should be a nice relaxing one preferably somewhere warm. At the same time, I didn't want to dedicate a whole week because I have several other plans next year. So that meant I was looking at weekend cruises that were 3 or 4 days. 
Weekend cruises have been growing in popularity over the past few years. In the old days, cruise lines mostly offered 7 day or longer itineraries. While some short cruises were available, they were usually on older ships that hadn't been updated in years without much to do onboard. However, the culture is shifting, with younger workers not wanting to dedicate a whole week of valuable vacation days to one trip. Instead, they prefer multiple, shorter vacations over the weekend. Royal Caribbean took the lead in observing this trend and changing their offerings. They started offering a variety of 3, 4, and 5-night cruises on some of their recently "amplified," their word for updated, ships. These ships have everything the "stars" of their fleet have; the newest restaurants, bars, attractions like the Flow Rider, etc. It meant weekend cruises no longer meant sacrifice. 
With that in mind, I took a look at the possible weekend cruises. I'll take you through how I decided to pick this specific cruise on the Carnival Sunrise. I had a few factors that I had to consider; the time of year, the departure port, the ports of call, and the ship. 
When to take the cruise? 
January, February, and March are my favorite months to cruise. The temperatures in the Caribbean and Mexico are not too hot, and it's not overly rainy. The ships themselves aren't too crowded because many kids are still in school and just had off for winter break. On top of that, I'm from the North East, where the weather is gross, snowy, and cold, so beautiful blue waters and tropical breezes provide much-needed relief from the chilliness. For this cruise specifically, I preferred January or early February because of other social engagements already on my calendar. That really narrowed down the field; from the mainstream cruise lines, only 7 ships were going to sail 3 – 5 day itineraries in this time frame.

Narrowing down the departure port
For the seven ships I was looking at, I had 3 possible departure ports; Galveston, Miami, and Orlando. Galveston and Orlando are both about 45 minutes from the airport, which can add up to a rather pricey uber/taxi ride. On top of that, I didn't want to add another 2 hours of travel to get to the ship and back if it was just a weekend trip. Miami, on the other hand, seems to be made for cruises. The port is so easy and convenient to get to from the airport, and there are tons of hotels. The hotels can get pricey, and the traffic can be awful if you book a hotel in South Beach, but if you stay in the less busy Brickell district or by the airport, it's much more affordable. 
Which ports of call to visit?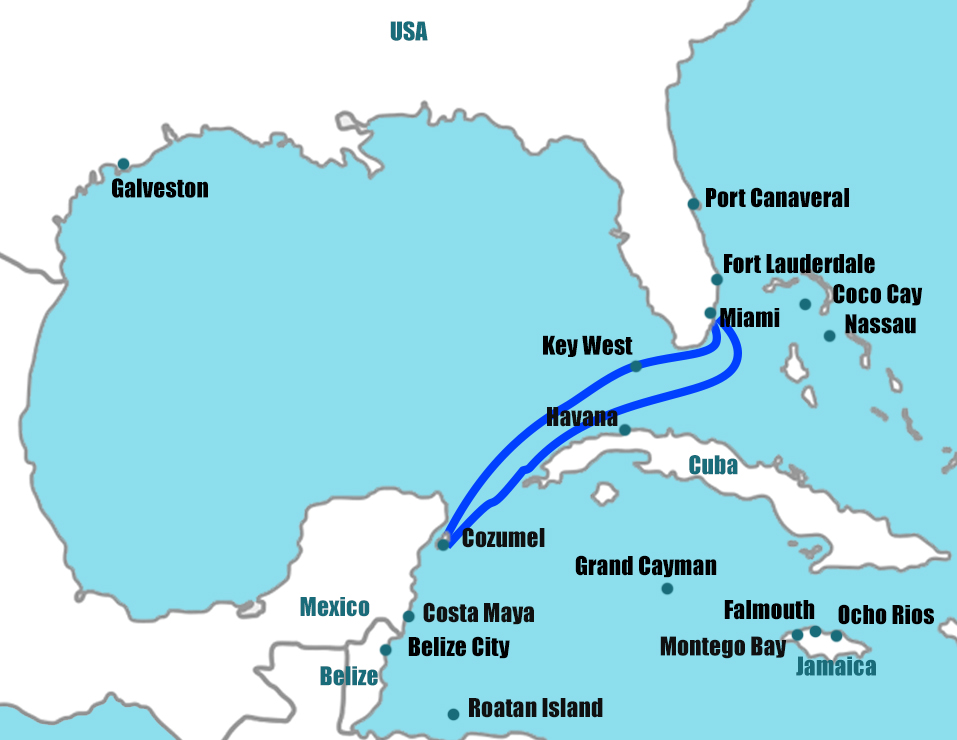 Looking at the ports these ships were sailing to, I had a few options. If possible, I was trying to avoid a cruise to Nassau. I have nothing against the port, but I've been there 5 times already, and there just wasn't anything on my bucket list to do there. So I looked at which other ports were available. 
Cozumel
The first that caught my eye was Cozumel. I've been there twice, and both times I was thrilled with the beautiful warm waters and white sands. Even though I'd been a couple of times before, there were easily 4 or 5 excursions I still had on my to-do list. Although I already have a cruise visiting Cozumel in March 2023 on the books, this trip would allow me to try another excursion. I've always wanted to try Xcaret Park in Cozumel after my family visited and loved it on our first ever cruise. 
Key West
I also saw Key West on the list, which I've always wanted to visit but had a hard time validating the 2+ hour drive from the airport to the town. Everyone who has been has raved about it, though. Unfortunately, Key West recently voted to stop allowing cruise ships. It was later overturned, but it's still being appealed; the whole thing is very "iffy" if a ship can even visit the port. 
Perfect Day at CocoCay
Another destination on the list of possibilities was Perfect Day at CocoCay. Perfect Day is Royal Caribbean's private island that they completely redid. It has a huge water park with the largest water slide in North America, the largest pool in the Caribbean, several different beaches, and lots of included food. It would be a great way to spend a relaxing day on a weekend cruise; it wouldn't require any planning or excursion, just step off the ship and enjoy. I could easily spend a few days on that island.
Choosing the cruise ship
Now that I had narrowed down the time of year, the Miami departure port, and the ports I'd be willing to sail to, my list was narrowed down to 3 ships; Norwegian Joy, Royal Caribbean Freedom of the Seas, and Carnival Sunrise.
Norwegian Joy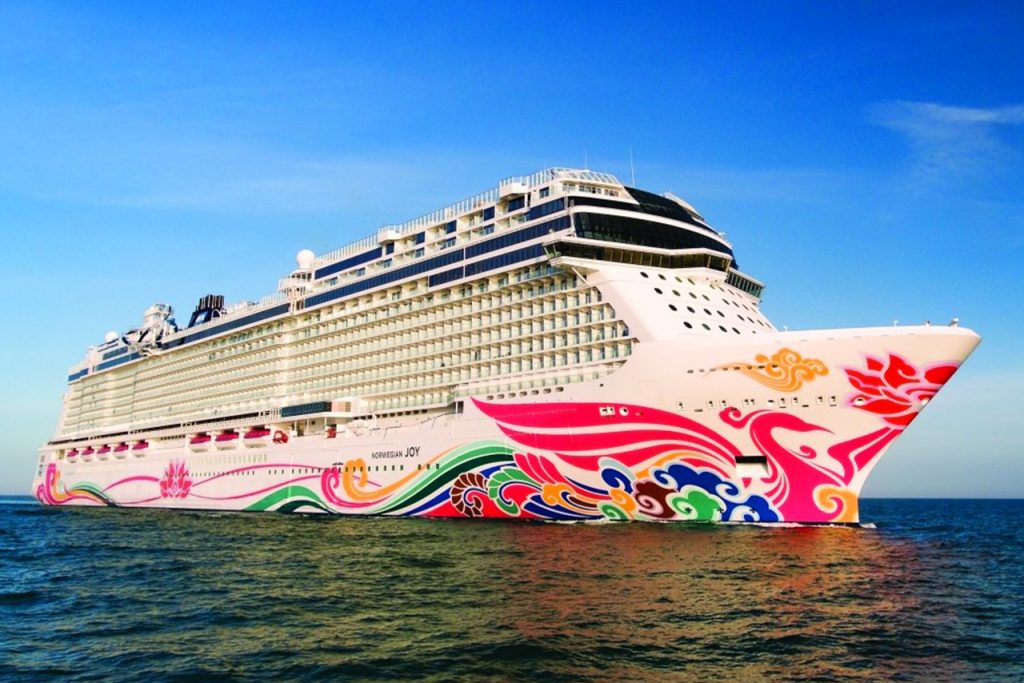 The Norwegian Joy is a beautiful ship, and I would have been happy to sail on it. It was built in 2017 and heavily refurbished in 2019 when it was removed from the Asian market and relocated to North America. It has tons of restaurants, activities, and space to relax. However, the biggest thing that ruled out this ship was the cost. It was 3 times more expensive than the Carnival and Royal Caribbean options. For a week-long cruise, maybe I could validate that cost, but not a weekend cruise. 
Royal Caribbean Freedom of the Seas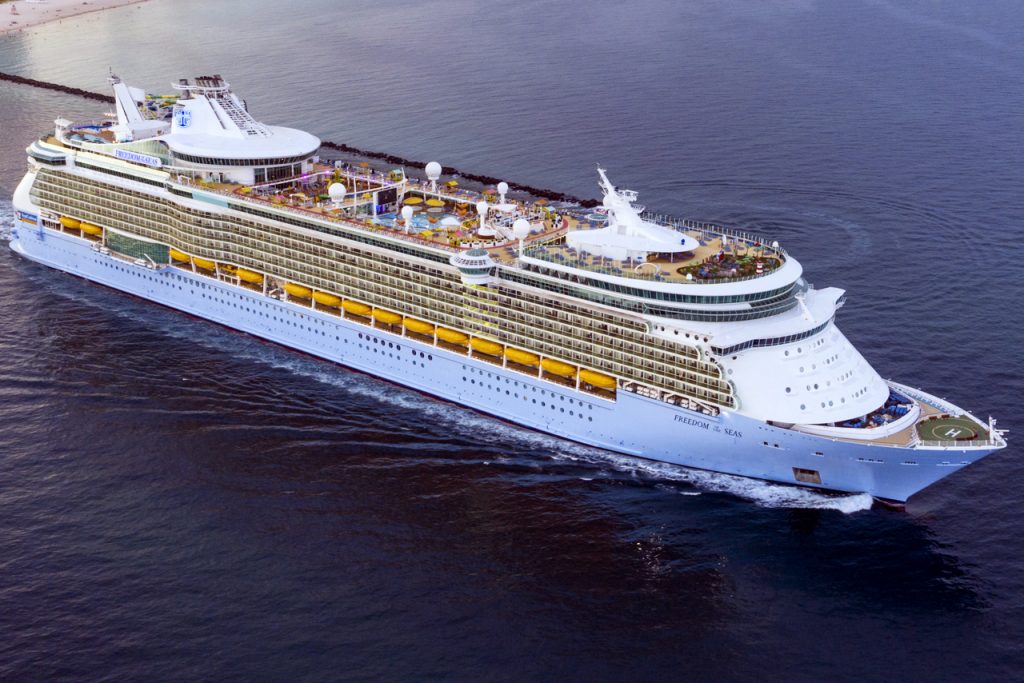 The Freedom of the Seas was another solid contender. It was initially built in 2006, but in 2020 it was "amplified," which means Royal Caribbean spent millions refurbishing the ship and adding new attractions. It has quite a few restaurants and fun activities like a climbing wall, Flow Rider, ice skating, and laser tag. One thing I didn't like was that less than 50% of the dining options are included on Freedom of the Seas; the rest are all additional charge venues. Then again, for a short cruise, I don't think that'd be a huge problem. 
Carnival Sunrise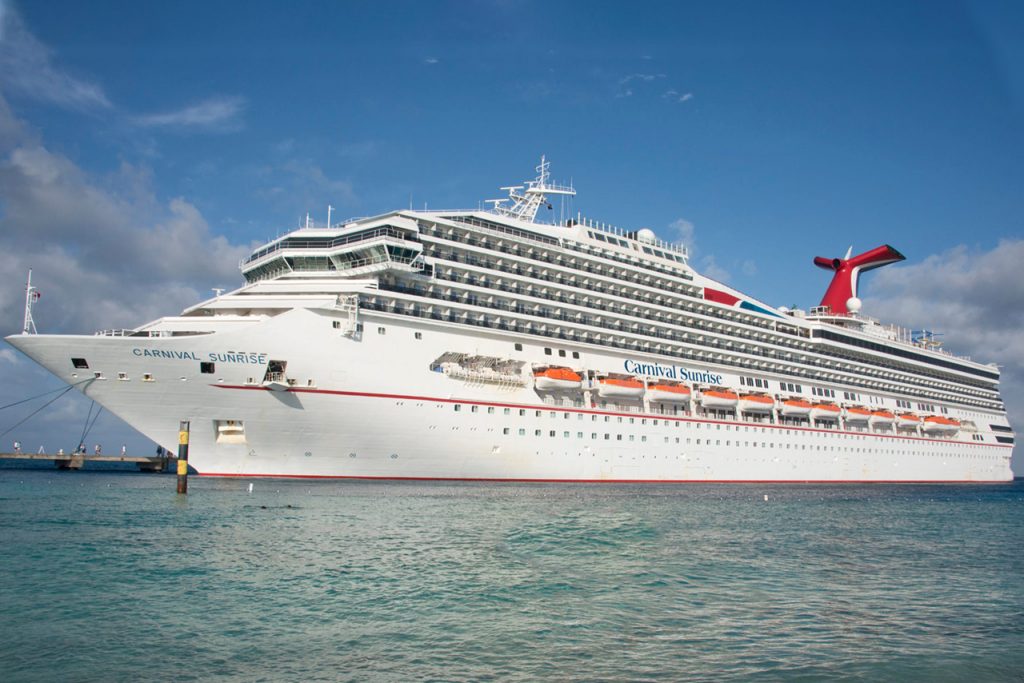 Lastly, I had the Carnival Sunrise. To be honest, that ship wasn't high on my list of ships. The Carnival Sunrise technically debuted in 2019, but in reality, the ship was in service before as the Carnival Triumph. It went through a $200 million dollar retrofit that was so extensive, Carnival saw fit to rename the ship. It's part of the Sunshine-class of ships which all were renovated Carnival ships with name transformations. Anecdotal reports from other cruisers have always been mediocre for the Destiny/Sunshine class ships. While the Dream-class, Vista-class, and Spirit-class have die-hard fans, you rarely find someone so passionate about the Sunshine class ships.
Then I thought about it, did it have what I love on a Carnival cruise? Free, adults-only Serenity area? Check. Guy's Burgers? Check. Guy's Pig and Anchor BBQ on sea days? Check. Alchemy Bar? Check. It even had a ropes course with a plank which I would love to try (I'm saying this while safely on the ground, talk to me again when I'm hanging 100′ over the water). For a short, 4-day cruise, I think it'd have everything I needed.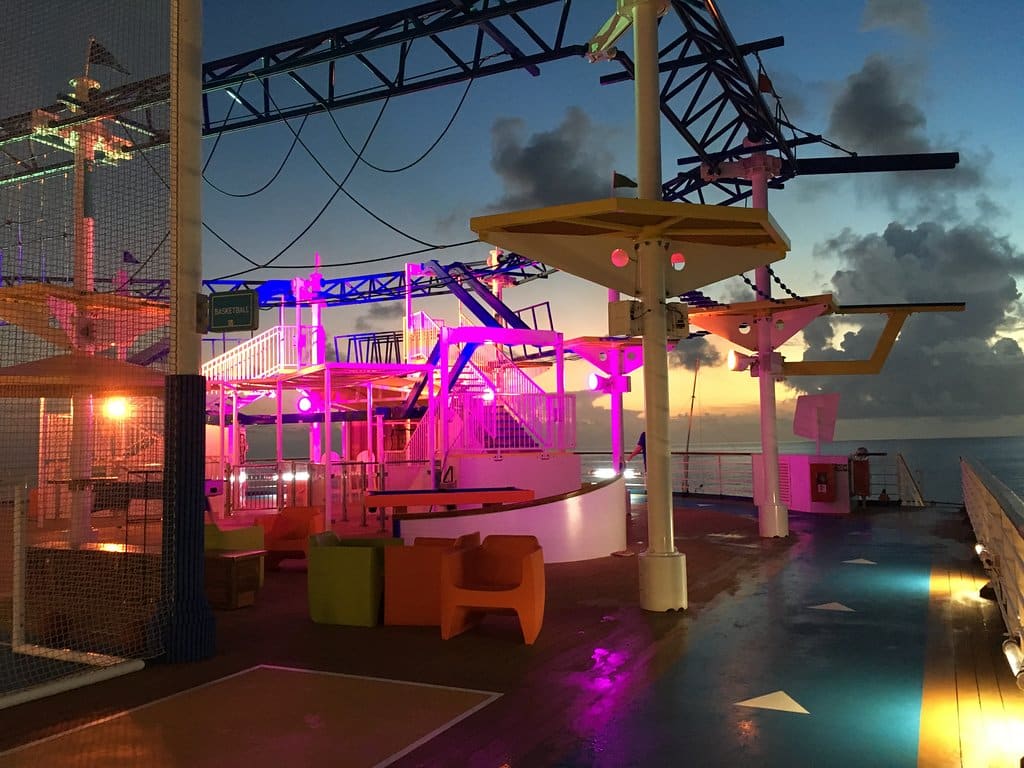 Really, it was neck and neck between the Freedom of the Seas and the Sunrise until I took cost into account. The two cruises were about the same price, but the Freedom of the Seas was a 3-day cruise, and the Sunrise was a 4-day cruise. On top of that, Carnival offered a $200 onboard credit that made it considerably cheaper. This credit was a special promotion I received from Carnival because I sailed with them before. Unfortunately, even though I have sailed Royal Caribbean before, they offered me no discount or promotion for booking another cruise with them. I know some frequent cruisers score good deals with Royal Caribbean, but apparently, I'm not one of them. 
With all that taken into account, I picked my weekend cruise, the Carnival Sunrise, leaving from Miami and going to Key West and Cozumel. 
Picking a cabin on the Carnival Sunshine
The work wasn't done yet; I now had to book my room. Usually, I'm a balcony cabin kind of guy. I love waking up in the morning and walking out onto the balcony, feeling the fresh air and looking at the ocean passing by. Then, after a day of excursions, I love getting back to my room and staring off into the horizon through the large windows. To me, it's a big part of my cruise experience.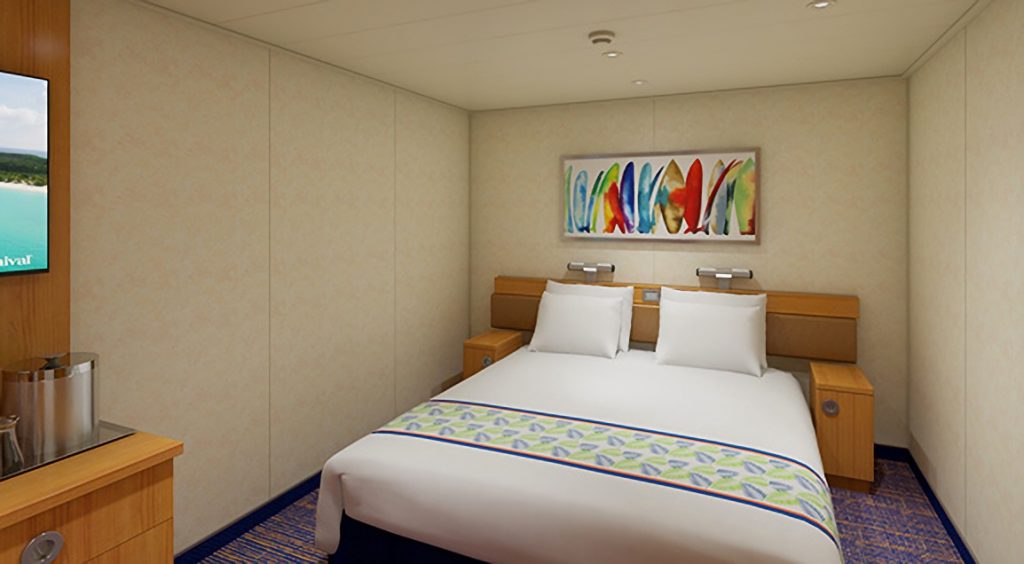 That view comes with a tradeoff, though, and that's the price. In this case, a balcony room was 50% more than an interior room. Since this trip would just be a weekend getaway, I decided to book an interior cabin to save some money. I tried to rationalize my decision. I've stayed in tiny and "efficient" hotel rooms over the years, and they all worked out fine, so why wouldn't it be good on a cruise ship? The cabin looks quant, and I can't imagine having four people in one of these, but for two people for a short cruise, it could work.
Going for the cheapest room possible, I looked for a standard interior room on deck 1. There was only one cabin left that didn't have a connecting door, so I was able to grab that. Connecting rooms may be great for families, but they can have extra noise from the cabin next door if they don't know the people there. 
Looking to book a Carnival cruise for yourself? Check out our guide on how to pick the best cabin on a Carnival cruise.
60 days until my cruise
I finished booking, and my Carnival account was immediately updated with the cruise. I was surprised to see the 60-day countdown; I've never booked a cruise that close to the sail date. It's nice to not have so much time, where I just constantly look at deck plans, dining menus, and excursion lists to plan what I'll do. 
Be on the lookout for my live blog from the cruise ship. I have a lot of questions I'll try to answer. How was the weekend cruise atmosphere? Was it much more party-focused than a 7-day cruise? Did we stop in Key West? How was the Carnival Sunrise? I'll let you know.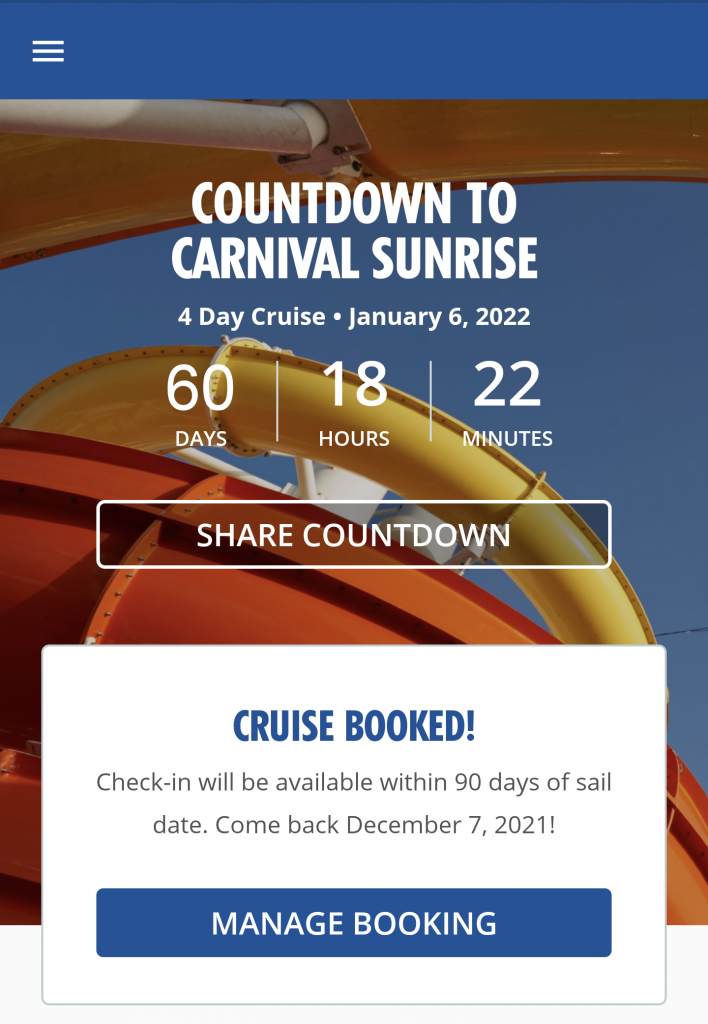 CruiseSpotlight is an Amazon Associate. We may earn a commission when you click links to retailers and purchase goods.