A Look at All the Pizza Options Available on a Cruise
It's hard to think of a food more polarizing than pizza. Whether it's the classic debate of New York-style versus Chicago-style versus Detroit-style or deciding which toppings belong on a pizza (Hawaiian-style pizza, anyone?), people will always have an opinion. So in honor of National Pizza Day, I wanted to look at the pizza served by the different cruise lines. 
Pizza on a Carnival ship
Pizza and a Carnival cruise just seem to go hand and hand. In fact, Carnival used to advertise its 24/7 pizza in its promotional materials (but last year, they reduced hours from 9 AM to 4 AM). Still, on a Carnival ship, pizza is available most of the time, and you can stop by to get a delicious slice.
Carnival offers grab-and-go pizza. On most ships, the pizza place is located near the Lido Buffet or the aft pool, making it easy to grab a slice and relax on the Lido Deck. 
On the Excel-class ships (Mardi Gras, Celebration, and Jubilee), they moved the pizza restaurant to Deck 8, so it's not as easy to grab pool-side pizza. Thankfully, these ships have delivery available. Using the Carnival Hub app, you can pay $5 and have a personal pizza delivered to you anywhere on the ship. 
Carnival has two different pizza restaurants depending on the ship: Pizza Pirate and Pizzeria del Capitano. 
Pizza Pirate
You'll find Pizza Pirate on the older Carnival ships. Here they use conveyor-style pizza ovens seen in chains like Pizza Hut and Dominos. The ovens take up less space and can churn out hot pizza within minutes, but you lose some of the crust's crispiness. Still, they use fresh dough here and have higher-quality toppings than some other cruise lines.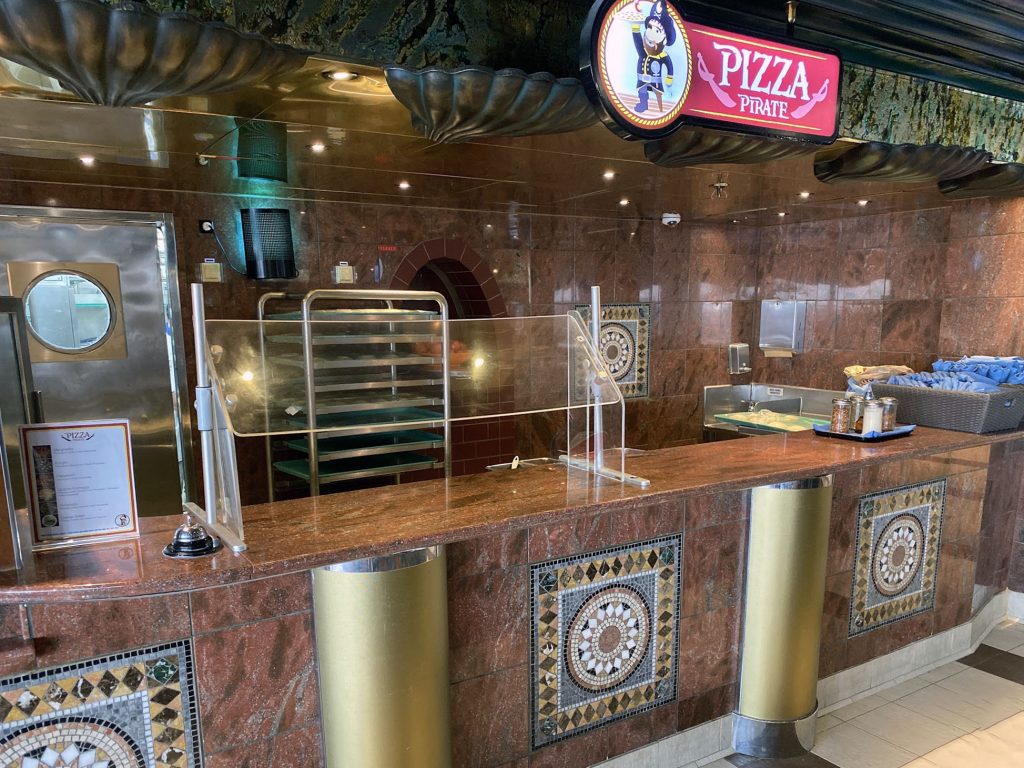 Pizzeria del Capitano
On newer Carnival ships, you'll find Pizzeria del Capitano (or Miami Slice on the Celebration). This upgraded pizzeria has large glass windows, so you can watch the chefs stretching the dough and topping the pizza. It also has a large gas oven that produces results similar to what you see in a traditional pizzeria at home.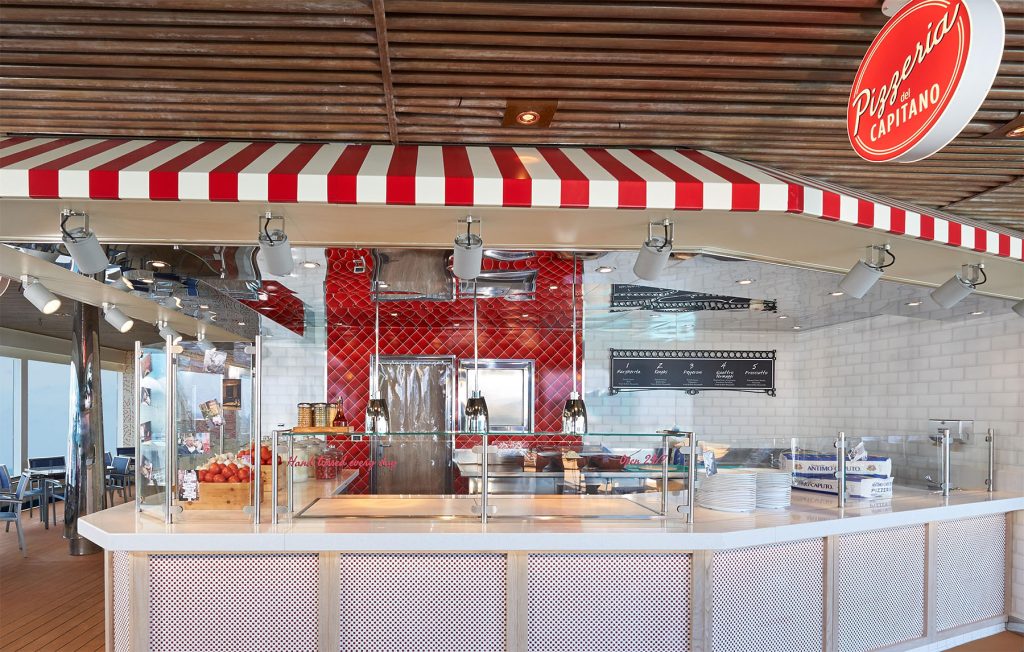 Pizza varieties on Carnival
You have five different options when ordering pizza at either restaurant. The margherita and pepperoni always seem to be the most popular, but the prosciutto is really delicious. Miami Slice on the Celebration changes it up and bit and adds two new Miami-inspired flavors, La Habana with ham and chorizo and the Pacadillo with ground beef and sazon.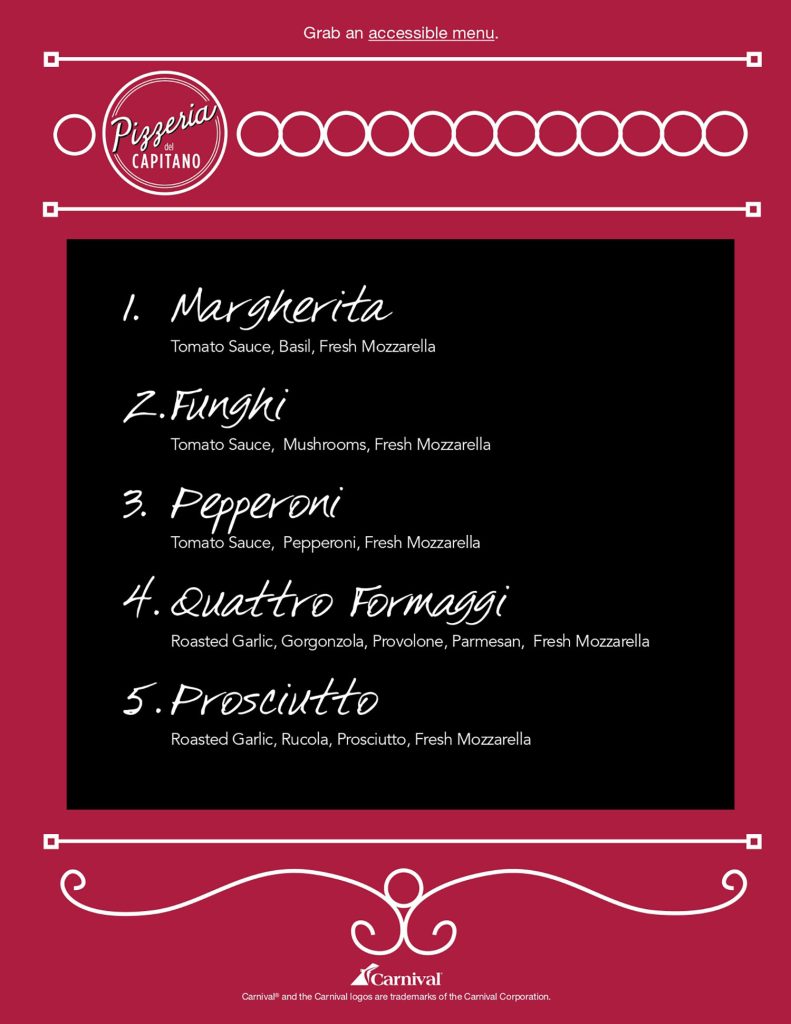 Overall, I've always enjoyed Carnival's pizza and have been known to get a few slices every night as a late-night option. Just be prepared for a wait if you're going after 8 PM. Since it's the only food option available late at night, you can easily wait 20 to 30 minutes for a pizza. 
Pizza on a Royal Caribbean ship
Royal Caribbean's signature pizza place is Sorrento's. Sorrento's has an old-school Italian pizzeria feel with red and black decor and Italian flare. On most ships, you'll find this restaurant on the Royal Promenade (or Royal Esplanade). It's a grab-and-go style pizza, so you can grab a table in Sorrento's or along the Royal Promenade or take it somewhere else on the ship. On my last cruise on Harmony of the Seas, I'd grab a couple of slices and enjoy them in the English Pub across the Promenade along with a beer while listening to the acoustic guitarist. Unfortunately, it's quite the hike if you want some pizza to eat pool-side.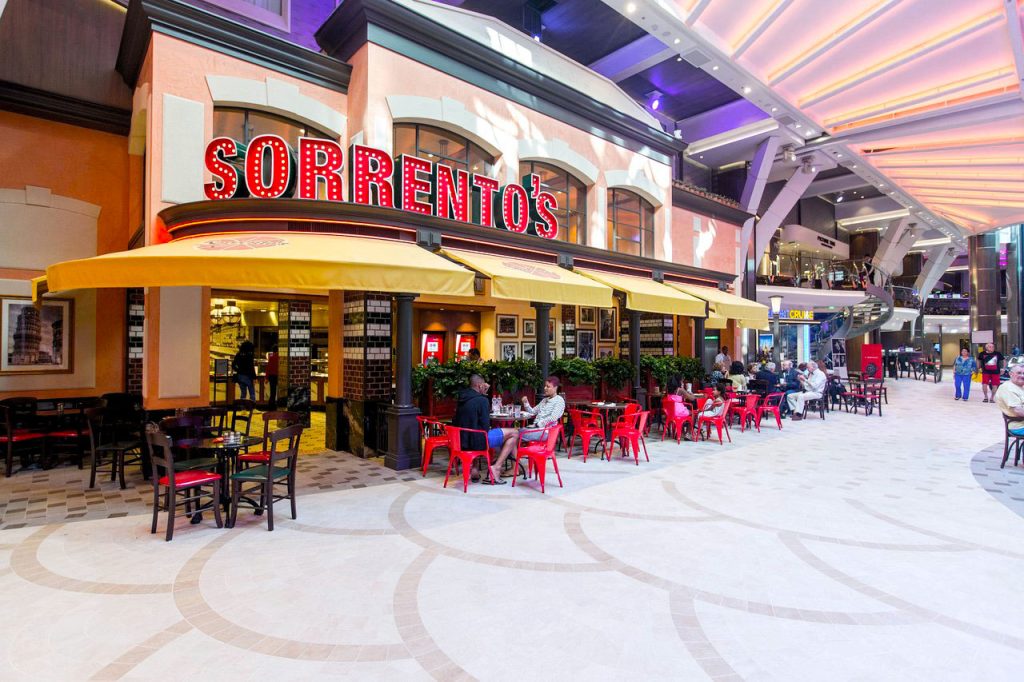 At Sorrento's, they use traditional ovens to produce a crust with a nice chew. Typically, you have at least four flavors to choose from, which can rotate through your cruise. They have the staples such as margherita and pepperoni as well as veggie lovers and sausage sometimes. Here you can also request a gluten-free pizza which is made in a separate oven. 
Unfortunately, consistency between ships is not their strong suit. When I was sailing on Ovation of the Seas, the pizza tasted like Ellios frozen pizza, and I went once the entire cruise. A couple of months later, I was on Harmony of the Seas and the pizza tasted amazing, so I had a couple of slices every day. While taste is subjective, the stark difference in quality and taste was confusing. 
Pizza on Princess Cruises
Princess has a variety of pizza places available across its fleet, serving what many call the best pizza at sea. USA Today awarded Princess Cruises as having the "Best Pizza at Sea," and many bloggers and cruisers agree. Unfortunately, I haven't had a chance to sample it, but Don and Heidi from Eat Sleep Cruise recently ranked it as their best, loving Gigi's Pizzeria on the Discovery Princess (see their rankings here).
Slice or Princess Pizzeria
For pool-side pizza, Prince Cruises has Slice or Princess Pizzeria, depending on the ship. They offer Neapolitan-style pizza with all the traditional toppings. With a conventional pizza oven, you get a crisp and bubbly crust with nicely browned cheese on top. You can quickly grab a slice after a dip in the pool or while watching their Movies Under the Stars.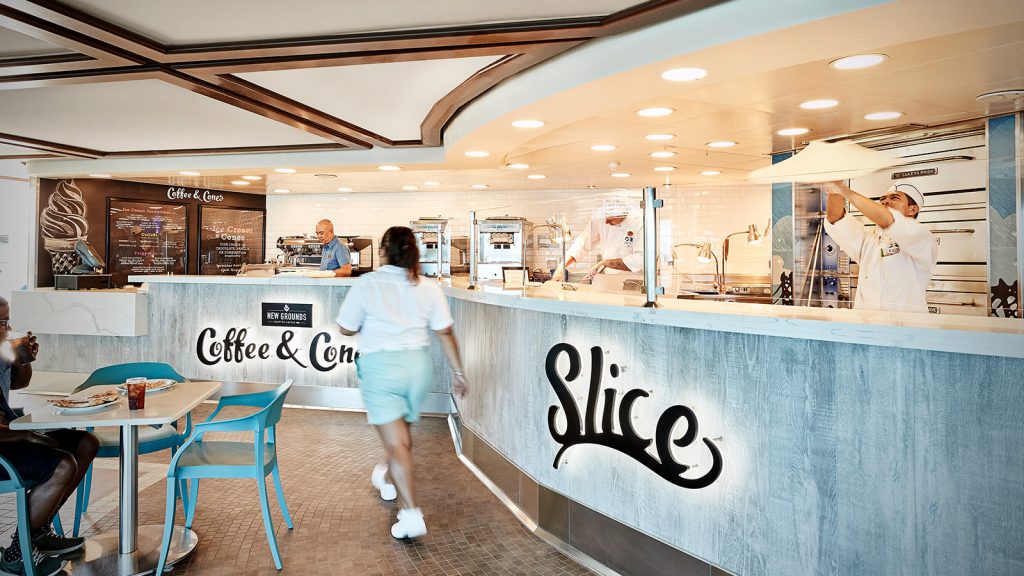 Alfredo's Pizzeria or Gigi's Pizzeria
Princess also has a more traditional-style, sit-down pizza place. It's either Alfredo's Pizzeria or Gigi's Pizzeria, depending on the ship. Many people mistake these restaurants for a specialty, upcharge restaurant, but these are included in the cruise fare. The restaurants have an upscale feel, with an open kitchen to watch the chefs prepare the food. With an oven that can go over 900 degrees, you're getting high-quality pizza here.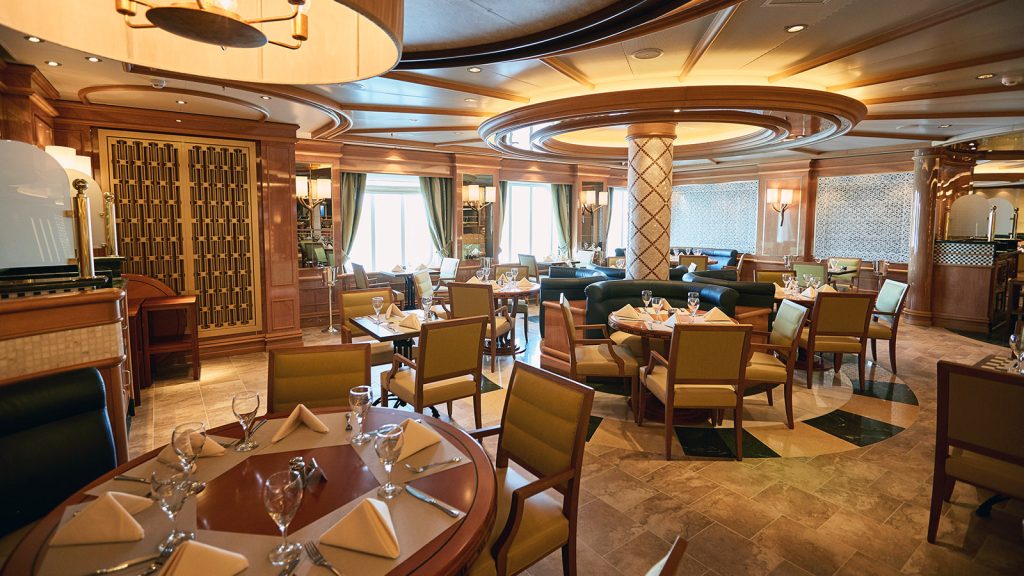 Pizza on Virgin Voyages
When Virgin Voyages launched, they knew they needed a dedicated pizza place for those late-night munchies after their signature parties. So they put it in "The Galley, " their alternative to a cruise buffet. The Galley is a food hall with a variety of stalls offering different cuisine made to order (much like the Indulge Food Hall now on the Norwegian Prima).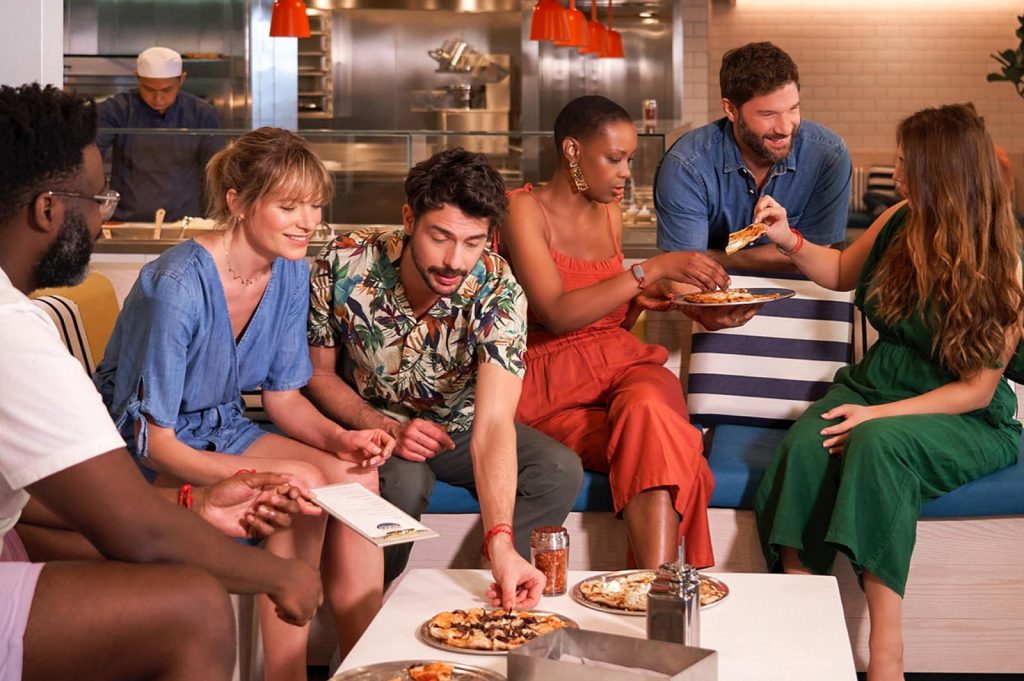 For a cruise line that prides itself on being creative, it's surprising they went with the uninspired name, "The Pizza Place," for this restaurant. But then again, at least there won't be any confusion about which restaurant serves pizza. 
There are no frozen crusts here. For Miami-based sailings, the dough comes from Mister 01, a renowned pizza maker in Wynwood, Miami. The pizza is made-to-order here, and guests can choose from five "classic" recipes or make their own. It's usually open from 11:30 AM to 6:30 PM and 9 PM to 1:30 AM.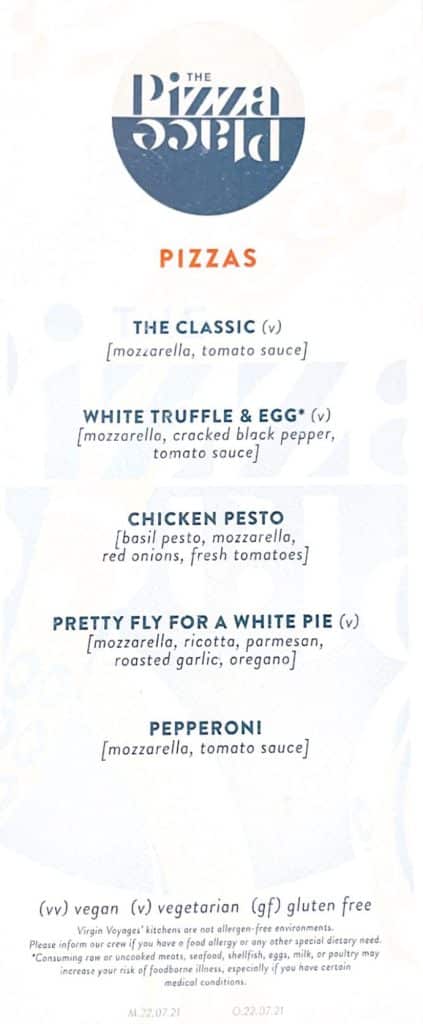 Pizza on Norwegian Cruise Line
Unlike the previous cruise lines, Norwegian doesn't have a dedicated pizza restaurant. In fact, it can be hard to find pizza onboard while sailing aboard a Norwegian ship. 
The standard buffet has a station where guests can enjoy pizza when it's open. On my October sailing of the Norwegian Prima, the pizza was a focaccia style with a thick, buttery crust filled with air bubbles and fresh toppings. It was delicious, but it's not the first type of pizza that comes to mind for many. Also, the kind of pizza will vary depending on the ship.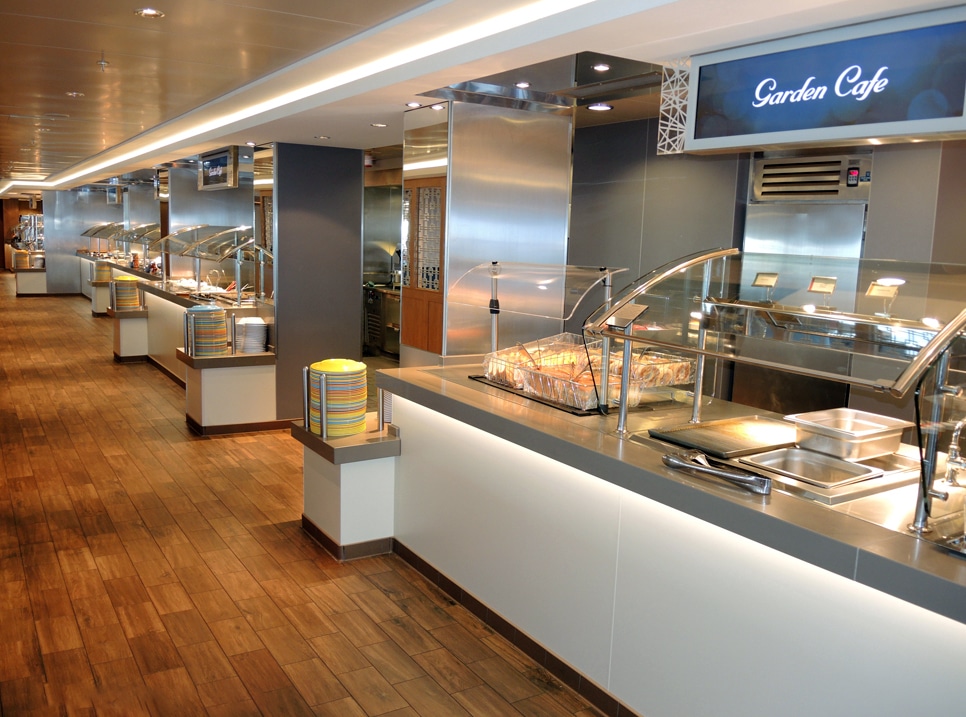 Fifteen of Norwegian's ships also have a sit-down Italian restaurant, La Cucina Italian, which also offers personal pizzas. La Cucina Italian is a specialty restaurant with an extra charge with pizzas costing around $12 each. 
Pizza on a Celebrity ship
Like Norwegian Cruise Line, Celebrity Cruises doesn't have a dedicated pizza restaurant onboard. For your pizza fix, you'll have to head to the Oceanview Cafe, the name of their buffet. Here you'll find a made-to-order pizza station that's open until about 1 AM (even if the rest of the Oceanview Cafe is closed).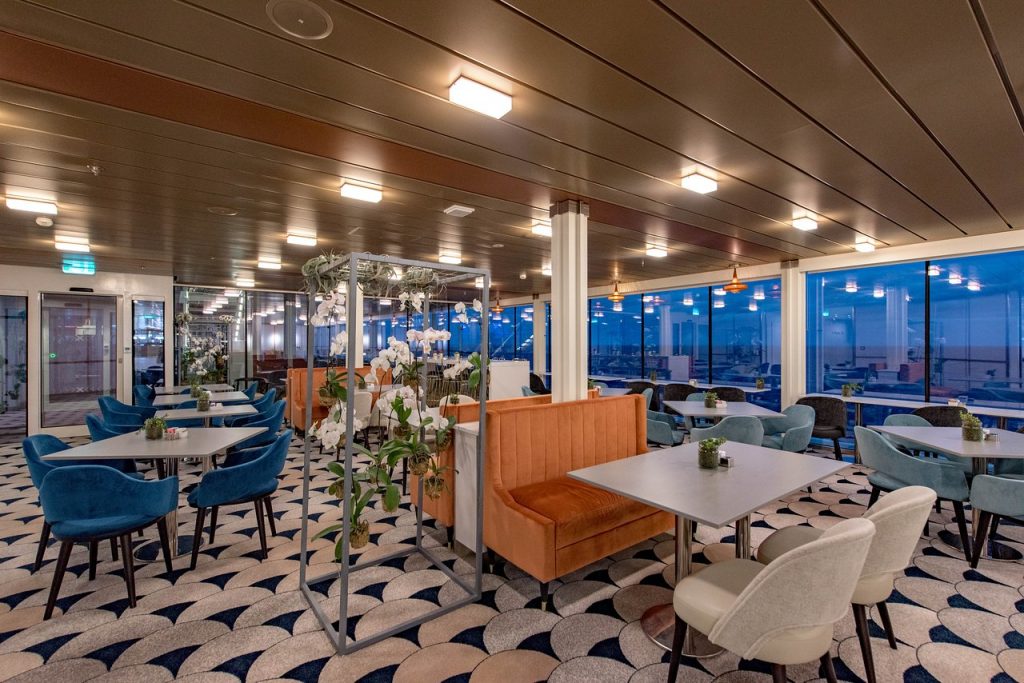 The pizza is a cross between a traditional-style Neapolitan pizza and a thin-crust pizza topped with cheese that goes right to the edge. The variety can vary, but people have told me they loved the BBQ pizza and Blue Cheese and Bacon varieties that were available when they sailed. 
Lots of pizza options for your cruise
No matter what cruise line you sail on, you will find pizza on board. Of course, no one's booking a cruise just for the pizza, but at least now you can see the options available. It's clear some cruise lines prioritize the pizza experience, while for others, it's just an afterthought.
CruiseSpotlight is an Amazon Associate. We may earn a commission when you click links to retailers and purchase goods.