8 Things To Know About Alaskan Cruises
Last Updated on August 11, 2023
With unique itineraries, amazing views, and so many activities you can't do anywhere else, an Alaskan Cruise should be on everyone's bucket list. It's an experience you'll never forget that's completely different from the typical warm-weather sailing. 
I'm going to take you through what I think you should know about Alaskan cruises based on my cruise on Ovation of the Seas. 
1) An Alaskan cruise is nothing like a Caribbean cruise
If you've sailed in the Caribbean before, you have certain expectations of a cruise: drinks with umbrellas by the pool, deck parties under the stars, etc. An Alaskan cruise is a noticeably different experience. It feels more like an adventure cruise than a relaxing cruise.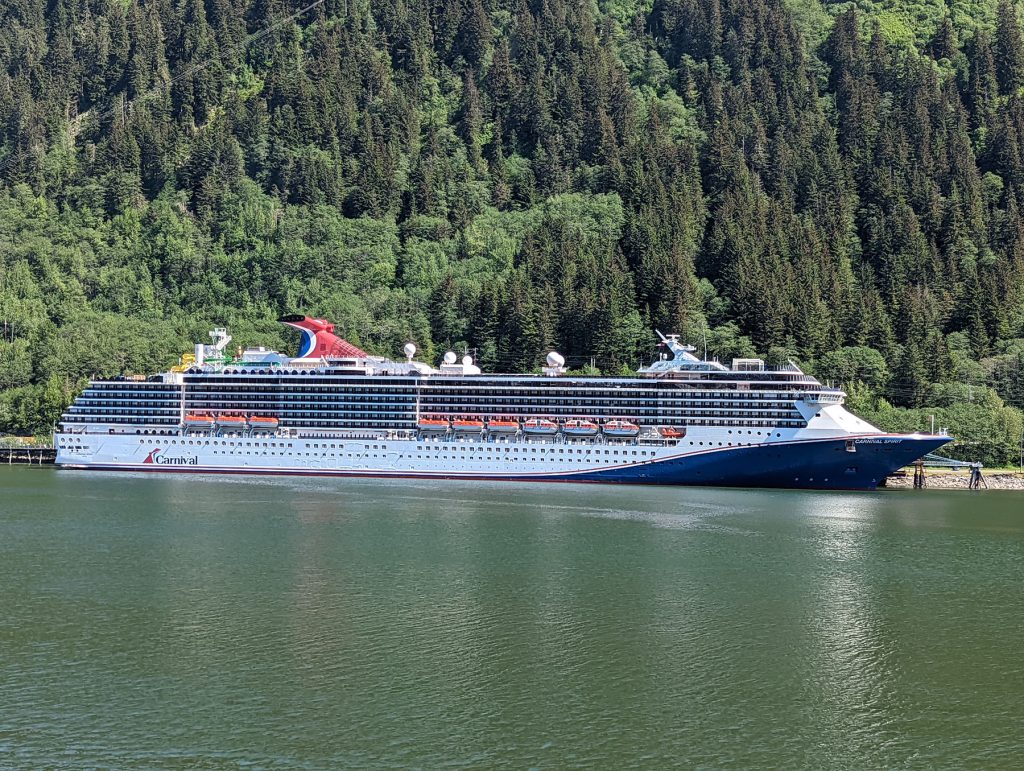 Most Alaskan itineraries feature much longer times in port than you'd see on a traditional Caribbean cruise. Time ashore can easily be 10 to 12 hours. Also, during the cruise season in Alaska, the days are long, with the sun still hanging high in the sky until 10 PM. For those who have cruised before, it'll be noticeably different. 
It also means that an Alaskan cruise might be great for people who would traditionally not enjoy a Caribbean cruise. I have friends to who I'd never recommend a warm-weather cruise, but I know they'd love an Alaskan cruise. Most ports are only accessible via cruise ship, and it's the perfect way to see it. There's also an excellent opportunity for adventure.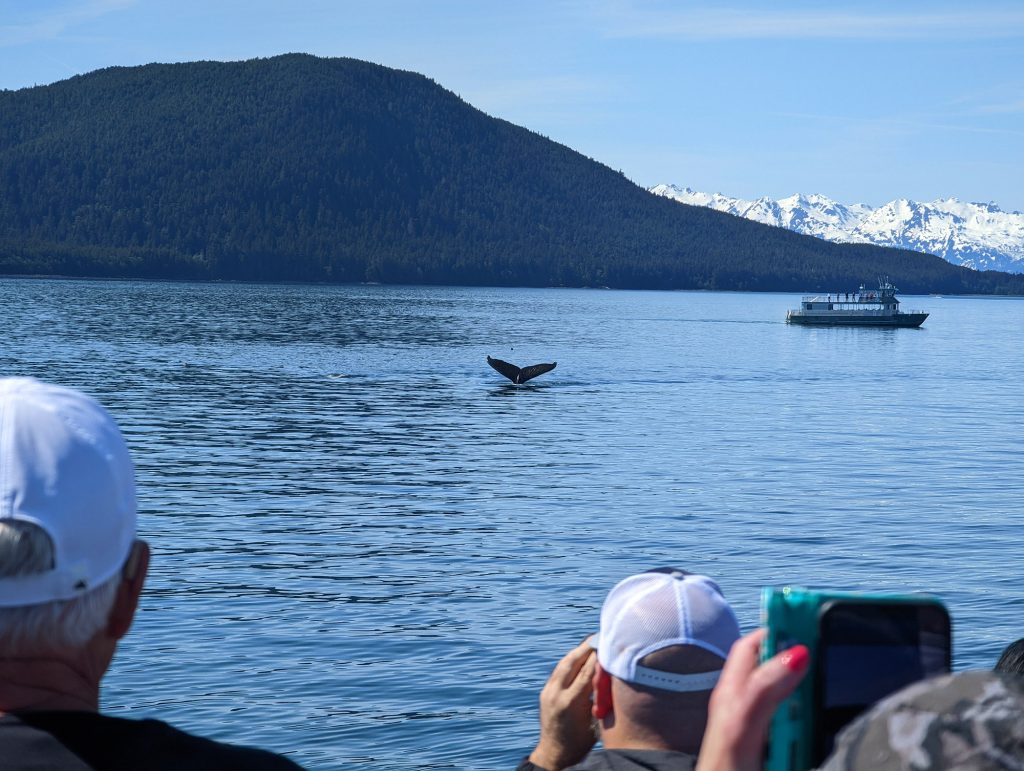 2) Alaska is not just for senior citizens
There seems to be this perception that Alaska cruises are just for older adults who aren't active or fun. That's far from the truth. While the demographics will vary depending on your cruise line, ship, and the dates you sail, Alaska cruises are surprisingly well-rounded. In fact, on my sailing, it felt very similar to the demographics of a Caribbean cruise. 
Of course, that will depend on the cruise line you select. Holland America and Princess will skew to older demographics, while Carnival, Norwegian, and Royal Caribbean will be more well-rounded with people of all ages. 
You can also scale the cruise to what you want to do. For example, you can make the cruise a beautiful, relaxed vacation where you enjoy the scenery and eat delicious local foods or go on thrilling adventures. The options are there; you decide.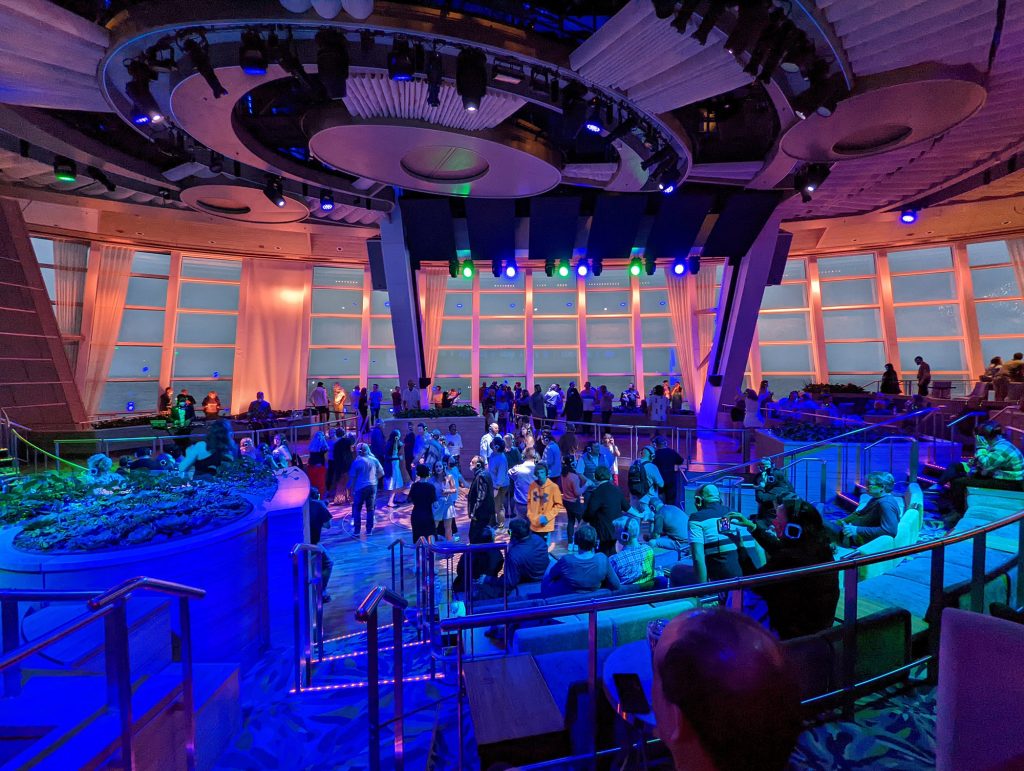 3) The ship matters
In the past, most cruise lines put their oldest and smallest ships in Alaska as it wasn't the most popular of sailings. Recently though, interest in Alaska cruises has been building, and cruise lines have started putting their newer and more innovative ships here. That means you have more choices and it will drastically affect your experience. 
Because the weather in Alaska can be unpredictable, you'll want a ship with lots of indoor spaces to keep you entertained if the top decks are inaccessible because of cold or rain.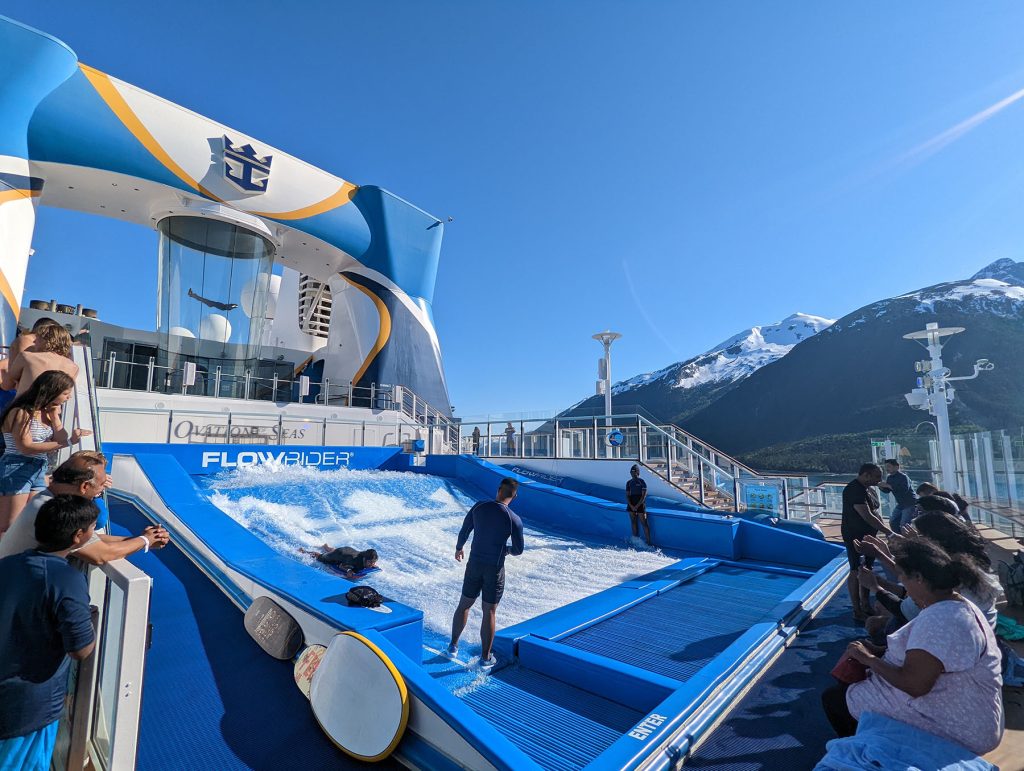 At the same time, think about how you like to vacation. Do you want to sit and read a book, or do you want to take cooking classes, SkyDive, or go to the casino? Will you be traveling with a family? It's important to remember not every ship is the same, and each one will cater to a slightly different demographic. 
Ships sailing to Alaska in 2024
Princess
Royal Caribbean
Holland America
Holland America Eurodam
Holland America Kingsdam
Holland America Nieuw Amsterdam
Holland America Noordam
Holland America Westerdam
Holland America Zaandam
Disney
4) Decide what's important to YOU for your Alaskan cruise
Reading through all the articles about Alaska cruises, you'll see lots of tips and advice. Just remember to take it all with a grain of salt. I read so many messages saying, "You MUST book a cruise that goes to Glacier Bay." Except when I was cruising, the only line that went to Glacier Bay was Holland America. Personally, I would have been bored out of my mind on that ship. I want things to do while on the sailing. The ship I ultimately chose, the Ovation of the Seas, had indoor sky diving, indoor pools, a climbing wall, and more. It kept me busy and was much more important to me than seeing Glacier Bay. But that could be important to you. 
Which cruise lines visit which Alaskan Ports?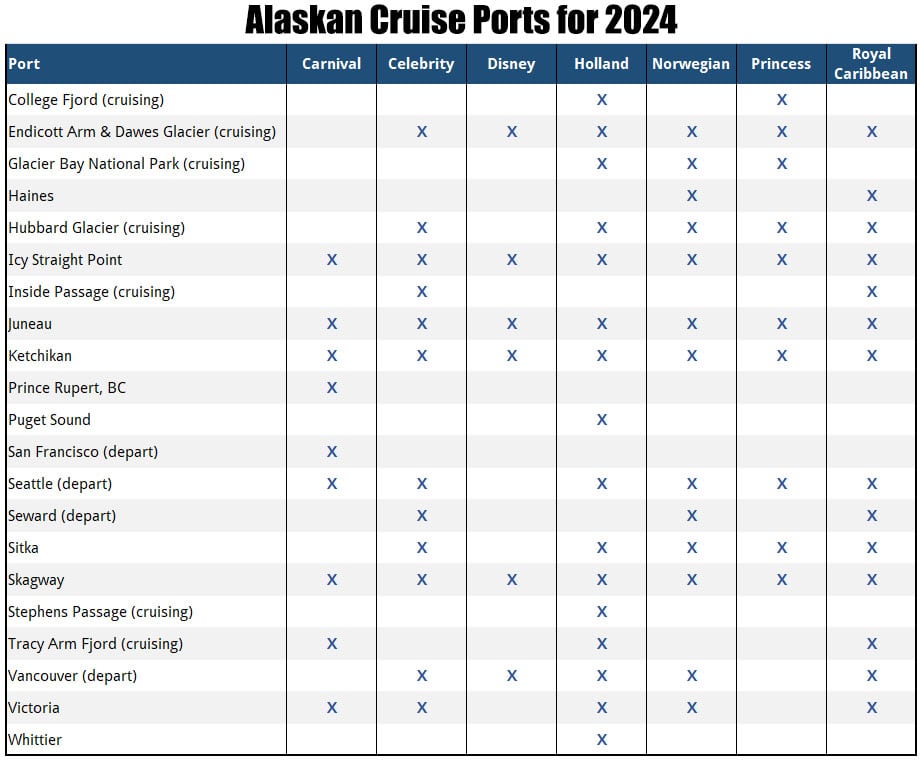 In the same vein, people say you NEED a balcony cabin. Yes, balcony cabins are nice, and if there were a cruise that you really wanted a balcony cabin for, an Alaskan cruise would be it. But they are considerably more expensive. Not everyone had to budget to afford a balcony cabin. If I had to choose between not going to Alaska because I couldn't afford a balcony room or going in an interior cabin, I'd take an interior cabin.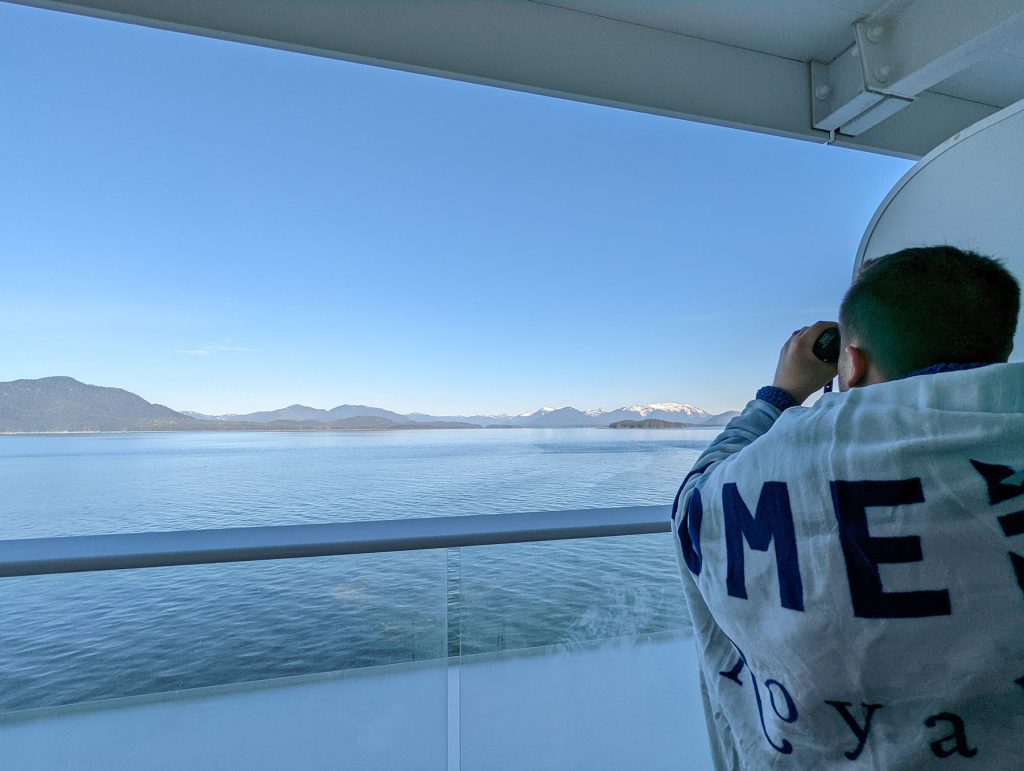 Again, take a look at your ship when deciding, though. The Ovation of the Seas had so many spaces that overlooked the Ocean, like the Solarium and Two70 lounge, it didn't matter if you didn't have easy balcony access. I got great views from everywhere on board. On some other ships, you might feel like you're missing out if you had an interior cabin.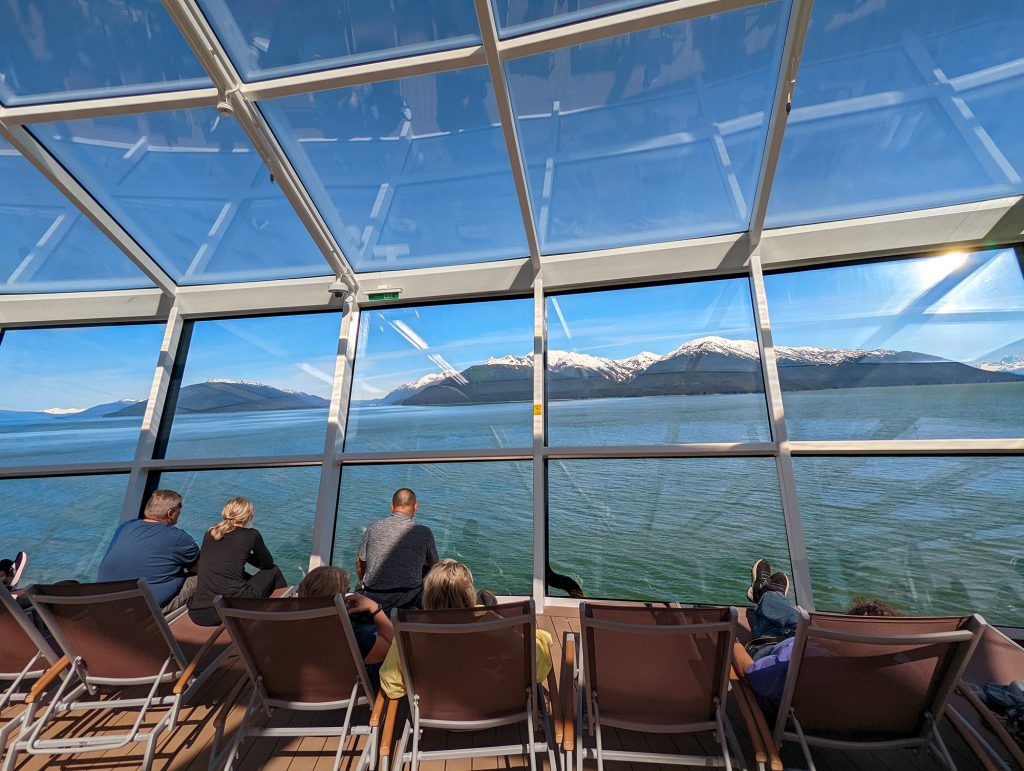 5) Alaska excursions are going to be pricey
Alaska cruises are generally more pricey than their Caribbean counterparts, but most people don't realize Alaska excursions are quite a bit more expensive as well. You can easily expect to pay $100 – $300 per excursion. Most of these excursions are relatively unique, though. You can hike on a glacier, white water raft down a river, zip line through a rainforest, and do other things you can't do anywhere else.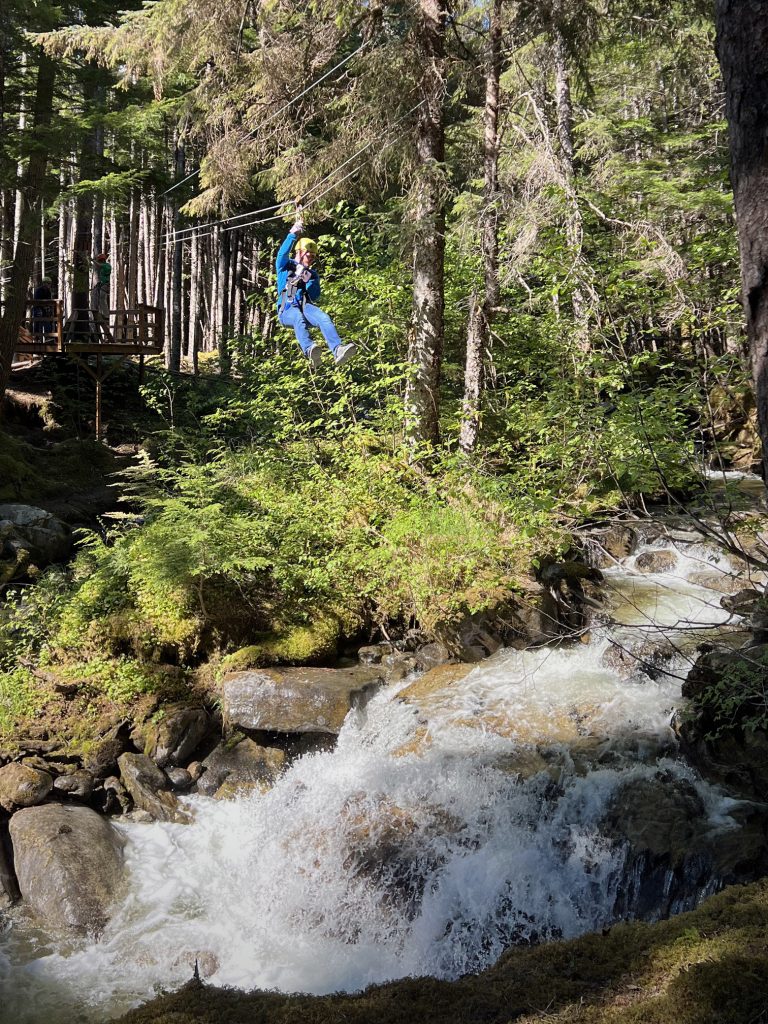 That being said, you don't HAVE to spend that much money. Many of the ports visited in Alaska are easily accessible from the ship for little or no money. You can get off, walk around the little towns, and explore on your own; frequent the local restaurants, check out museums, or even rent a car. 
The high cost isn't a bad thing necessarily, but you should be aware when budgeting for your vacation. For example, on my May 2022 cruise, excursions accounted for 20% of the entire cost of the trip. It was the third most expensive part of the trip, behind the cruise fare itself and the airfare.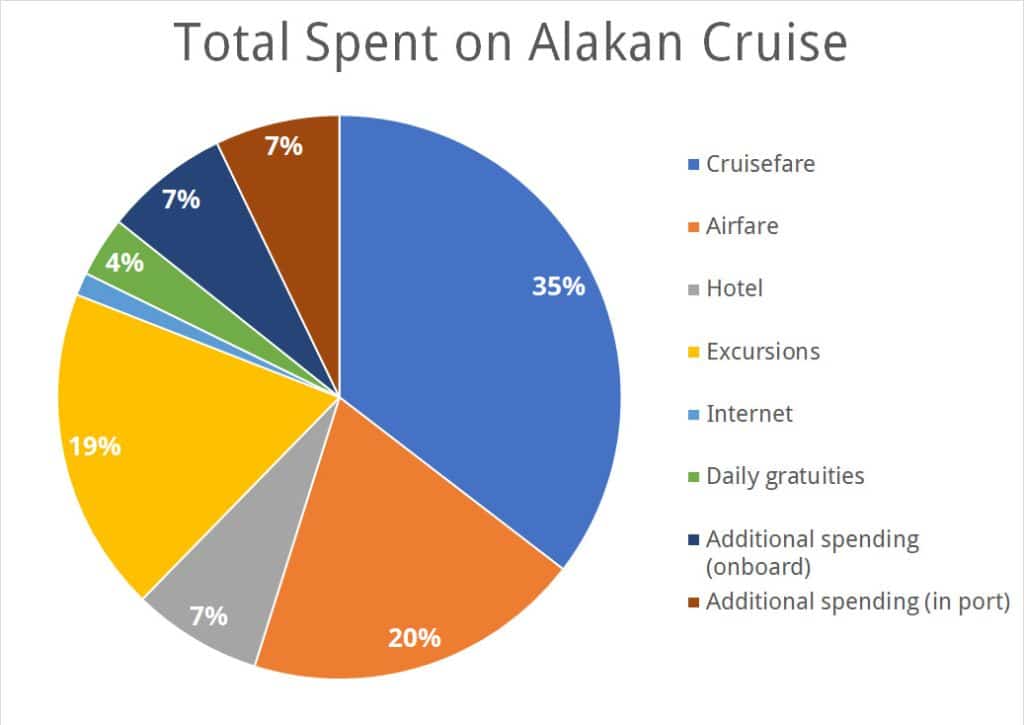 6) You're going to overpack
One of the top questions you see when looking up Alaska cruises is what to wear. Unfortunately, it's so hard to decide what to bring because it can be cold and rainy or 80 degrees and sunny, and the weather is hard to predict. 
On my cruise, I brought way too many winter clothes. Most of the days on my late-May cruise, it was 75 degrees and sunny. I was okay with a short sleeve shirt and a hoodie for most day activities. At night, the ship was warm, and I usually wore a polo. I ended up with a bunch of sweaters and long-sleeve shirts I never wore once.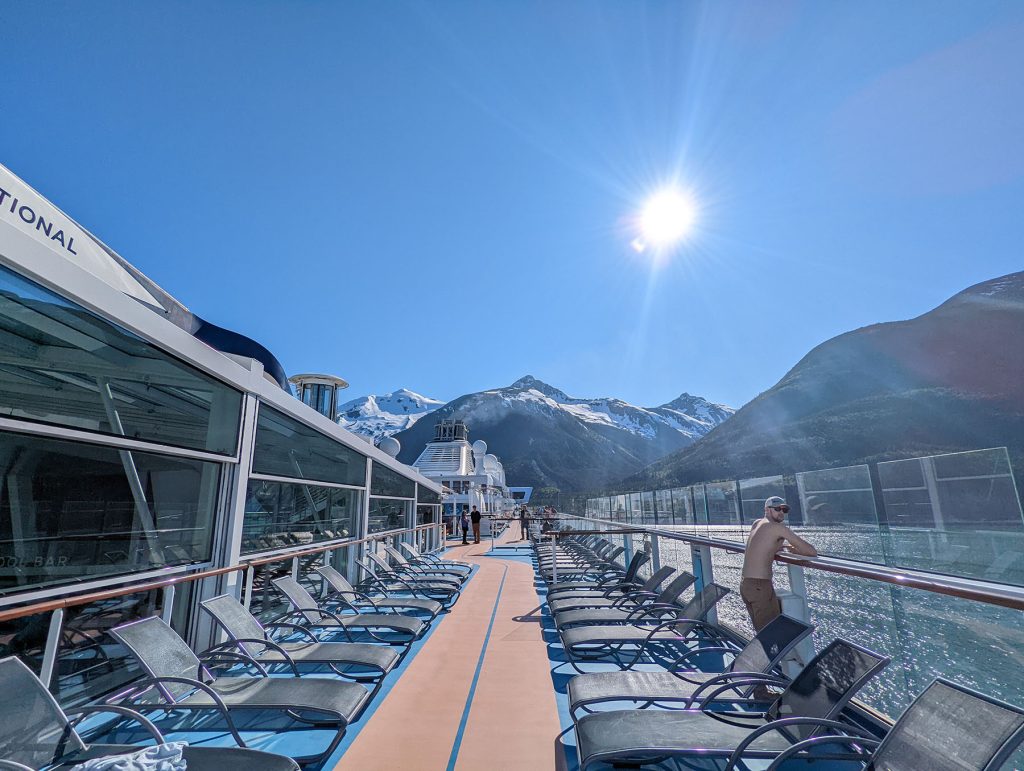 Everyone who's done an Alaska cruise says it, but it's true, bring layers. Don't bring a super heavy sweater; bring a shirt and light jacket to put on or take off layers as needed. Also, bring a cheap, lightweight backpack on excursions to hold your layers when you're not using them. 
7) The Alaskan views will be absolutely amazing
It's honestly hard to describe the beauty you'll see on an Alaskan cruise. Believe me; I've tried. Have you ever had a moment where you see something so picturesque and beautiful that you're almost frozen as your brain tries to process it? When you're just standing in awe with your mouth open? Expect a lot of that in Alaska.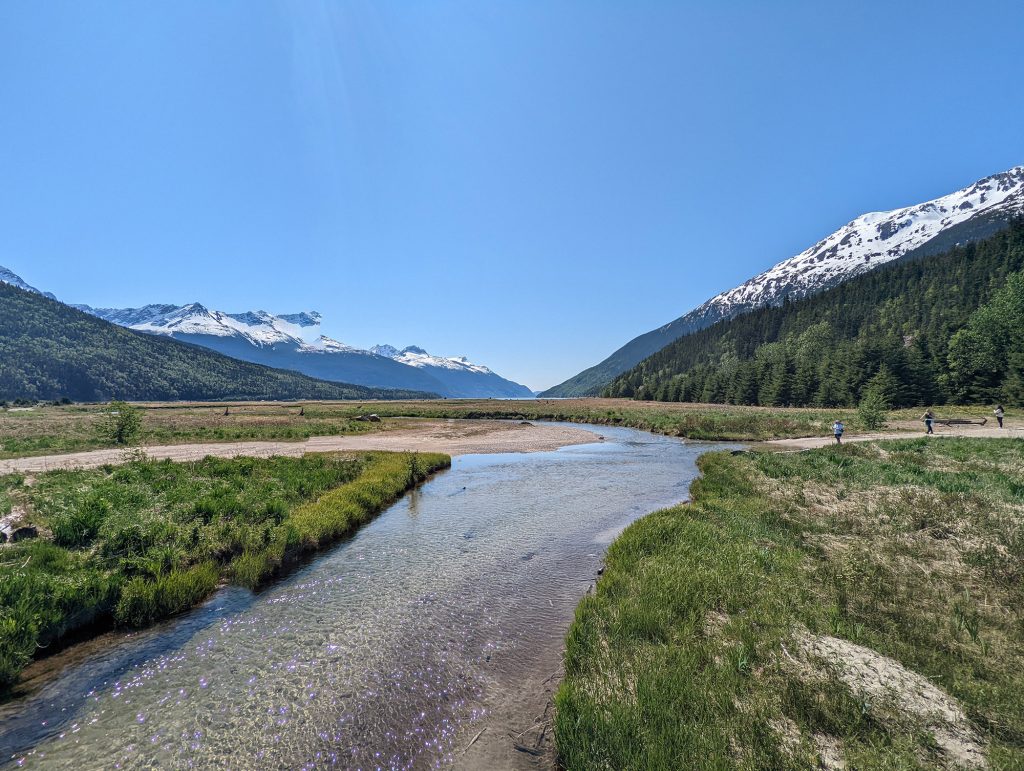 Whether it was the views from the ship sailing the inside passage, the majestic mountains in Juneau, or the quaint towns of Sitka and Skagway, there were so many times I felt like I was in a movie. In all my cruises, I hadn't experienced anything like it before. 
You also get the opportunity to get to see lots of wildlife you haven't seen before. Even though it's our national bird, I've never had a chance to see a Bald Eagle, and in Alaska, they were all over the place. Watching them soar through the skies or casually perch on top of a totem pole was amazing. I also saw humpback whales, bears, seals, and otters. So much wildlife. The one thing you won't see? Moose. While the moose is the State animal of Alaska, they're much more common in the interior of the state than the coastal areas you'll visit on a cruise.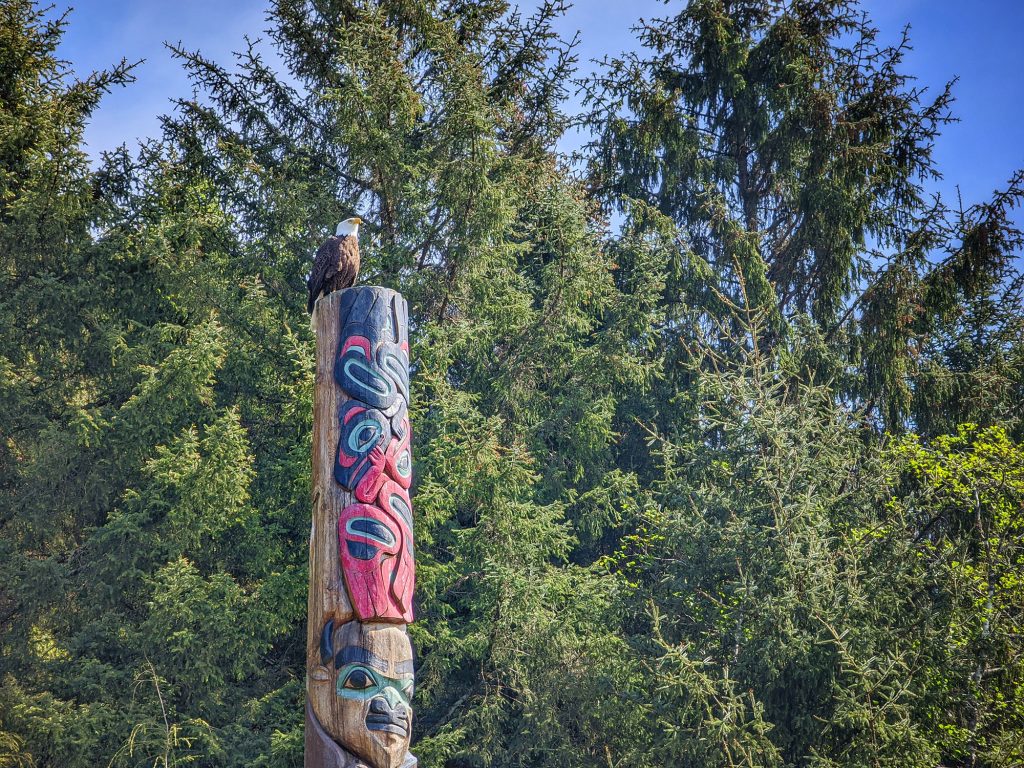 8) Book your Alaska Cruise and activities early
Unlike Caribbean cruises that sail year-round and have many ships, Alaska itineraries are much more limited. Only a handful of ships sail in Alaskan waters and only from May to September. That means space is limited on many sailings. For the best price and cabin availability, book as far out as possible. I booked my cruise 18 months before we sailed. If you're uncertain if something will come up in that time, look for a refundable fare. 
Excursions also sell out fairly early, so book as early as possible, just like the cruise itself. It's especially true if a specific excursion is a "must-do" for you; many people wait too long to book these adventures and miss out. 
Learn from other's experiences
Alaska was amazing, and I'd highly recommend it to anyone who likes nature or adventure. While brochures and fancy websites with pictures from nature photographers are great, the best thing is getting first-hand experience from someone who's been.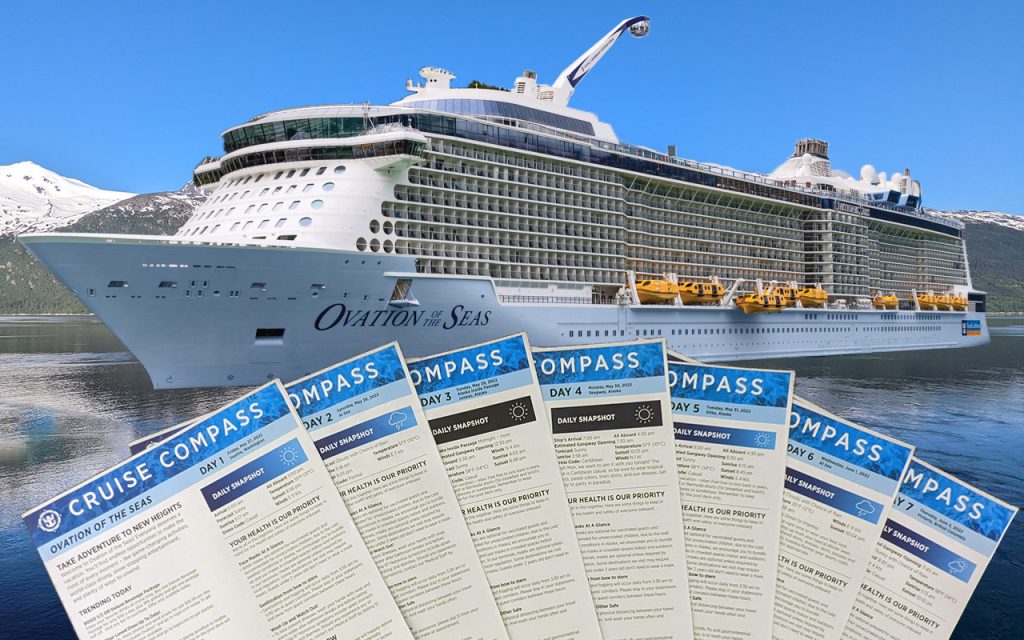 You can follow along on my 7-day cruise below to see what I did in each port and onboard the ship. 
Ovation of the Seas – Cruise Blog - Day 1 – Seattle
Ovation of the Seas – Cruise Blog - Day 2 – Sea Day
Ovation of the Seas – Cruise Blog - Day 3 – Juneau
Ovation of the Seas – Cruise Blog - Day 4 – Skagway
Ovation of the Seas – Cruise Blog - Day 5 – Sitka
Ovation of the Seas – Cruise Blog - Day 6 – Sea Day
Ovation of the Seas – Cruise Blog - Day 7 – Victoria
Ovation of the Seas – Cruise Blog - Day 8 – Debarking in Seattle
6 Hits & Misses of Ovation of the Seas
You can also see how I decided on that sailing.
In the article below, I take you through all the different considerations I had to make when narrowing down my choice for the cruise. It'll help you think through what's important to you for your cruise. 
CruiseSpotlight is an Amazon Associate. We may earn a commission when you click links to retailers and purchase goods.