Sun Princess to Add a 3-Story Family Activity Zone
Princess Cruises made a surprising announcement about their new ship, the Sun Princess. The ship will feature a new two-story family activity area when it debuts in February 2024. Princess Cruises isn't typically known as a line that focuses on family and children, so a space this large is quite surprising from the brand. 
The new family activity zone will be called Park19 and will span decks 19, 20, and 21. With nine different activities, it will be a place to keep the family busy on sea days. In a press release, Princess Cruises president John Padget said, "The new area was tailored based on guest feedback for more family and group activities spaces."
Park19 will have some innovative new features as well as some more traditional cruise activities found on other cruise lines. 
Sun Princess features the first Rollglider at sea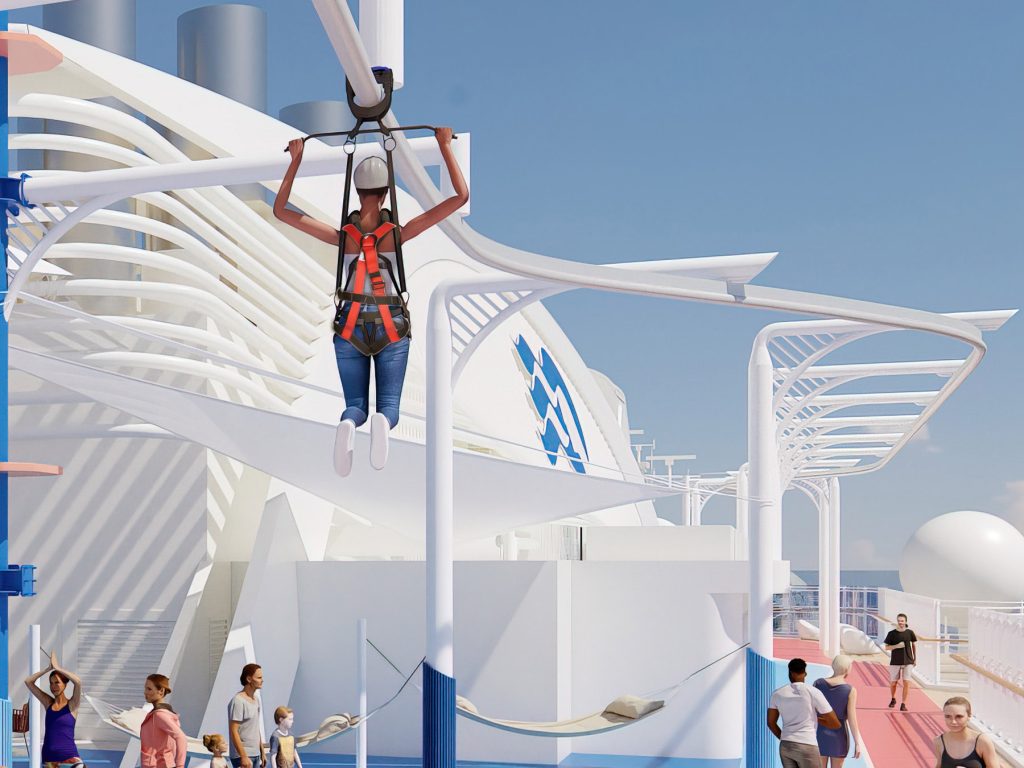 The new Park19 area on Sun Princess will feature the first rollglider at sea. Called Sea Breeze, this ride will circle around the Park19 area, reaching speeds of up to 11 mph. It'll offer beautiful views of the vista while at sea or stationed in port. A single lap will be 60 to 90 seconds, and the ride is ADA-accessible. 
What is a rollglider? It's essentially a powered, flat zip line. The guest is strapped into a harness similar to a zip line, and then they grab onto a handlebar similar to what you might see on a hang glider. Electric motors then zip them around the suspended metal track. 
Ropes Course on Sun Princess
Another attraction in Park 19 is the Coastal Climb. While Princess Cruises doesn't call it a "ropes course," that's what it seems to be. Guests start at deck 19 and work their way past obstacles as they ascend to deck 20. Once on the top, they can slide back down to the entrance. 
The Net area in Park19
Park19 will feature The Net, an area on deck 19 where guests can walk across unstable bridges, traverse a z-shaped balance beam, and climb on different cargo nets. 
360º views at the top of Sun Princess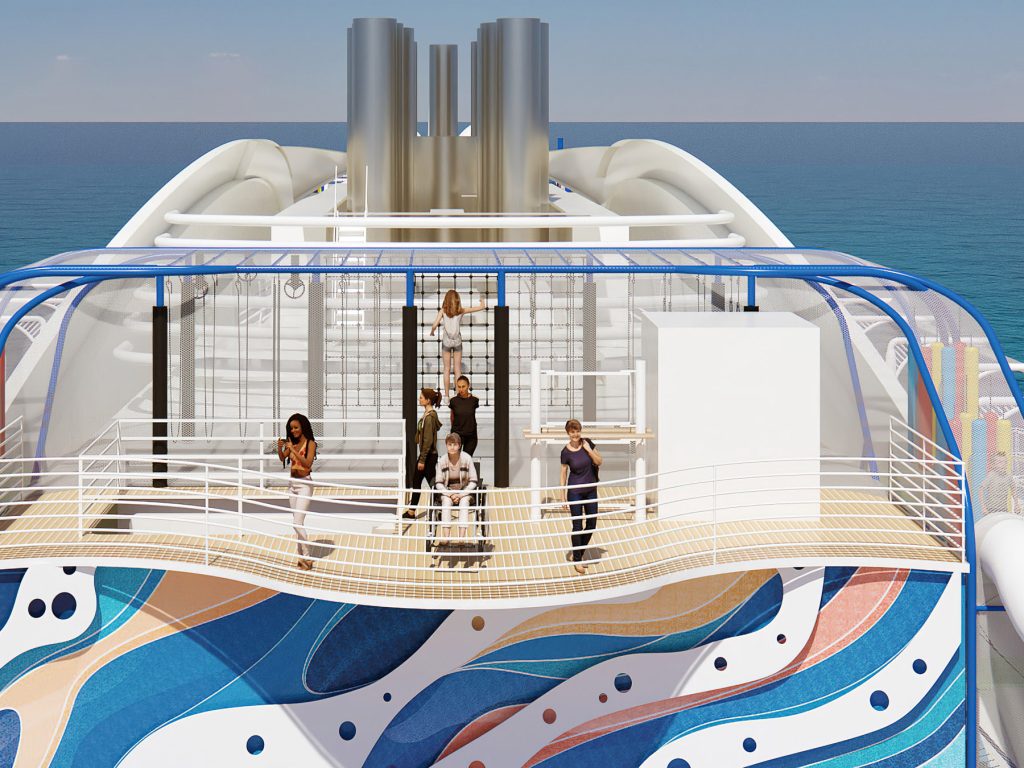 At the top of the climbing structure is The Lookout. It's the highest point available to guests on Sun Princess and offers impressive views from the open-air observation deck. Like the Sea Breeze, this area is ADA-accessible. 
Tilting walls for thrilling views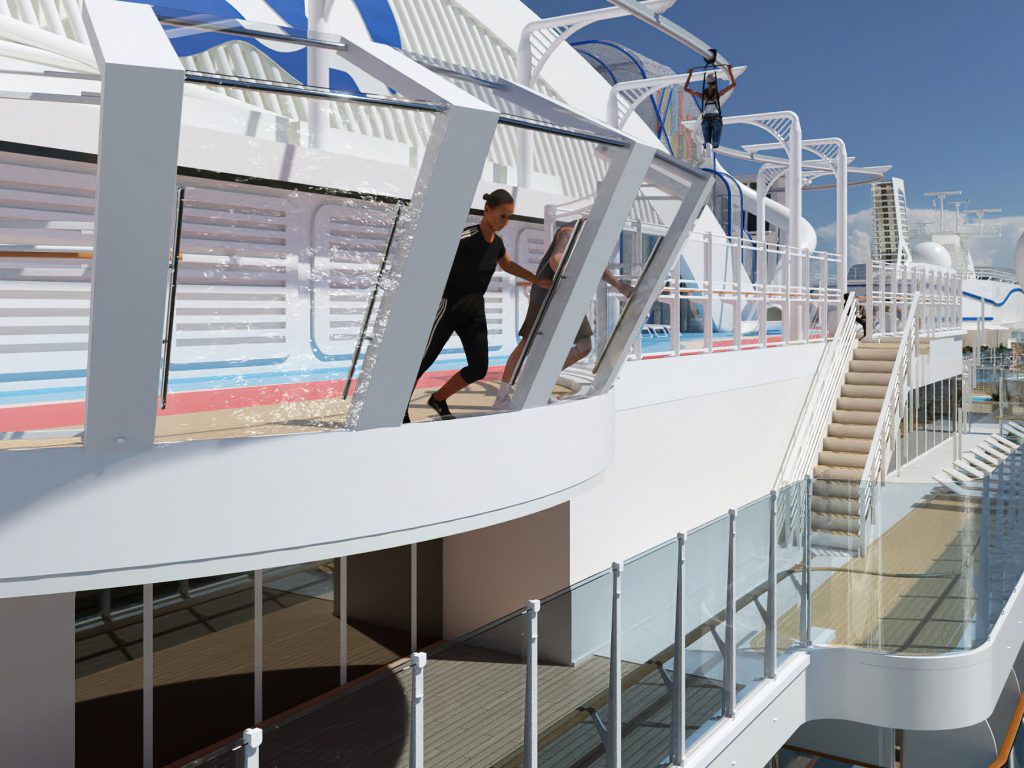 Park19 also has Infinite Horizon. These leaning tilt walls are cantilevered over the side of Sun Princess. Guests who brave this attraction can peer ten decks down to Deck 9 and the ocean. These walls seem stationary, unlike the version you might have seen in videos of TILT at 360 Chicago, which actively moves forward while guests are at the window.
Splash Zone on Sun Princess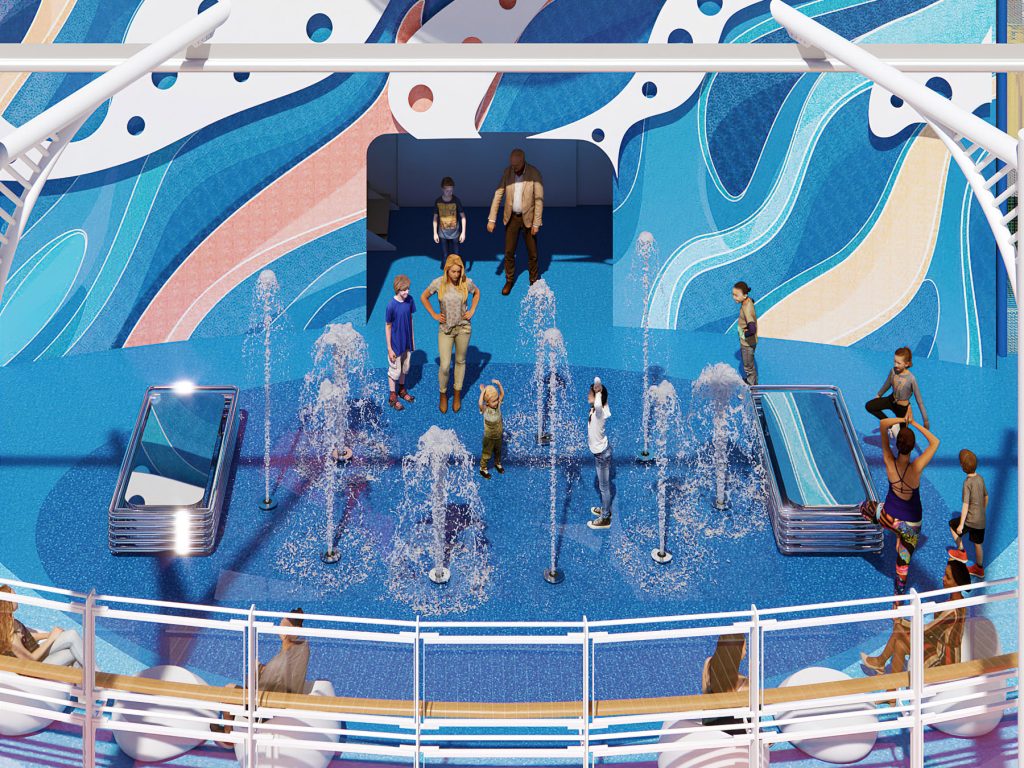 Princess Cruises is not known for having water slides or huge splash parks, but the Sun Princess will have a new splash area filled with pop jets and a water sculpture. 
Recreational Court for various activities
The Recreational Court will host various activities like ping pong, shuffleboard, fitness classes, and even morning meditation. It's a multi-function area, so the activities here will range throughout the cruise. The space provides a lot of great outdoor space for more relaxing activities. 
Hammocks for relaxing
It's not all about action in Park19. The area also has hammocks across the area, a first for Princess Cruise lines. Family members can relax while they're loved ones are scaling the obstacles.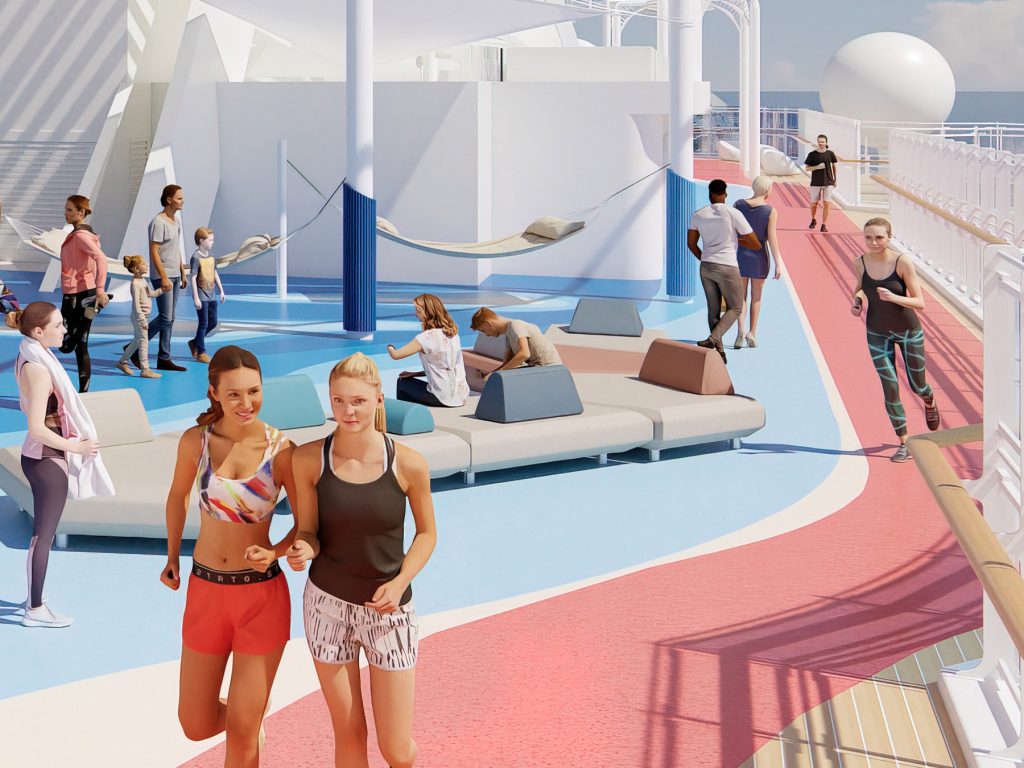 Jogging Track around Park19
Lastly, the new family activity zone has an open-air jogging track that circles the outer part of the deck. If you're training for a marathon, though, you might get dizzy; it takes 6.7 laps to get to one mile. 
Park19 on Sun Princess means fun for the whole family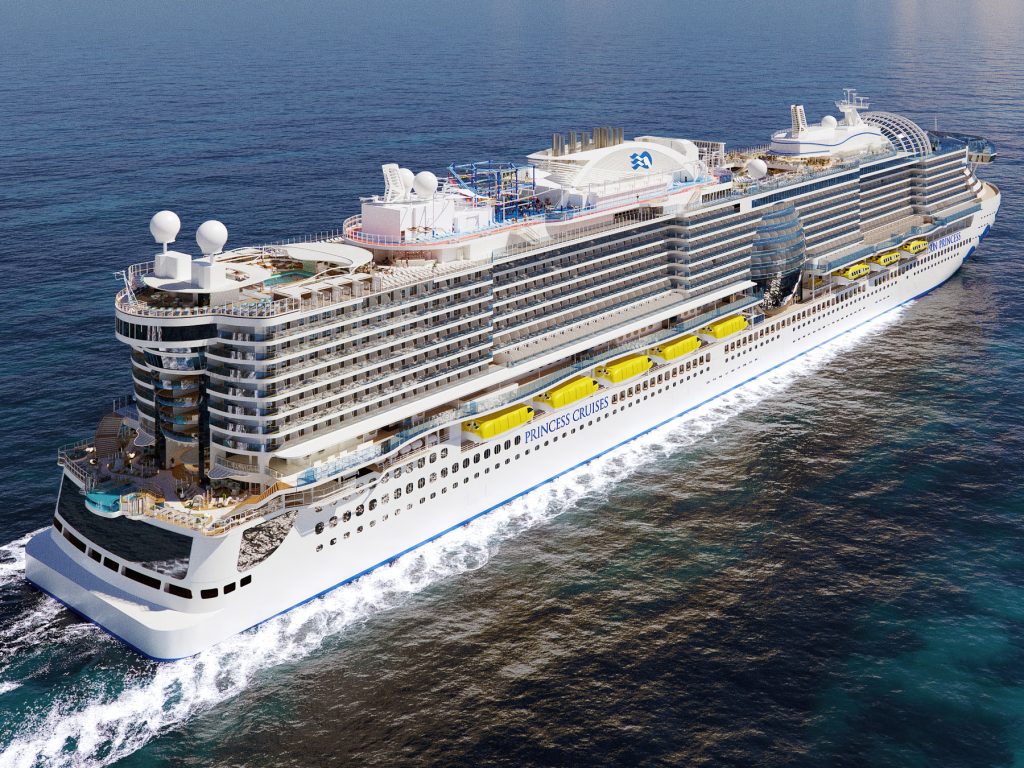 Adding this family activity zone makes Sun Princess even more suited to multi-generational cruisers. But also, it's not a massive departure for Princess Cruises. It's not a huge water park like Royal Caribbean's Icon of the Seas or a roller coaster like Carnival Mardi Gras, but a more subdued and refined version of a family activity area. 
While Princess Cruises' demographics traditionally skew older than other lines, on this ship, now a whole family can have something fun onboard to do. It makes it much more suited to a fun family cruise for everyone. 
CruiseSpotlight is an Amazon Associate. We may earn a commission when you click links to retailers and purchase goods.