How I decided on a 5-day Bermuda cruise for my extended family
In just a few short weeks, I'll embark on a 5-day sailing aboard the Liberty of the Seas with my parents, siblings, and all their families, 15 of us in total. But planning a cruise for this many is a headache in itself. I'll take you through how I chose this Bermuda cruise for my family. Hopefully, it'll help you think through how to plan a cruise for your own family. 
Our family vacation background 
A little background first. In 2004, my Grandparents took us on our first cruise on the Carnival Celebration. It spawned my love of cruising, but the bug didn't bite my family as hard. In the 19 years since then, all my siblings and parents have taken one other cruise (separately), but none of them are seasoned experts. The group now includes six kids who haven't had the chance to cruise yet. 
As an extended family, we've made two family trips to Disney, and while they were a ton of fun, the logistics of coordinating meals and activities with so many people across four theme parks was a nightmare. While I sat in long lines for Disney transportation or waited for a restaurant to have a table for 15, I realized how much easier a cruise would make a family vacation. 
The next step was to figure out the best sailing for my family cruise. Here are the steps I went through to decide.
Choosing the departure port
One of the first considerations was the port of departure. We're based in the Northeast, and with so many people, flying down to Florida to take a cruise dramatically increases the costs. So because of that, we limited the options to Northeast options like New York/Bayonne, Boston, and Baltimore.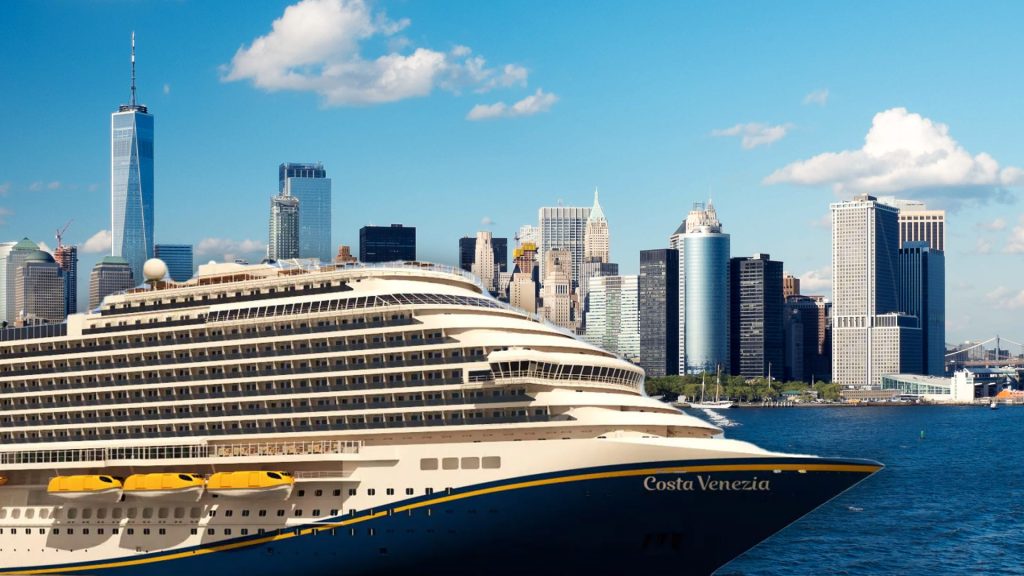 New York departing cruises are typically more expensive than Florida ones, so often, there is no real cost savings in leaving from the Northeast. But in this case, having to pay for parking, meals at the airport, and a hotel for the night before (a must-do when flying into a cruise, in my opinion) would get pricey for a family of 15. 
Choosing the cruise line 
We were open to any mainstream cruise line for this cruise. My family has all sailed Carnival before and were familiar with them but not loyal to the brand. Also, with such a diverse group of ages, the cruise line had to have something for everyone like an adults-only pool, a kids club, and good dining options.
Because we were only looking at mainstream cruise lines, our options were Carnival, Royal Caribbean, and Norwegian. Having sailed on them all myself, I knew any could suit my family, but it'd come down to the ship. Too many people think every ship in a brand's fleet is the same experience, but there's nothing further from the truth. Would you expect a 2023 Honda Civic sedan to be the same experience as a 2016 Honda Odyssey minivan? No, it'd be significantly different, and the same goes for cruise ships. 
Personally, I was leaning towards Carnival because they have a feeling of fun onboard that'd be great for my family, but it was only slightly ahead, in my opinion. 
Looking at the date
With school-aged kids in our group, the only option was the summer. While many families with kids will try to book a spring break cruise, that wasn't an option for us because the kids in our group were in different school districts with different holiday schedules. That meant we'd have from the last week of June until Labor Day. 
While there are plenty of sailings in August, that's hurricane season, and while I might be willing to take the risk for myself, dealing with possible detours, delays, or cancellations for 15 people would be a nightmare for me. Because of that, our window was from the end of June to the end of July. 
Personally, I avoid sailing this time of year at all costs because it's much more expensive, and the ships are completely full due to kids being out of school, but I didn't have a choice here. 
Which ship was right for my family
I'm a ship aficionado, so it's all about the ship and what it offers. I love looking at all the differences between the ships. After looking at the dates, departure port, and cruise lines, these were the final contenders. 
Carnival Magic
I've never been on the Carnival Magic (or its sister ships, the Dream and Breeze), but I've always heard good things about them. In fact, many consider them some of the best ships in the fleet, with a good balance of activities, size, and ambiance.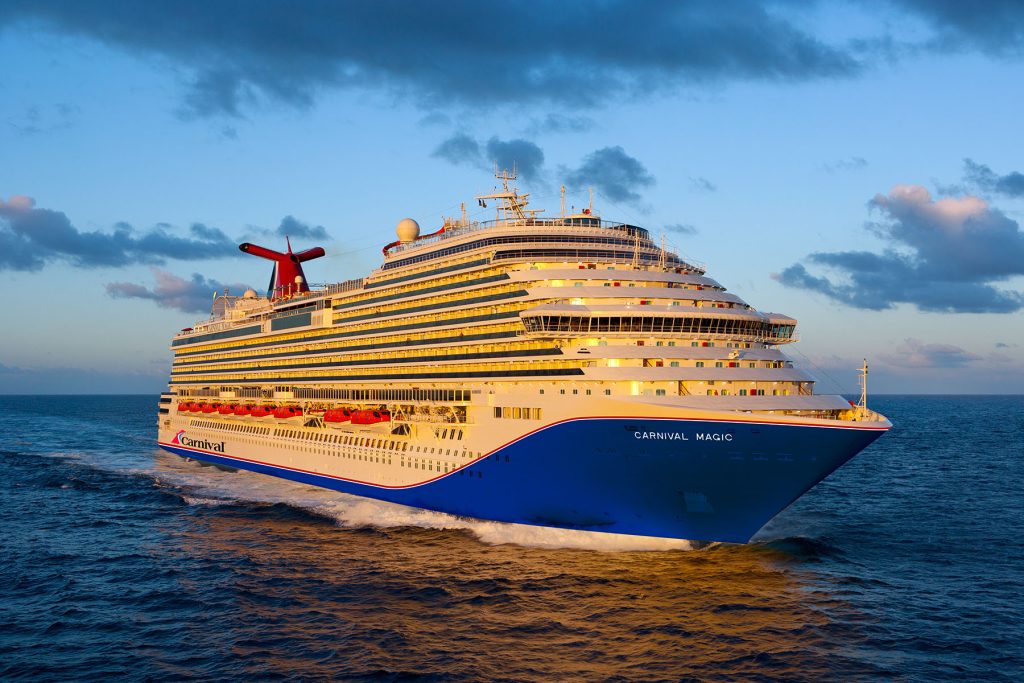 The Carnival Magic has a lot to offer, mini-golf, a large splash area, several water slides, and a ropes course. It also has an exterior promenade called the Lanai, which is great for relaxing and watching the sea away from the crowds. In addition, it has an adult-only area called the Serenity Area (read more about Serenity here), which would allow the adults somewhere to relax away from the frantic energy of children. Carnival also has some of the most included food options, with many fast-casual breakfast and lunch spots available at no extra fee.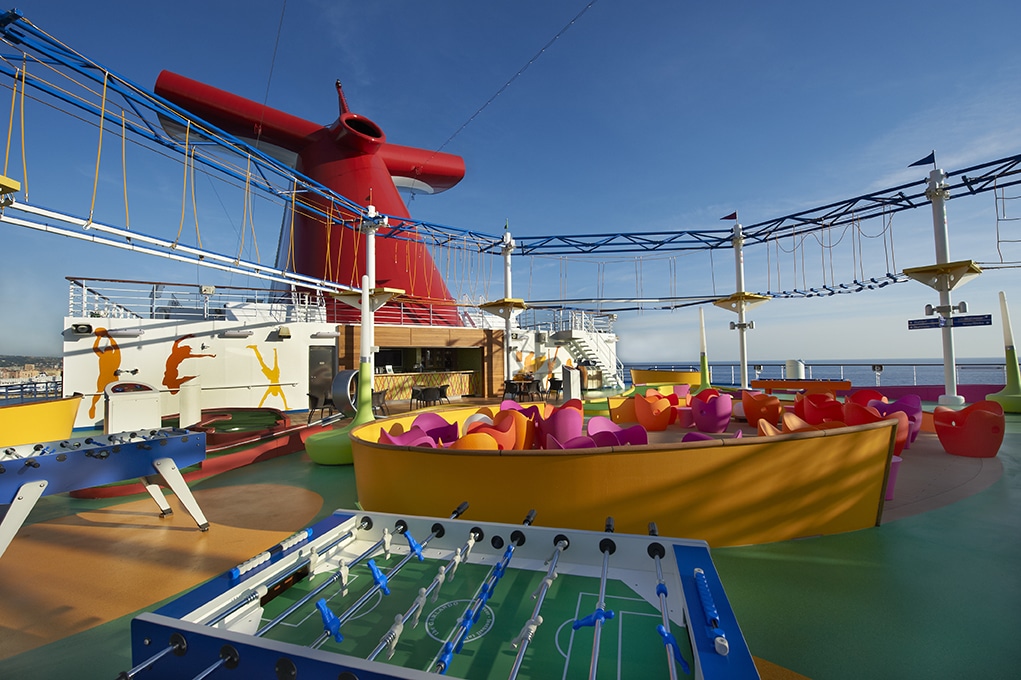 The Carnival Magic has a few downsides for us, though. First, the Serenity Area only had two hot tubs, not a dedicated adults-only pool like the other options below. On top of that, it doesn't have a dedicated kids' pool. It does have two main pools, but I imagine they can get pretty crowded. 
Note: Carnival changed the plans after we booked, and the Magic is no longer sailing out of New York. Instead, they brought in the "new" Carnival Venezia, a ship on loan from their sister company Costa Cruises. This Italian-themed ship is unique to the fleet; it's a version of the Vista-class ships (one of my favorites) but with an Italian flare. It might have made a difference in our final decision, but we already booked the cruise by the time Carnival made this change. 
Royal Caribbean Liberty of the Seas
Another serious contender was Liberty of the Seas, a Freedom-class ship that debuted in 2007. While not the biggest ship in the world by any means, it is still three times bigger than the ship my whole family sailed together last time.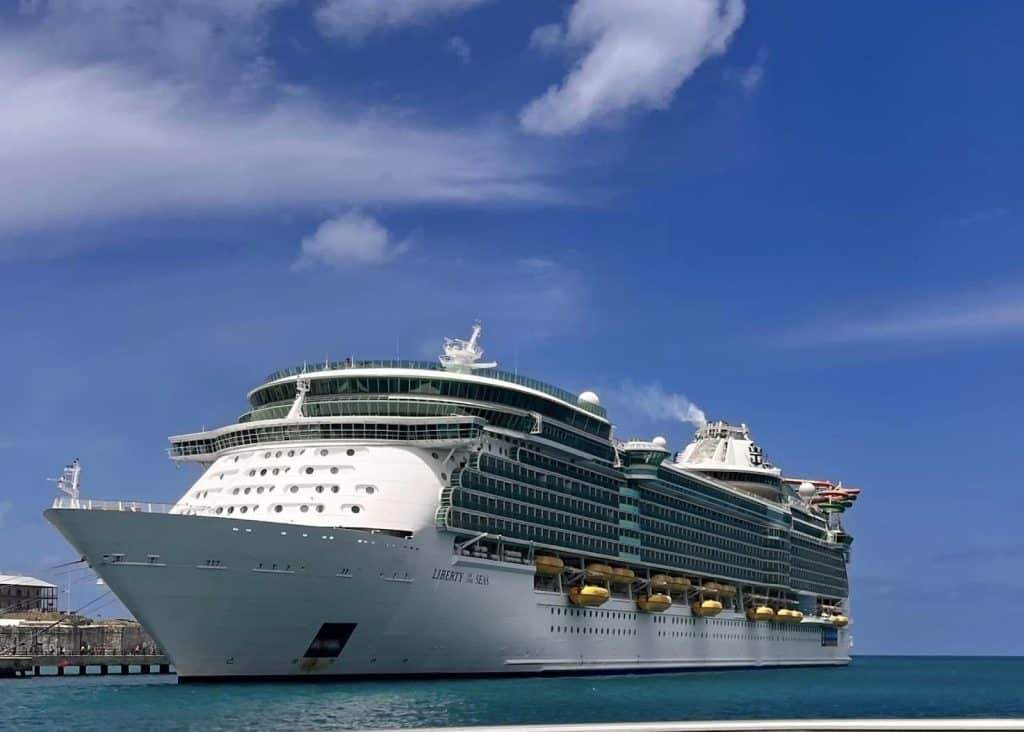 Liberty of the Seas has a lot of amenities and features on board that would be great for the family. For example, it has a sizable kids' splash park and a dedicated kids' pool. It is also one of the few Royal Caribbean ships with a splash pad for kids who are still in swim diapers which was important because we have a two-year-old in the group (kids in swim diapers are not allowed in the pools or other splash areas on Royal Caribbean ships). It also has a climbing wall, FlowRider, mini golf, ice skating, and large water slides for the older children.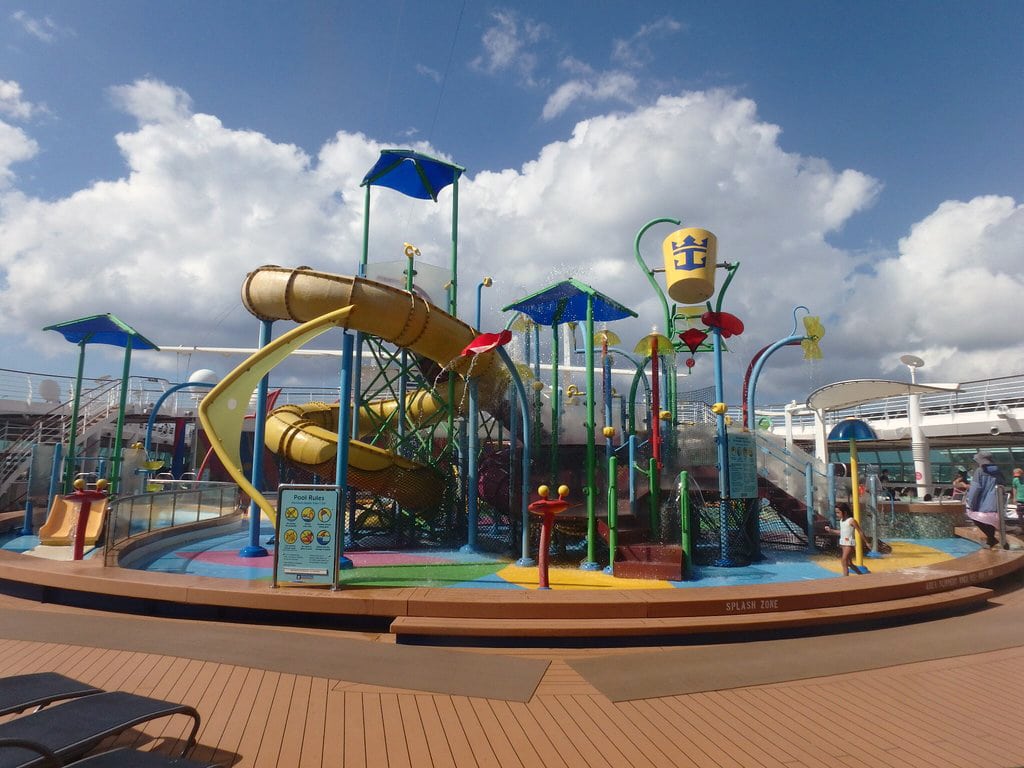 One of the downsides, though, was the ship's age/condition. Liberty of the Seas' siblings all received significant overhauls, called Amplification by Royal Caribbean, but they canceled Liberty of the Seas' upgrade due to COVID. That meant the ship was a bit dated, missing things like the Coke freestyle machines, new food venues, and a working outdoor movie screen (thankfully, that has since been fixed). 
Royal Caribbean Oasis of the Seas
Another option was a 7-day sailing aboard the Oasis of the Seas out of Bayonne. I had just sailed on the sister ship, Harmony of the Seas, in November (read about that cruise here), and the whole time I was thinking about how my family would love it. I could see my nieces and nephews riding the carousel or my brother-in-law trying the zip line and FlowRider. On board, the whole family could find something to do. It had many of the options available on Liberty of the Seas and even more. 
I also loved the numerous dining options were available on Oasis of the Seas. When I was on Harmony, I loved how many places other than the buffet were available for breakfast and lunch, and I never went to the buffet. It led to a much more relaxing atmosphere and peaceful sailing. 
The downside of the Oasis of the Seas was the sheer size. It's one of the largest ships in the world, and coordinating with the entire group on where to meet/what to do could be a nightmare. On top of that, the large number of options means less chance to organically bump into people. When the ship has one pool area, a handful of bars, one buffet, etc., you'll likely bump into your group while going about your day. On the Oasis of the Seas, if you don't plan, you might never see anyone from your group. 
Norwegian Bliss
Another option was Norwegian Bliss. Built in 2018, the Bliss is one of Norwegian's newest and biggest ships (although still 35% smaller than the Oasis of the Seas). This ship has many of the amenities you've come to expect on a modern cruise ship (like mini-golf and water slides) and some unique options like a multi-story go-kart track and laser tag. It also has a really cool water slide that went over the side of the ship. The splash park is much smaller and more basic than the other ships we considered, but it was still serviceable. 
There were two significant downsides to the Norwegian Bliss. One was the extra fees. Most of the unique attractions, like the race track, cost extra, which could add up with six kids in the group who would likely want to ride multiple times (read about Norwegian's race track here). The adult's only area on this ship, the Vibe Beach Club, is also an extra fee. On top of that, only 31% of the restaurants are included on the Norwegian Bliss. I didn't want a vacation where my family would have to constantly shell out more money.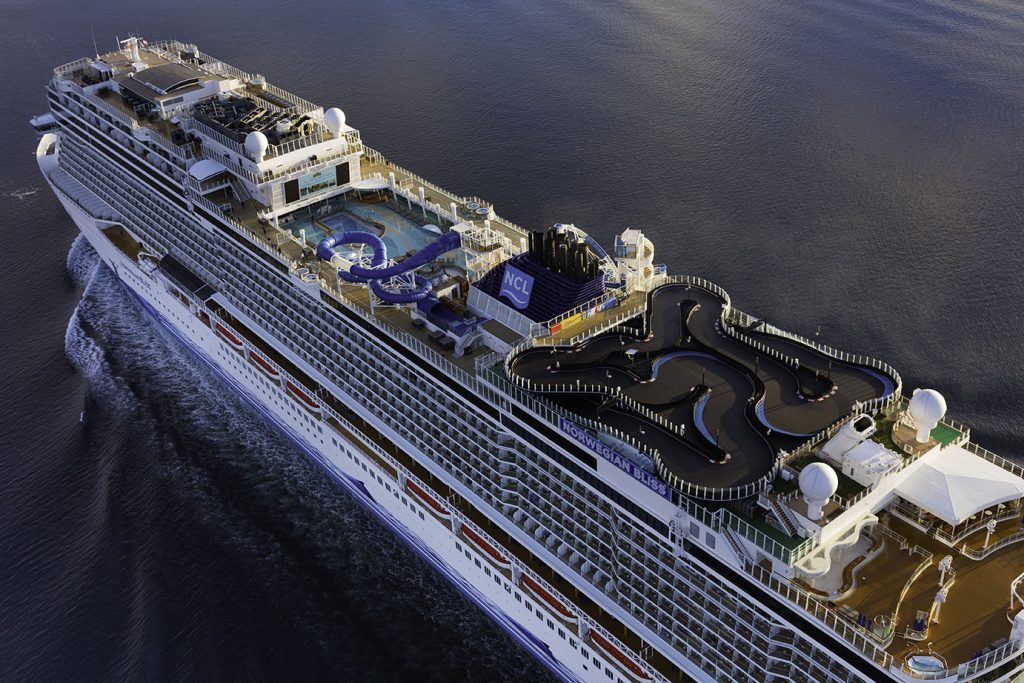 Another downside to the Bliss is the way dining works on Norwegian ships. While many people love Norwegian's "freestyle cruising" meals, I prefer to eat as a group on family or friend cruises. I much prefer the set time dining at the same table each night, so people can wander off and do whatever they want during the day, and we catch up at dinner time. That's not really an option with the Norwegian Bliss, as they have separate restaurants and many specialty dining venues. You could request tables for large groups of people, but I prefer ease of the set-time dining for this family cruise.
In addition, the sailing on Norwegian Bliss was 30% more expensive than the next highest option. Combining all those factors knocked the Norwegian Bliss out of contention for this family cruise. 
Other options: Carnival Legend and Royal Caribbean Vision of the Seas
Two other contenders were sailing out of Baltimore, the Carnival Legend and Vision of the Seas. The ships are pretty basic, with small kids' areas and fewer bells and whistles than the newer ships. Both were older and smaller ships and although fine in their own right, they weren't what I was looking for for this family cruise.  
Picking a good itinerary for our family cruise
Now that I had narrowed it down to the Liberty of the Seas, Oasis of the Seas, and Carnival Magic, the itinerary came into play. This factor is what ultimately led us to our final decision.
The Oasis of the Seas was a 7-day sailing to Orlando, Nassau, and Perfect Day at CocoCay. There were a few reasons this didn't appeal to us. First off, we've done Orlando plenty, as mentioned above. I've also been to Nassau four times and wanted to try somewhere new. 
Another factor here was the daily gratuities charge. Both lines charge $16 per day per person in service charges. Compared to a 5-day cruise, that's another $200 to pay for a family of six on top of the higher price for the cruise itself.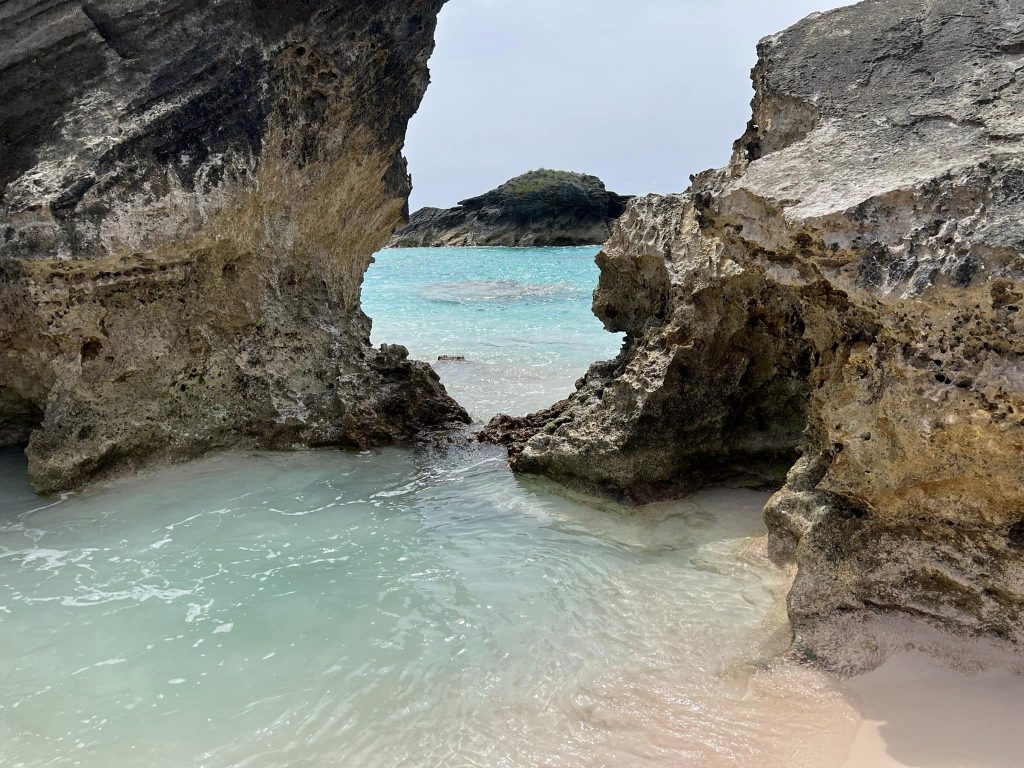 The other two ships went to Bermuda, which has always been on my bucket list. It was also where my parents went on their honeymoon, so it'd be great for them to return on this sailing. The big difference between the Carnival Magic and Liberty of the Seas is that the Magic just spent one day there. I've always heard the real benefit of Bermuda is that your ship docks there for 2 or 3 days, and you use it as a floating hotel to explore the island. I liked that opportunity, and the fact that Carnival spent just one day there really knocked it out of contention. So that meant we went with Liberty of the Seas. 
Choosing the right cabin for each family member
You would think that now that we had picked the date and ship, the rest would be easy, right? But, no, now it came down to choosing cabins. Everyone has their personal preference and the Liberty of the Seas had quite a few options. 
Choosing rooms for families with children
The first part was helping my siblings who had children. Many people mistakenly think a ship has tons of cabins available that are suitable for families. In fact, on most ships, cabins are made to accommodate two people. They can add a third or fourth person, but that's by using pull-out couches or drop-down bunk beds. Having four people in such a small cabin is a recipe for disaster. 
Even if you tried to book a suite, they were really meant to accommodate two guests, but with nicer finishes and larger space. It's a massive oversight by the cruise industry that they don't have cabins with separate sleeping areas for children (Royal Caribbean is addressing this in a big way on their Icon of the Seas).
The best option then is to book adjoining cabins with a connecting door. That way, the parents can sleep in one room and the children in another. Both cabins would have their own bathroom, which helps when getting ready for the day. They also can have privacy by just closing the door between the rooms.
One of my siblings has small children, and the thought of them sneaking out onto the balcony and doing gymnastics on the railing had me in a full-on panic, so we went with an oceanview room. These cabins have large-round windows, so they don't feel as claustrophobic as an interior cabin, but there's no chance of a kid going overboard.
The other sibling had older children, so he opted for two balcony cabins. Being on the first sailing after many of the local schools let out, we knew this ship would be really full. Having a balcony lets you get away and get some personal peace and quiet if needed.
Choosing an interior cabin for my cabin
I would have booked a balcony myself, but the cost difference was so high. The cost difference was $600, and I couldn't bring myself to pay that difference, especially if it'd be spending more time with my family and less in the room.
Also, the cost of a balcony was fairly high, considering my other recent cruises. Since I don't have children, I almost exclusively sail off-season (Jan/Feb). During this time, the prices are so much more reasonable. In this case, I was paying the same for a 5-day cruise interior cabin on a 16-year-old ship that I just paid for a 7-day cruise in a balcony cabin on a brand new ship (read about that cruise here).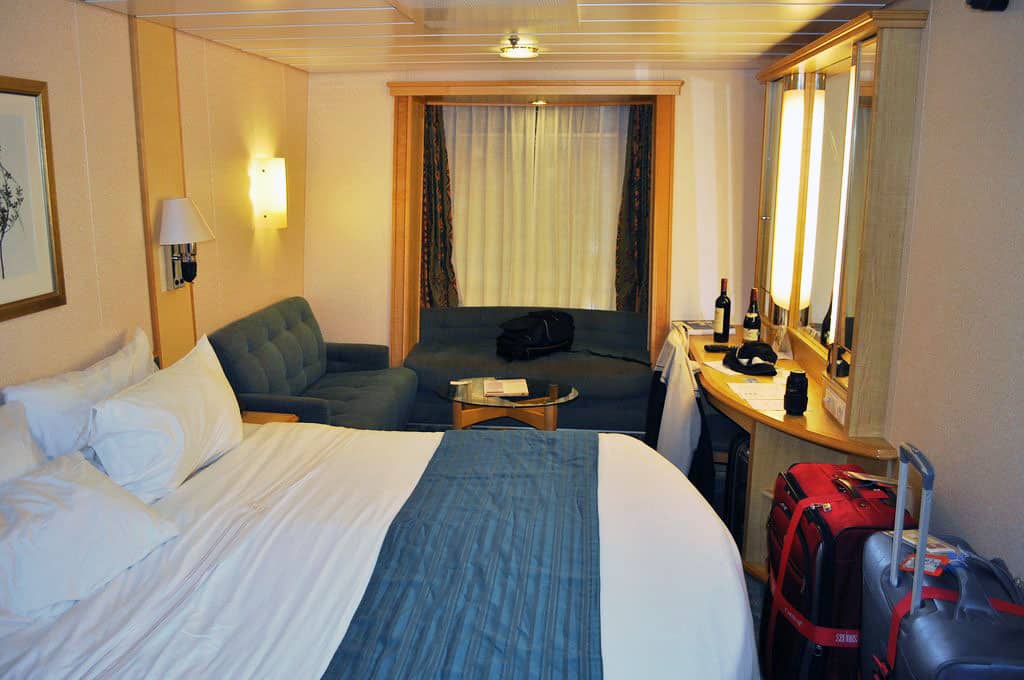 I opted for a "Promenade View Interior Cabin." These are interior cabins, but they have large windows that overlook the "Royal Promenade," a large, multi-story area of the ship that's reminiscent of a mall. I was hoping this window into that area would make the room feel larger and less claustrophobic. 
How to get the best deals on a family cruise
People are always asking how to get the best deal on a cruise, especially for a family cruise. The number of cabins we needed was under the minimum amount for a group discount, so the price was basically the same as if we all booked separately. The big way we saved was to book early. We booked in May 2022, 13 months before sailing. Booking early, especially for summer, holiday, and spring break travel, typically offers the best prices. I kept monitoring the prices after we booked, and we saved hundreds for each cabin by booking that far out.
Another cost-saving measure was that we booked through a travel agent. Some people swear by travel agents, and others swear by booking directly through the cruise line. I'm a mixture, and it depends on each cruise. I've booked direct, I've used the Costco Travel website (read about booking through Costco Travel), and I've booked through an agent.
In this case, a travel agent was helpful because I didn't have to go through the whole booking process each time online for each of my family members. It made the process easier, but on top of that, the travel agent I used offered additional onboard credit to us. Between all the cabins booked, we received almost $1,600 back in onboard credit that we could use for stuff purchased while on the ship.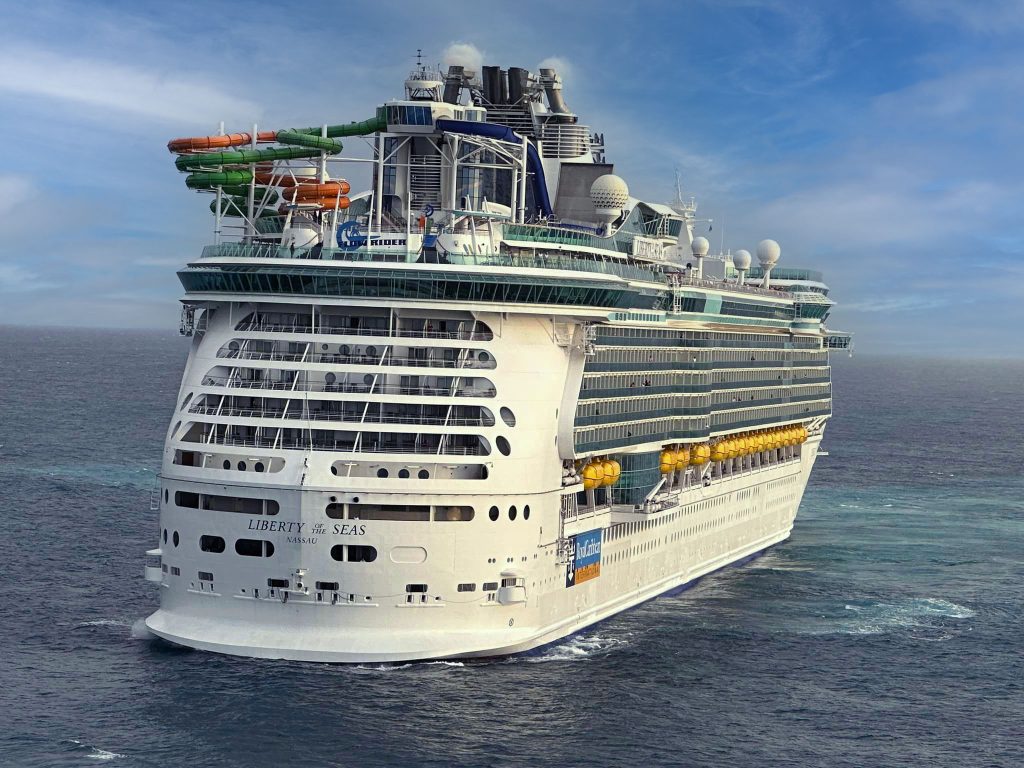 Was Liberty of the Seas the right choice for my family cruise?
I'll let you know in July once we complete our sailing. I'll have detailed day-by-day blogs of what we did, how we liked it, and in the end if I would have made the same choices again. 
Are you trying to decide between two ships?
Try our Compare Cruise Ships feature, which will let you see the differences between the options. 
CruiseSpotlight is an Amazon Associate. We may earn a commission when you click links to retailers and purchase goods.