Ovation of the Seas – Cruise Blog – Day 4 – Skagway
On day 4 of our 7-day Alaskan experience cruise, the Ovation of the Seas stops at Skagway, Alaska. It's a quaint little town nestled in some towering and majestic mountains. 
Breakfast at Cafe Two70
We were scheduled to arrive in Skagway at 7:00 am. We planned a day full of fun adventures, so we wanted to get some breakfast before heading out. Unfortunately, my favorite breakfast spot, the Solarium Bistro, wouldn't open until 7:00 am. So, in an attempt to avoid the craziness that is the Windjammer Cafe at breakfast, we tried Cafe Two70. 
Thankfully, no one else thought of this venue, and it was practically empty. Here they had hot made-to-order sandwiches and breakfast burritos. They also had yogurt, fruit, and a small selection of cereals and pastries. If you're a coffee-lover, this restaurant also had the premium Starbucks coffee with almost no line (compared to La Patisserie, which is located on the Royal Esplanade and was usually very busy in the mornings.) 
We grabbed some sandwiches and headed into Two70 to find a table and eat. The views here were just as stunning as the Solarium. Two70 is a two-deck venue with floor-to-ceiling glass that overlooks the back of the ship. It offers an impressive 270-degree view of the landscape (hence the name Two70).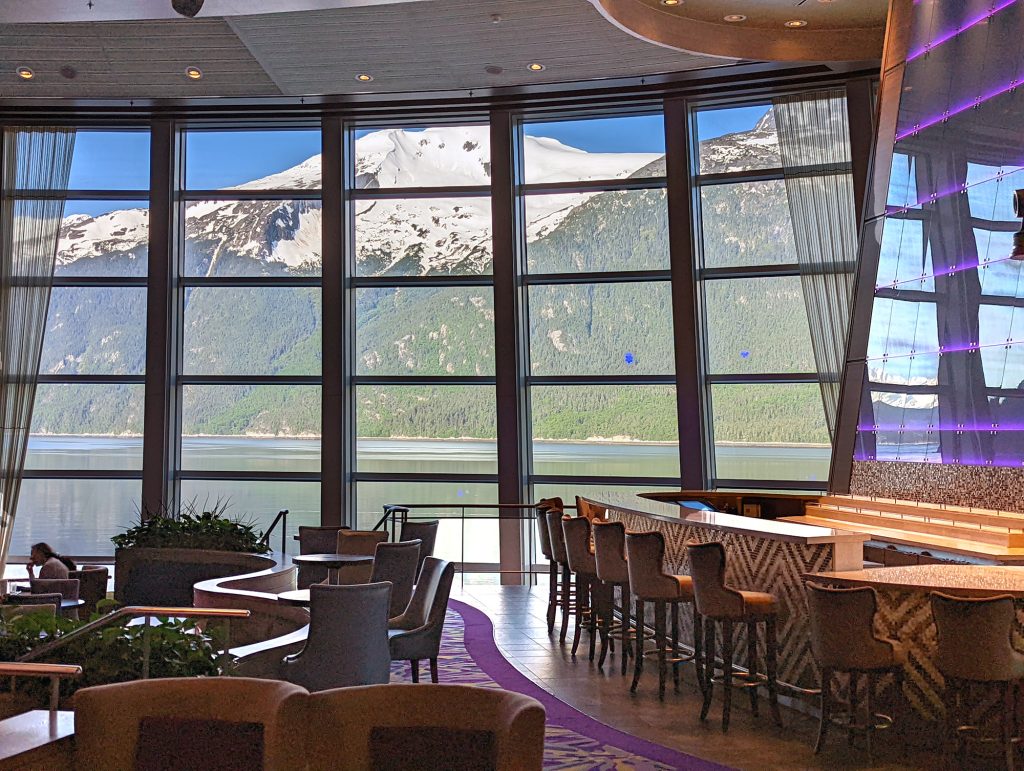 Cruise Compass for Day 4 – Skagway
Welcome to Skagway
Skagway had to be one of the more picturesque stops we made. Everything seemed so bright and vivid like you were looking at an Instagram picture with the saturation and sharpness dialed up. All the images you see here are undoctored (besides my Pixel 6 Pro's built-in algorithms), and it did an excellent job capturing what I saw.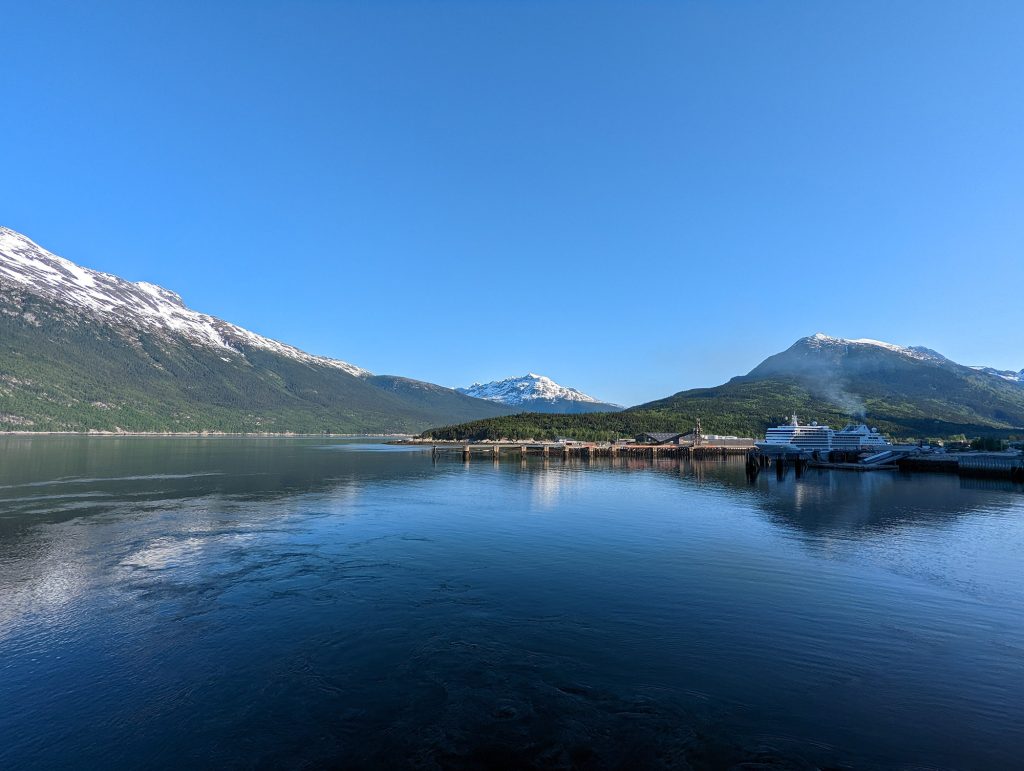 Unlike Juneau, the cruise ship docks away from the downtown area of Skagway. The ships all line up along the cruise dock, so you might be right next to the exit of the terminal, or you could have a bit of a walk. In our case, the Radiance of the Seas was in the first position, and our ship was second. That meant it was a short, 5-minute walk from when we got off the ship until we reached port security. Small trams like you would see at the airport were zipping back and forth for those with mobility issues, shuttling those guests to the exit.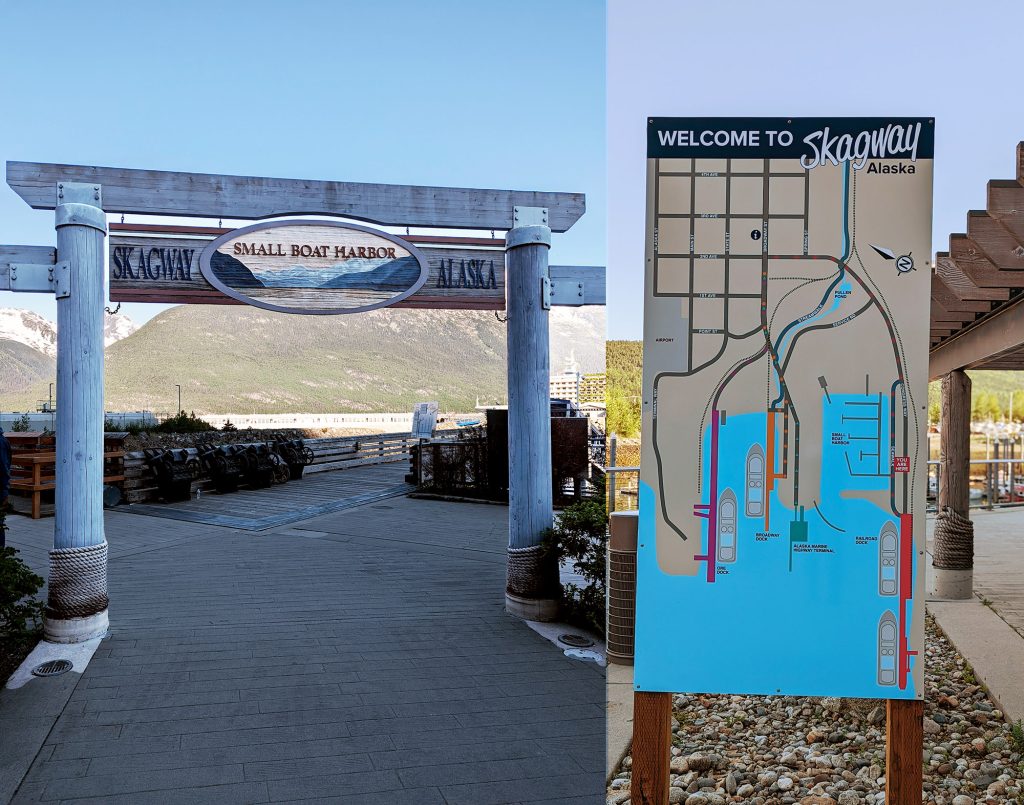 The port entrance/exit is where you'd meet your excursion if you had one booked. It seemed true for both Royal Caribbean sponsored excursions and ones you booked yourself through a third party. 
If you just wanted to go downtown, there was a shuttle you could take. It was $3 for a one-way trip or $5 for an all-day pass. The line for the shuttle got pretty long first thing in the morning, as more and more people got off the ship. 
Tip: If you can, I'd suggest just walking downtown yourself. It's an easy half-mile walk, and it took us about 11 minutes when we did it coming back. It'll help you avoid the Skagway shuttle line.
Skagway excursion change of plans
One of the things Skagway is best known for is the White Pass Railroad. This old-timey train will take you to the White Pass Summit and show you beautiful views of the landscape. You even cross over into the Yukon Territory in Canada, and then many excursions have additional activities you can do from there, primarily by taking a bus.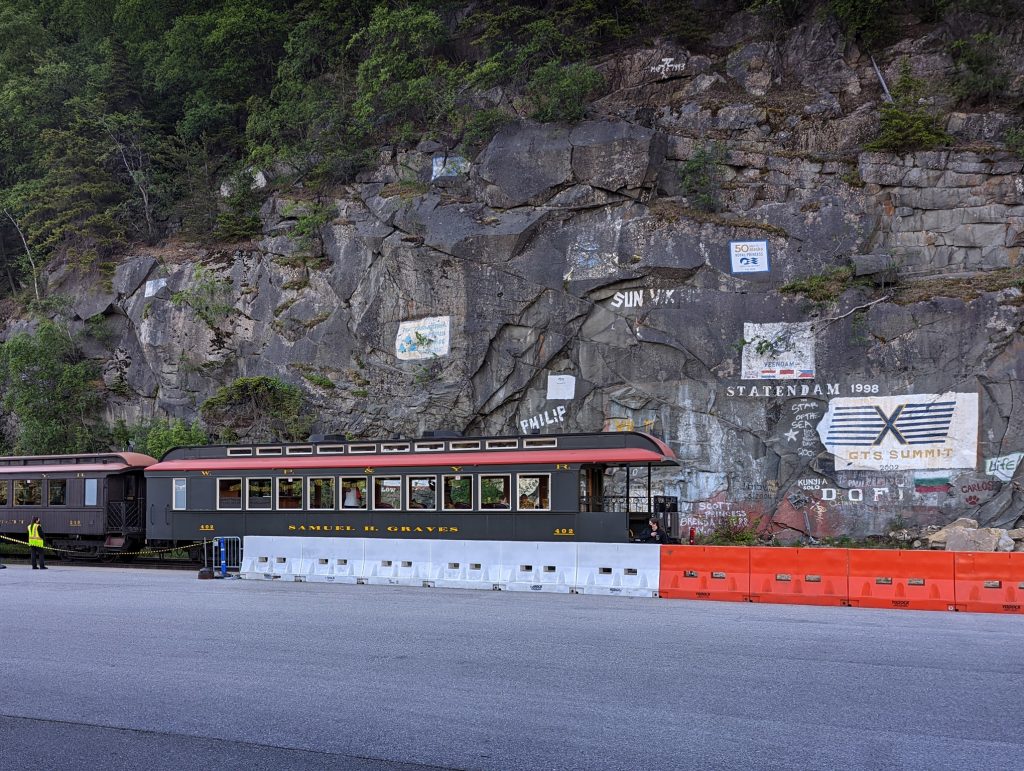 We originally planned to do an excursion where we took the White Pass Railway up to the summit and then took a bus to a large suspension bridge over rapids. We booked this excursion through Royal Caribbean almost a year ahead of time. 
Unfortunately, a couple weeks before the cruise, this excursion was canceled. There were several reasons for it, and I'm not sure which is accurate or if all played some role. Part of it was that a section of the railroad was damaged a couple of years ago and wasn't completely repaired yet. Another part was that crossing into Canada required COVID screening using an app, which wasn't feasible with a train full of hundreds of passengers at once. Because of that, many excursions were canceled, and people scrambled to make alternative plans. They still had White Pass Railway rides available, but it wouldn't go into Canada and was round-trip, where you wouldn't get off. 
Plan B: ziplining through the rainforest in Skagway
Since the railroad was out for us, we looked at what other excursions we could find through Royal Caribbean. One that looked fun was called "Grizzly Falls Ziplining Expedition," where'd you do a zipline course through the forest and over waterfalls. Unfortunately, the excursion through Royal Caribbean was fully booked. So instead, we did some searching and found an alternate excursion provider, Alaska Shore Tours, which had plenty of openings. 
Typically, I book my excursions through the cruise line. I find a lot of peace of mind in knowing that the ship will not leave without me, and if anything happens (like a port gets canceled or the ship is late), Royal Caribbean takes care of everything and automatically credits your account. In this case, it wasn't an option, and since we had a long time at port, I wasn't overly concerned about not being back in time. 
The actual provider who did the tour, AlaskaX or Alaska Excursions, is the same one who did the Royal Caribbean official excursion. They kept us separate from the guests who booked through Royal Caribbean, but it's clear it was the same provider. We paid $169 per person for this 4-hour excursion. 
Getting to the zipline
We met our tour group at the end of the pier and loaded on a small shuttle. Our group consisted of twenty-one people, half from our ship and the other half from the other two ships in port. The ages ranged from a 10-year-old boy to a woman in her 70s who said her husband chickened out last minute. 
Our driver was a retired woman from Arizona who comes up to Skagway every summer to work and then drives back home at the end of the season. She was incredibly knowledgeable and gave us a lot of interesting information and facts about Skagway as we made the 35-minute drive to Grizzly Falls.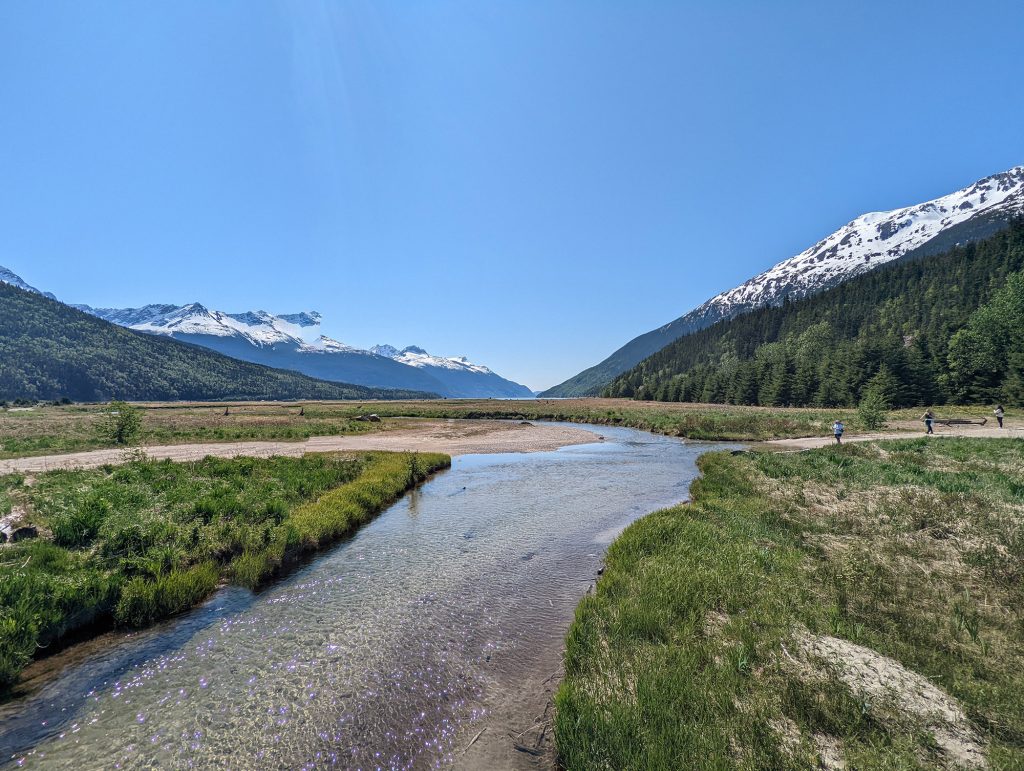 We arrived at base camp and were transferred to an all-terrain vehicle to go further up the mountain. At the top, the staff quickly worked to fit us with helmets, gloves, and harnesses. We were allowed to bring our phones with us for pictures. Anything we didn't want to carry, we put in a tote that they moved down the mountain for us. 
The Grizzly Falls zipline course
We were split into groups of 8 people and headed out with two guides for each group. The staff handled all the connections at every zipline; all you had to do was step up and jump off. All the ziplines here use automatic braking, so you don't have to worry about stopping yourself from running into the tree. It really lets you put all the focus on enjoying the experience. 
The course starts with a few relatively short lines to get the feel of it, and then you move up to some more exciting ones. The lines vary in length, the longest being 750′ long. It's so long you can't even see the end through the trees, and they have to use a walkie-talkie to communicate between the towers. The height will also vary, from around 10′ off the ground to the tallest tower, which was 80′ in the air!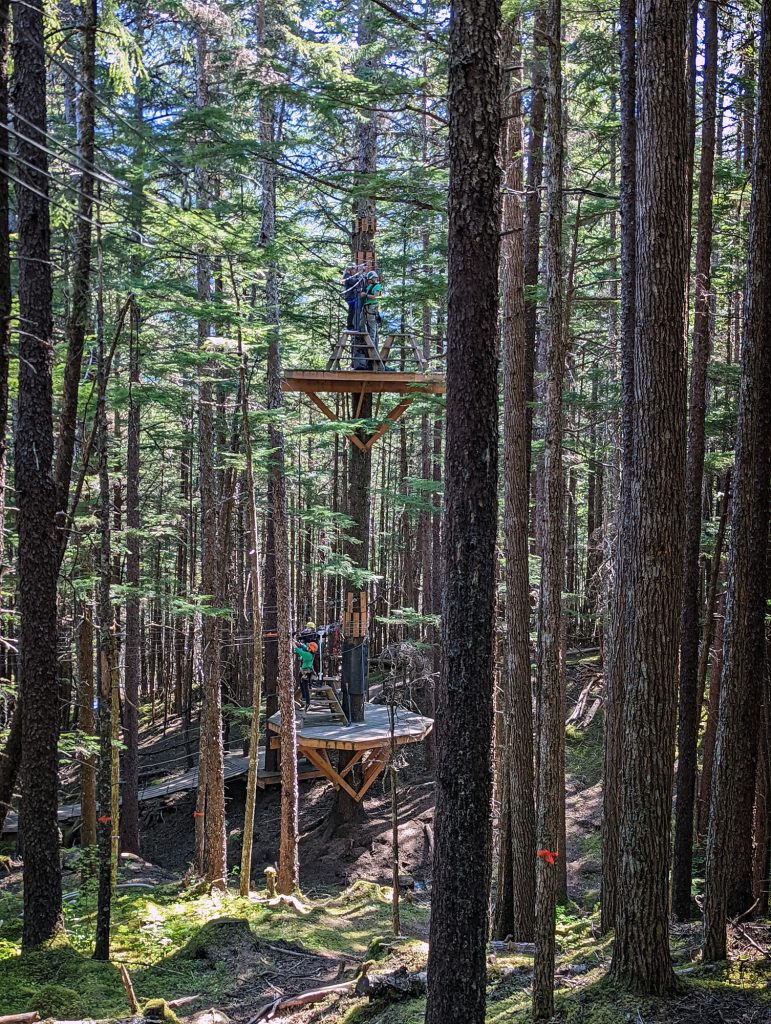 The first half of the course was fun, but with eight people in our group, it got slow when waiting on the platform for your turn. It was great to take in the scenery, but it would have been nice to be a little more fast-paced. The staff noticed the issue and called in reinforcements. On the second half, they had extra staff at each platform to get us hooked up and going. It sped up the process, and I loved that they proactively saw and fixed the slowdown.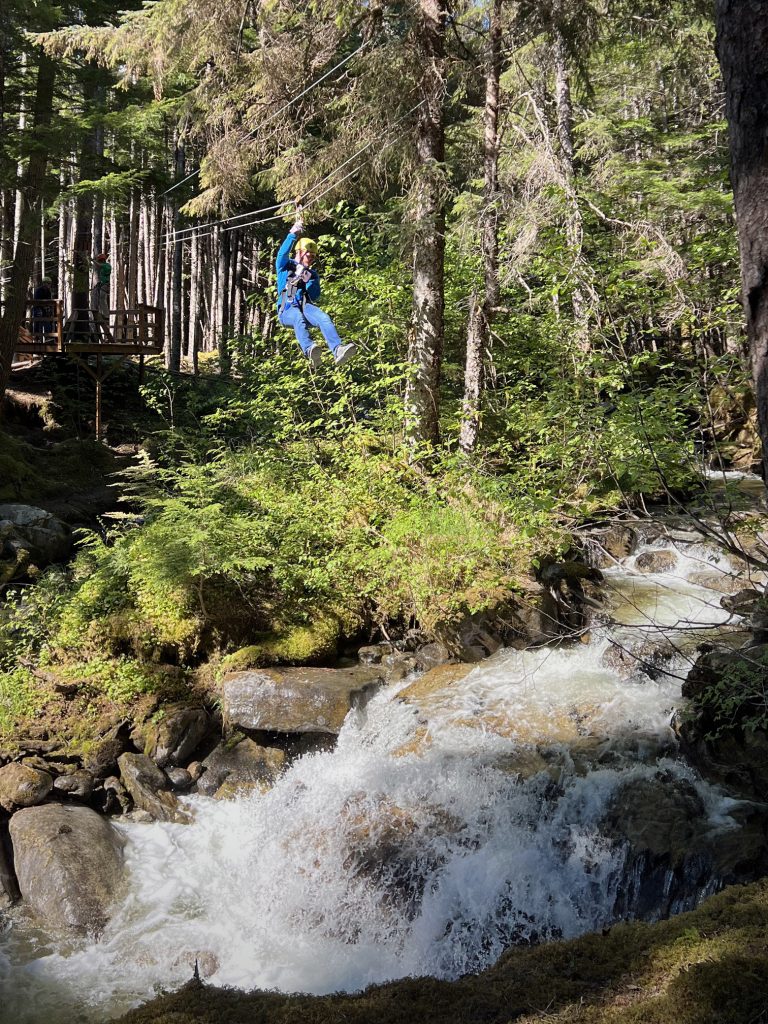 One of the final parts is a line right over Grizzly Falls. By that point, I had gotten past the fear and could just take in the view. Watching and hearing the powerful rapids right underneath me as I flew over the falls was amazing. 
We finished all the lines at around 11:15 and headed back downtown. I highly recommend this excursion to anyone who wants to push themselves a little. Even if you've ziplined before, doing it through a temperate rainforest adds an entirely different dimension to the experience. The staff was also extremely friendly, personable, and safety-conscious. It was a solid choice for a fun, action-packed excursion. 
Downtown Skagway has a Westworld feel
Our bus driver gave us the option to get let off at downtown Skagway or back at the ship. About 3/4 of the people opted to be dropped off downtown. 
Walking down the streets of "Downtown" Skagway felt like I was walking onto the set of Westworld. Most buildings were small and stand-alone; you won't find a strip mall or office building here. In fact, Skagway has only 1,100 permanent residents. That's nearly 1/4 of the number of people on the Ovation of the Seas!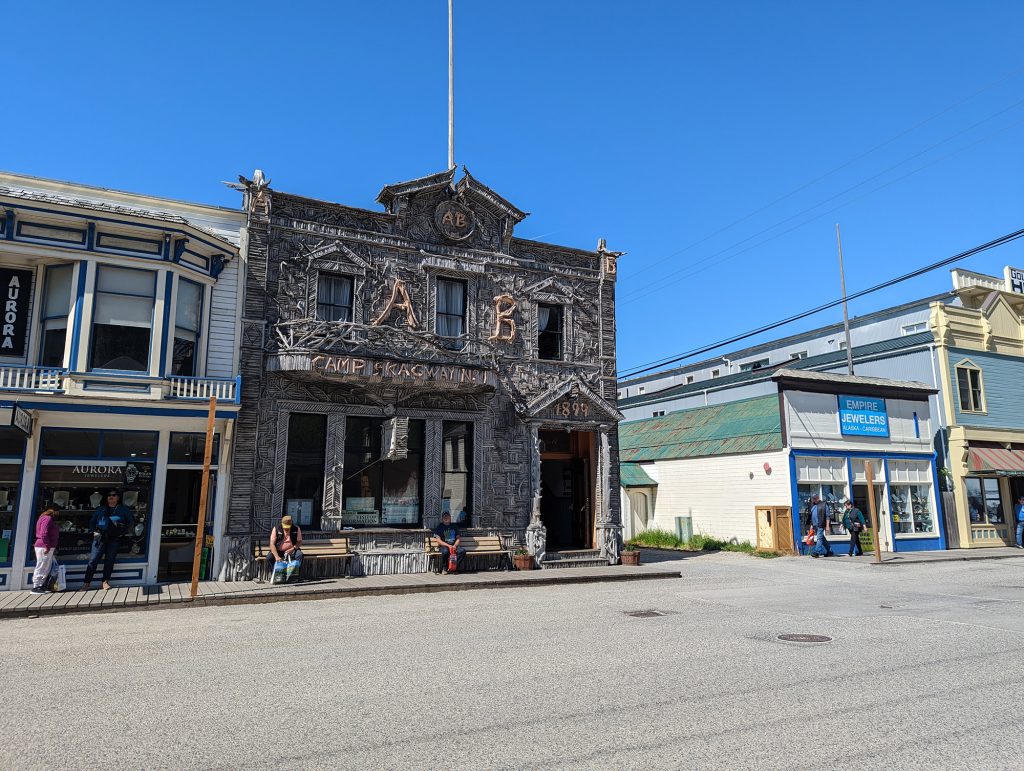 One of the most photographed buildings in Skagway is their visitor center. It's called Artic Brotherhood Hall, and the building is covered in recovered driftwood. If you're not doing an excursion in Skagway, stop by where you can get information on stuff you can do on your own. For example, you can find a few easily accessible hiking trail maps.
Skagway Brewing Company for lunch
For lunch, we headed to Skagway Brewing Company. It's just off the main drive and was a surprisingly big venue. We had to option to grab bar food on the first level or put our name on a waitlist for a full menu meal upstairs. It was 12:30 at that point, and while the place was packed, it was only a 20-minute wait. Skagway Brewing Company has a really nice outdoor area, so we just grabbed two beers from the bar as we waited for our table to be called.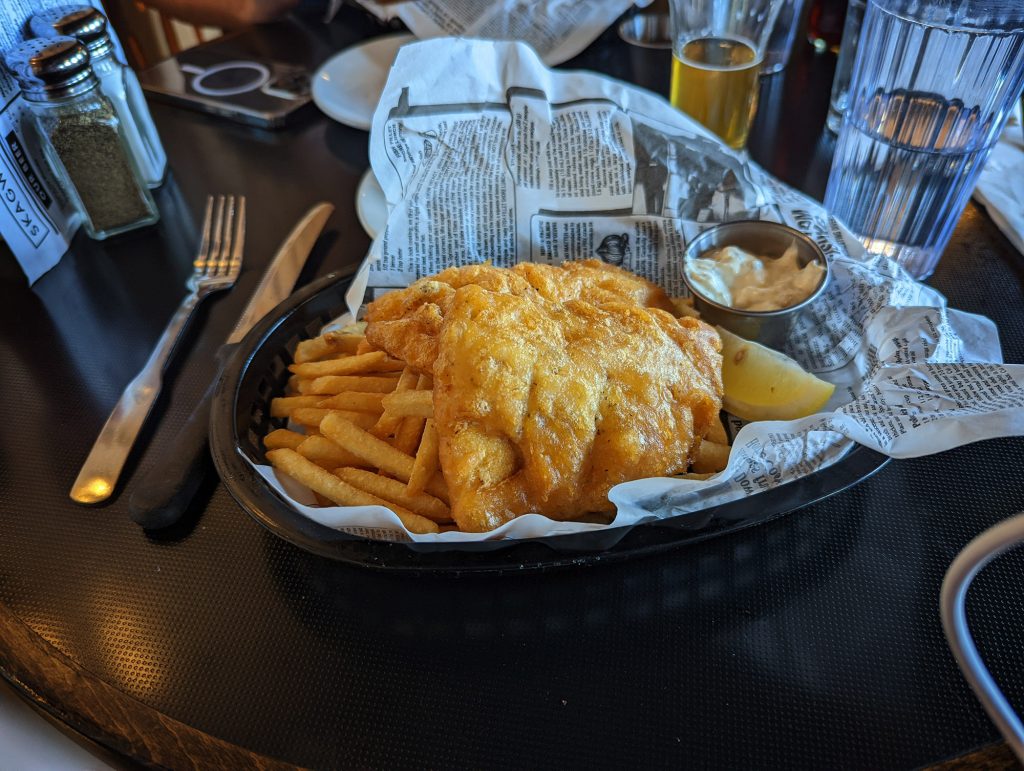 In just under 20-minutes, our buzzer went off, and we were seated at a two-top table upstairs. The service was polite and prompt. In my research before this trip, people said one of the best dishes here was Brewer's Halibut Fish and Chips. They use local Alaskan halibut and make their batter using their own ale. It was a good-sized portion and very tasty, but the $29.99 cost for a simple fish and chips seemed a bit steep. But then again, when else can you try fresh Alaskan halibut?
Red Onion Brothel Museum
One of the busier spots on the trip was the Red Onion Saloon. Originally built in 1897, it was one of the best bars and brothels in town during the Gold Rush. The downstairs was a typical saloon-style bar and restaurant and was packed most of the day. The prices were very reasonable for the food and drink, and you could tell some people had set up shop there for a while. 
Upstairs, they have a Brothel Museum that you can tour through. They run the tours every hour, and it's $10 a person. They have a lot of fun with it; you're guided through the upstairs by a "working girl." While they lay on the humor pretty heavy at the beginning, it's actually really educational. I learned quite a bit about life in Skagway during the gold rush and how rough it was for women in Alaska during that time. We did a 3 pm tour, and plenty of space was available. 
Voom Wifi Package Fails
We headed back to the ship around 4pm. While walking back to the ship, we tried backing up all the pictures we had taken so far on the cruise using our cell phone data. It was a little over halfway through the trip, and one thing was clear, the internet package was struggling. 
Royal Caribbean offers VOOM internet service on their ships, which they bill as the "fastest internet at sea." It's not included in the cruise fare and is an additional cost that can run from $12 to $24 per device per day. They have two packages, the "Surf" and the "Surf and Stream." They don't provide hard statistics on the difference between the two, but they say the "Surf" is more suitable for email and browsing, and "Surf and Stream" for streaming video and audio. 
Tip: You do NOT need a wifi package to use the ship's app. That is accessible without paying anything. You only need the wifi package if you want to go to websites, stream music or video, or communicate with iMessage, Facebook, or What's App. 
Some people go on a cruise to unplug and do not need internet service, which is fine. I'd love to unplug too, but that's not possible with my job and responsibilities at home. Since I need to be accessible, I purchase the wifi. On top of that, in today's age of increased work-from-home policies, people have looked to try working from cruise ships. Let me be clear, you will NOT be working from a cruise ship on an Alaskan cruise. 
We purchased the Voom Surf Package for one device. The "one device" plan means one device can access the internet at a time. You'll create a login and password, and then you can use that to log in from other devices in the future. So for us, we share a single internet package, kicking the other person off when they need the internet. It works for us, keeping us present and not glued to our devices while also giving us the access we need. 
The internet speeds on the Ovation of the Seas were incredibly sub-par. In fact, they were so bad that they routinely put in the Cruise Compass that this is an issue. Royal Caribbean usually has pretty good service on Caribbean cruises, so many people were surprised this cruise was so different. The satellites that Royal Caribbean uses are closer to the equator. Being up in Canada, the latency, or delay, is much higher.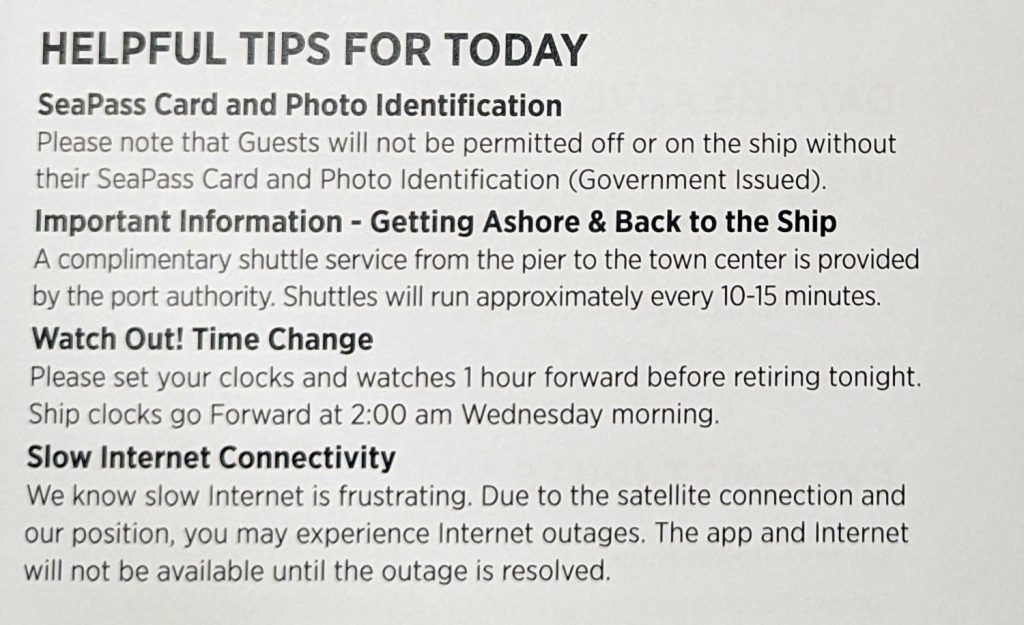 We saw speeds of 0.44 Mbps on the "Surf" plan, which is worse than 3G cell phone service. When we spoke to others with the "Surf and Stream," they were getting 1 – 3 Mbps, which is still very slow to be considered "high speed." On top of that, everyone had high latency, meaning it took a long to make each request.
Since it's a geographical issue, it'd be understandable if Royal Caribbean let guests know about this ahead of time, but they don't. They charge the same amount for access on their Caribbean cruises, and there was no warning about service beforehand. In fact, they still advertise it as the "fastest internet at sea" when you purchase it. Several people in our cruise's Facebook group said they went to Royal Caribbean and got a refund for a portion of the price. 
I suggest making sure your cell phone plan covers Alaska (most in the US do). That way, you can backup your photos and do emails while on land. Most downtown ports in Alaska had decent 4G coverage. We had Tmobile and Verizon, and while the speeds weren't the best (it took forever to backup), it worked great for texts and calls. 
Tip: if you want videos for your kids, or yourself, download them before you leave using Netflix, Disney, or whatever app you prefer. Don't count on the Surf and Stream package working.
Pixels Cabaret in Two70 Lounge
One of the things I was really excited about on this ship was the show in the Two70 lounge. People always raved online about this venue and the new format of shows they can put on with projectors, an entire wall of windows, and moving screens. 
To see Pixel's Cabaret, you need a reservation. It doesn't reserve you a specific seat. Instead, it ensures you will have a seat somewhere in the venue. On day one, we signed up for the 6:45 showing of Pixels Cabaret. The app said you should be in your seats 15 minutes ahead of time, so expecting a line, we got there at 6:05. There was no line at all; we just walked right in.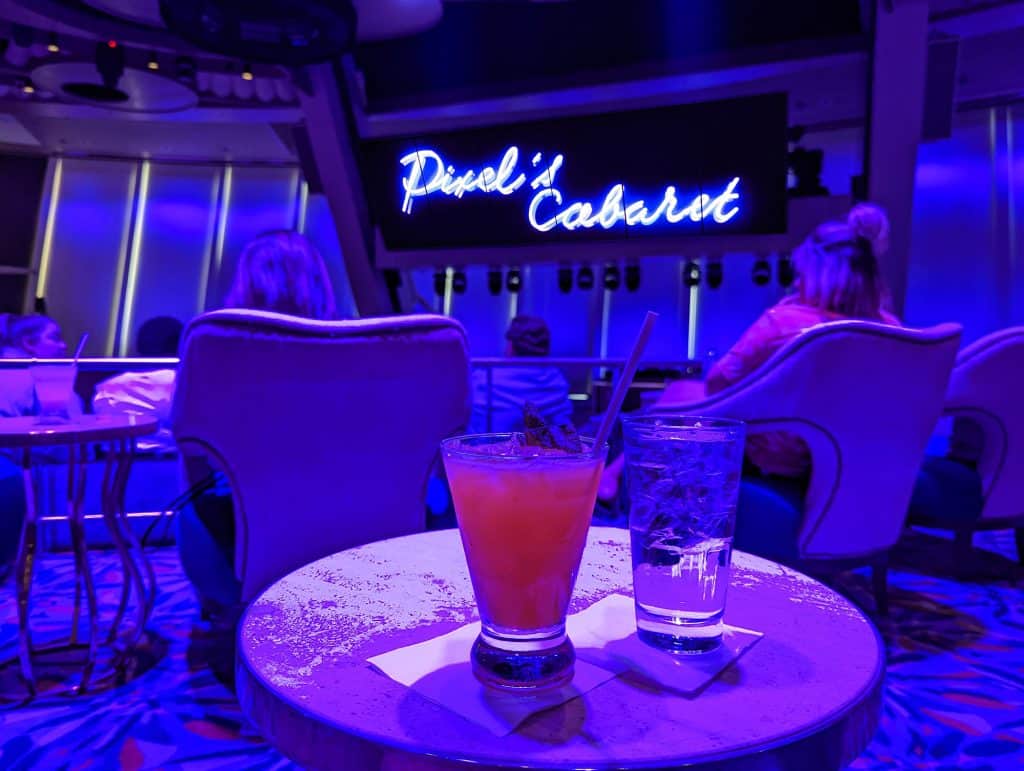 We looked around the venue to find the best seat. The Two70 lounge is filled with comfy chairs and couches, so there was a lot to choose from. I asked the attendant at the door where the best seats were, and he said the second level. Unfortunately, the best spots were reserved for suite guests and those with The Key. The rest of the second-floor seating was open but didn't have the best angles.
We returned to the first level and found a seat in the middle. Waiters were circulating, and we got a drink within 5 minutes of sitting down. As it got closer to show time, I looked around and was surprised at how empty it was, maybe 50 – 70% full. I thought this show was a "must-see," so I was confused. 
The lights went down, and the show started. The first thing I immediately noticed was the poor viewing angles. For all I had read about this being a great venue, I don't remember reading that it was impossible to see the very bottom of the floor from many seats. A lot of action happens here at the show's beginning. Although performers are all over the place and constantly moving, having the main stage be so hard to see is an odd choice.
Did Pixels Cabaret live up to the hype? Unfortunately, it definitely didn't. It was only the performers' second week, so some sloppy choreography and pitchy singing were understandable, but the concept seemed shoddily put together. I thought the show would be like a Cirque du Soleil show with mostly acrobatics, but for some reason, Royal Caribbean tried to work in music and dialogue here that just didn't make sense. 
The arrangement and mix of music were odd in places. In one part, the hostess, Pixel, tried to get us to clap along, but there were 2 different songs with different beats at that point. Then, for some reason, halfway through, a South African group came on the video screen, and there was a dance-off between the sexes. The audience did not get into it. The weird musical arrangements made it hard for the audience to get into any song. 
Some parts were interesting, though. The windows were turned into giant projection screens, which worked well to create an immersive experience. The "moving" video monitors sat still the whole time. I thought they'd move around and be more dynamic, but that might be on the newer Quantum-class ships.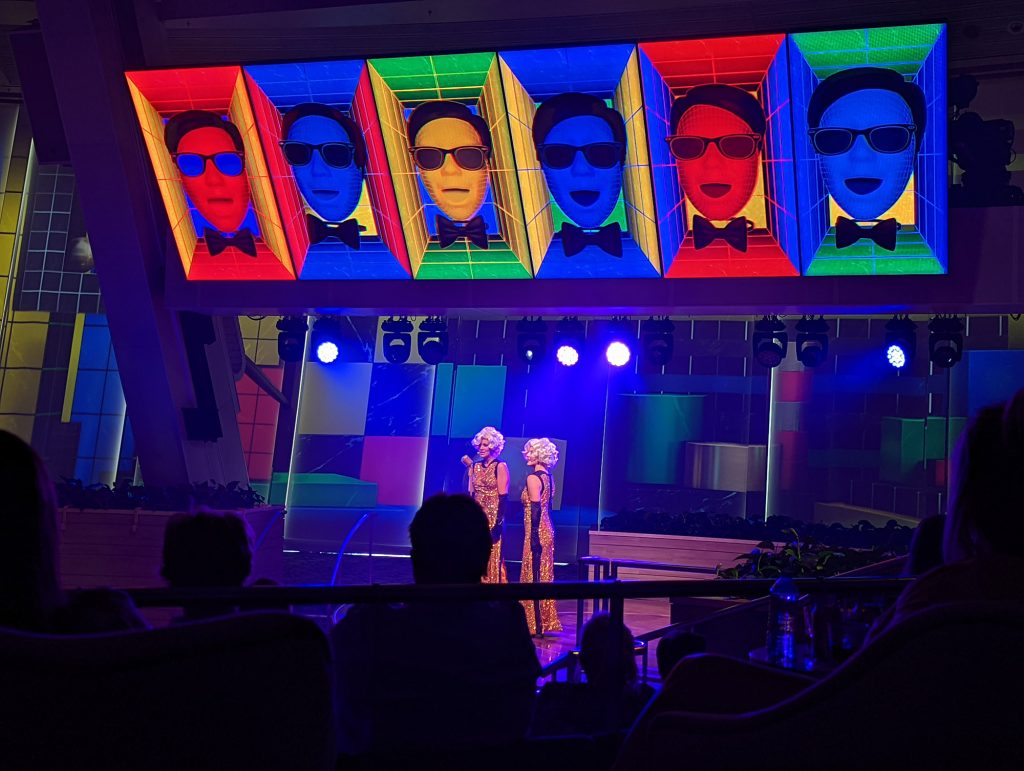 My favorite part was the acrobatics which were impressive. At one point, they used a combination of fabric, wires, and lighting to make it seem like a performer was swimming up and down in a column of free-standing water. At another point, an acrobat was inside a floating, spinning drum. These unique concepts make me wish they focused more on this and less on the weird plot and odd choice in custom songs for this show. Although it seems like they really wanted to have a message, I'm not sure what it was.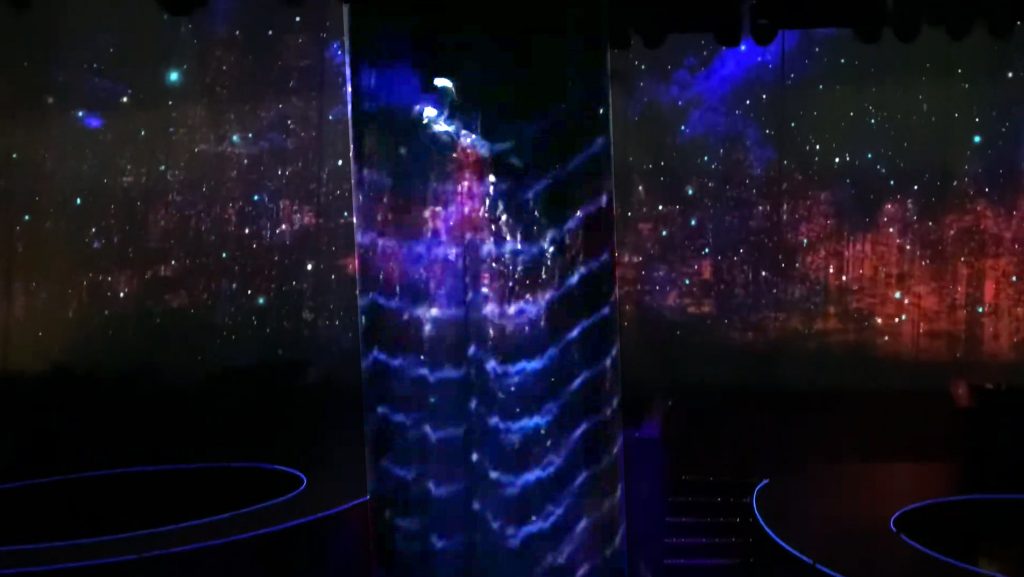 Dinner in the American Icon Grill 
For that evening, we had dinner reservations at 8:30 in the main dining room. When we tried to book it the day before, every time slot before that was already taken. In fact, for the rest of the week, there was nothing before 8:30 anymore. After day 2, everyone just booked their preferred times for the rest of the week. That was frustrating. It was less like "My Time" or dynamic dining and more like "alternate time." So if you want to eat at 7:00 pm every day, you just reserve that the first day. If you don't want to wait until 8:30 – 9:00 to eat dinner, I suggest you book early. 
We were seated in the American Icon Grill with yet another waiter. This waiter was the best we have had so far. It reminded me of the service we got when we had assigned seating, and you had the same waiter every night. He kept checking on us, referring to us by name, and making suggestions for options. This experience is what I had been missing on the previous nights, and I was afraid it wasn't possible on My Time Dining. 
The food in the main dining room was also the best we had yet. We went with the Mojo Pork Chops and Lasagna Al Forno. Although I usually prefer something more exotic than lasagna, it was really delicious. Overall, it was a great meal, taking 55 minutes from start to finish. 
Love and Marriage Show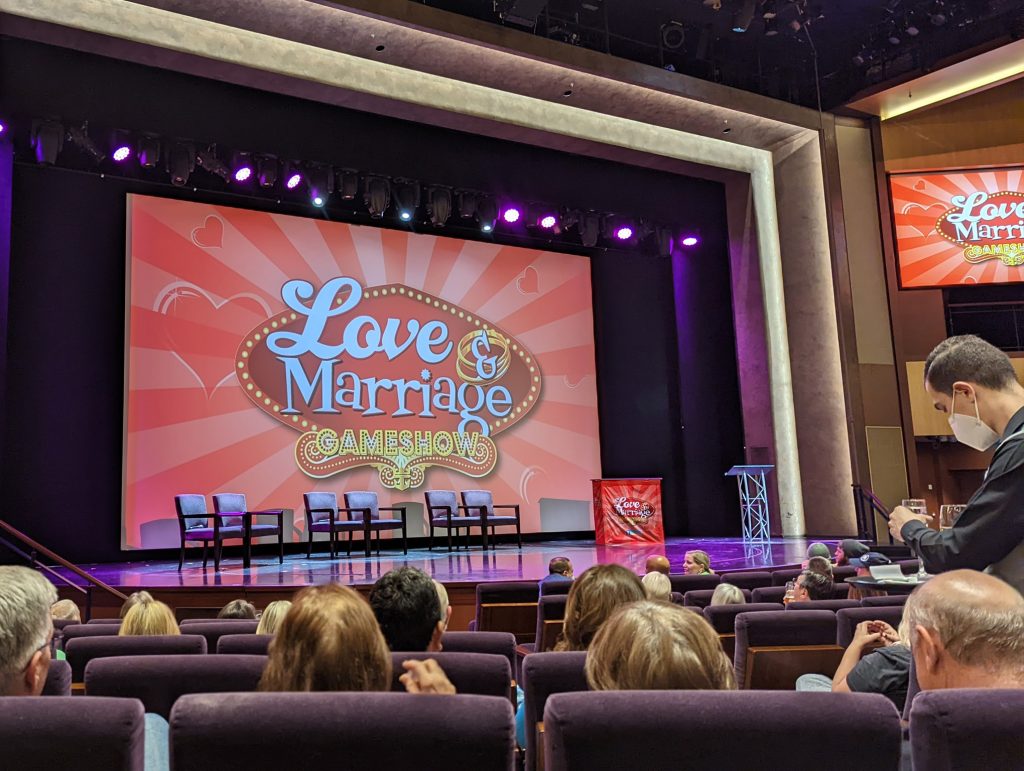 At 10 pm, we headed to the Royal Theater for the Love and Marriage show. Most cruise lines have some version of this show, which is a play on the Newlywed Game that used to air on TV in the 60s. Rather than all newlywed couples, though, this show has one newlywed couple, the longest-married couple, and someone in the middle. 
The show started off with one of the entertainment staff looking for the contestants. The newlyweds were a young couple that got married just a month before. Finding the couple who was married the longest was harder, and most people didn't want to get on stage and embarrass themselves. Eventually, they got a couple with over 40 years of experience. To find the mid-length couple, they asked anyone who wanted to participate in trying a Tarzan call. The winning couple was the one where the man ripped off his shirt before yelling.
The cruise director came out and started the show, sending the woman to the back and having men answer questions, and then switching. The middle couple were talkers, and likely a little intoxicated, so their answers took forever, and it was fun watching the cruise director try to get them back on track. 
Some of the best answers? The newlywed husband who thought his wife's bra size was 16DD. Or the middle couple, who once "made whoopie" on a ride at Disneyland and got kicked out of the park. Even more fun, their 18-year-old daughter was in the audience for that answer. 
Overall, it provided a fun hour of entertainment, and you got to spot the couples throughout the rest of the cruise and give them a hard time. It's always a fun show, so definitely check it out on your cruise. 
Follow along on the rest of our Alaskan cruise on Ovation of the Seas
Ovation of the Seas – Cruise Blog - Day 1 – Seattle
Ovation of the Seas – Cruise Blog - Day 2 – Sea Day
Ovation of the Seas – Cruise Blog - Day 3 – Juneau
Ovation of the Seas – Cruise Blog - Day 4 – Skagway
Ovation of the Seas – Cruise Blog - Day 5 – Sitka
Ovation of the Seas – Cruise Blog - Day 6 – Sea Day
Ovation of the Seas – Cruise Blog - Day 7 – Victoria
Ovation of the Seas – Cruise Blog - Day 8 – Debarking in Seattle
6 Hits & Misses of Ovation of the Seas
If you want to stay up to date with what we publish, sign up for our monthly newsletter
CruiseSpotlight is an Amazon Associate. We may earn a commission when you click links to retailers and purchase goods.