Ovation of the Seas – Cruise Blog – Day 2 – Sea Day
The first sea day is the true test of every cruise ship. Thousands of people explore every nook and cranny of their new home, trying new bars, restaurants, and activities. These are the days the ship can feel the most packed. On day two of our 7-day Alaskan cruise, we explored the ship to see what it had to offer. With the Ovation of the Seas operating at nearly full capacity, it'd be interesting to see how it felt.
Overview of Day 2 on Ovation of the Seas
A quiet breakfast away from the crowds
We started the day off by going for breakfast. Typically, we'd go to the main buffet (called the Windjammer Marketplace on this ship), but this ship had quite a few other options to choose from. For breakfast, we could go to the Windjammer Marketplace, the Main Dining Room, Cafe Two70, and the Solarium Bistro.
TIP: To avoid crowds and frustration on a large ship like this, try an alternate venue for breakfast, like the Solarium Bistro or Cafe Two70. It's such a different experience.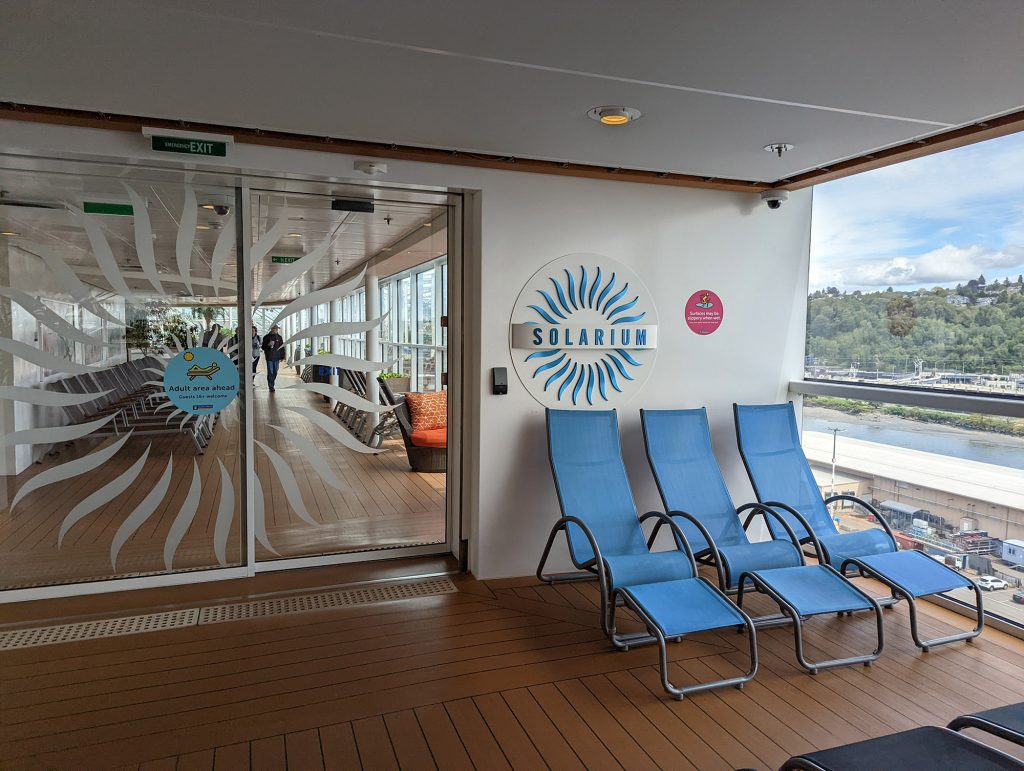 Solarium Bistro on Ovation of the Seas
Trying to avoid the crowds, we went to the Solarium Bistro. It's located at the front of the ship inside the adult-only (16+) area. It instantly became my favorite place to eat on the ship. I was shocked by how few people were at this venue. We were able to immediately enter the restaurant, and none of the stations had long lines. 
The Solarium Bistro had an impressive number of types of foods available for an "alternate venue." I walked up to the first station and was greeted by an array of food options. Trays of fresh bacon, sausages, and hash browns led the line. Further down, there were scrambled eggs and ready-made omelets. Next, small chafing dishes were overflowing with pancakes, waffles, and fresh toast. None of the food was made to order, but it was constantly refreshed, and it all tasted delicious.
In the center of the bistro was another station with fresh fruits, pastries, and donuts. Here you could also find a selection of cereals as well as cold cuts and some fancy sandwiches. Overall, almost everything you could want for breakfast could be found here. 
The staff at this restaurant was also stellar. Even though they were wearing masks, you could tell they were smiling behind them, and they were always saying hello. At one point, I couldn't find peanut butter and asked if they had any. The staff member I asked checked with two other people and scoured the cabinets to find some. When he couldn't find any, he even offered to go to the main buffet across the ship to get me some. I was okay with the butter I had, so I politely declined, but it was hard to convince them I didn't need it. 
The Solarium Bistro has plenty of smaller tables scattered around inside. The restaurant itself has glass windows that look into the Solarium, but most days, they had curtains that were lowered, and I wanted to enjoy the view, so we walked out into the main Solarium area, which also had a bunch of tables.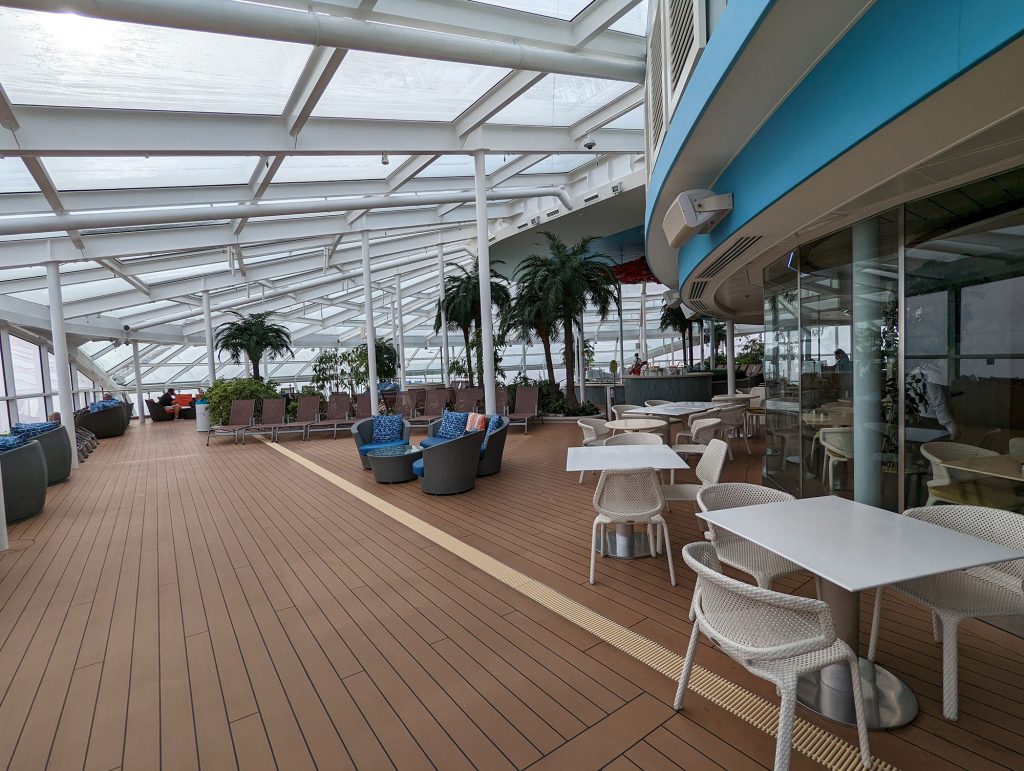 We found a quiet 4-seat table right off of the Solarium Bistro. The natural light shone through the glass ceiling, giving the space such a relaxing and peaceful feeling. Even though other people were there, it felt very private and secluded, almost like a separate ship. 
Windjammer for breakfast
After breakfast, we headed to the Windjammer buffet just to compare. It was day and night. The Windjammer was packed. People and kids were dashing around station to station, eagerly grabbing food. There was no way I could ever have the quiet and relaxing breakfast I had just experienced in the Windjammer Marketplace. It was 9 am by the time we arrived at the Windjammer, and they had to hold people back because there weren't enough tables. The Windjammer itself is impressive in size, but on a Sea Day when no one has anywhere to be, people would spend hours at their tables, taking up space. 
In terms of food options, the selection at the Solarium Bistro and the Windjammer was very similar. The only thing that stuck out to me was the buffet's made-to-order waffle and omelet station.
Personally, I would recommend that anyone who doesn't have kids stick to the Solarium Bistro for breakfast.
Cruise Compass for Day 2 – Sea Day
Bumper cars in the SeaPlex
The next thing we did was go to visit the SeaPlex. Located at the rear, or aft, of the ship, the SeaPlex is a large, two-story space that's unique to Quantum-class ships. It replaces the Studio B ice-skating venue found on many other Royal Caribbean ships, but it serves a similar purpose. You'll find many sports activities throughout the day like roller skating, basketball, pickleball, soccer, and even bumper cars. This space was incredibly popular with teens and tweens. They could also find things like foosball, ping pong, and an X-box lounge. 
The main reason we went to the SeaPlex was to try out the bumper cars. It's a free activity that happens nearly every day, although the actual time will vary. For this activity, you don't have to sign up ahead of time. You simply show up during the allotted time and get on line.
We arrived 5 minutes before the bumper car session, and the line was already wrapped about the SeaPlex. This was the first bumper car session of the cruise, and it was jam-packed because everyone wanted to check it out. However, it was much less crowded later on in the sailing.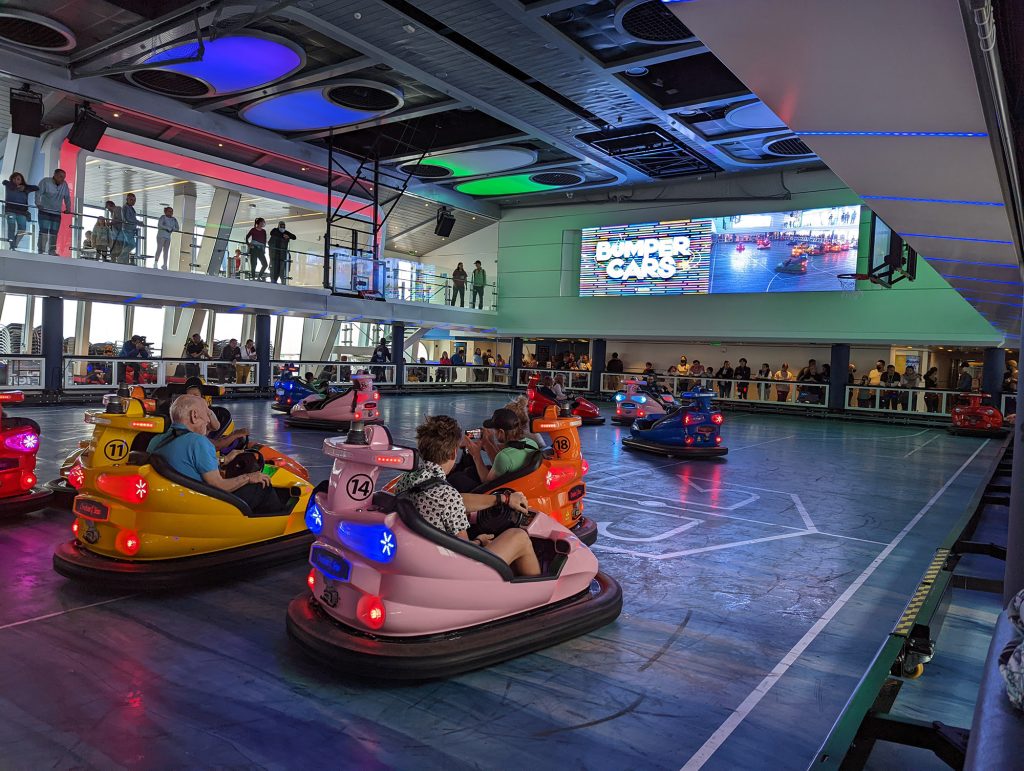 Each round of bumper cars went for 2.5 minutes. Riders could either go alone or ride with one other person. The crowd was a mixture of kids with parents, teenagers, and adults who just wanted to have fun. The line moved relatively quickly, and it was a well-oiled machine. The staff promptly unloaded everyone, sanitized the cars, and loaded them back up. It was efficient, but there were a lot of people to get through. It took 43 minutes to have our ride, but it was a lot of fun.  
Trivia at the Schooner Bar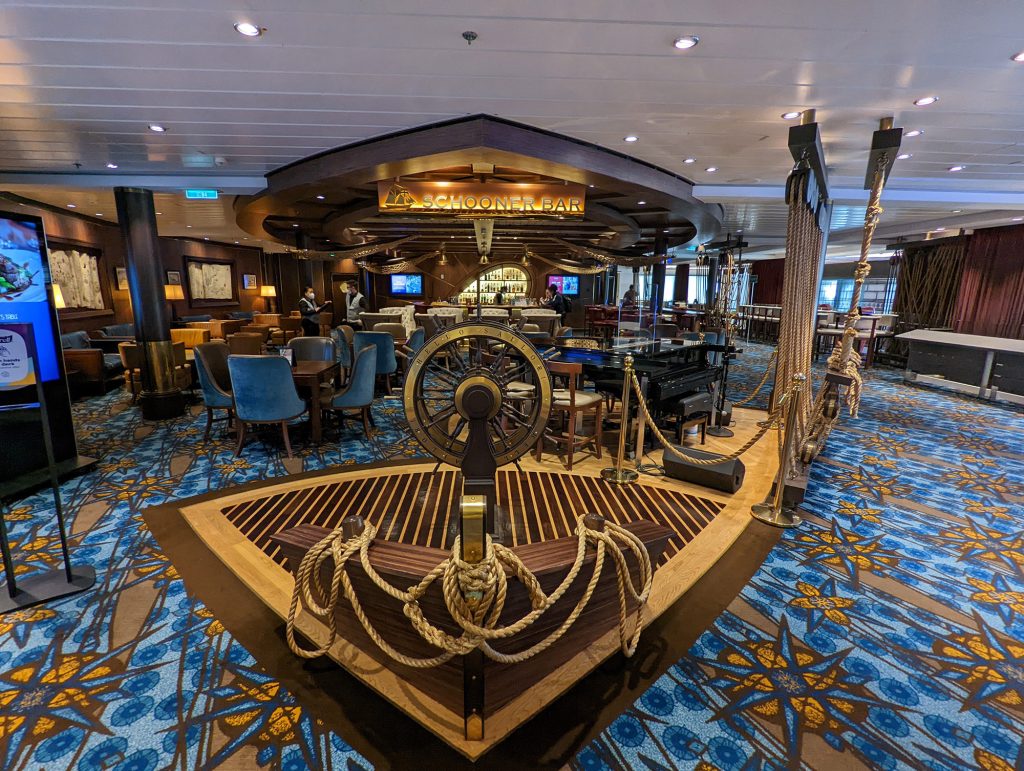 Next, we headed to the Ovation of the Seas' piano bar, called Schooner Bar, for some trivia. The Schooner Bar is always a popular venue on a Royal Caribbean ship. It's their piano bar, and it's typically decorated with a nautical theme. The space is often used for trivia during the day, while at night, it's hopping with piano tunes.
However, the Schooner Bar on this ship just couldn't accommodate everyone who wanted to play. The space was overflowing with people standing almost on top of each other. I don't know why they didn't use a bigger venue for events like these.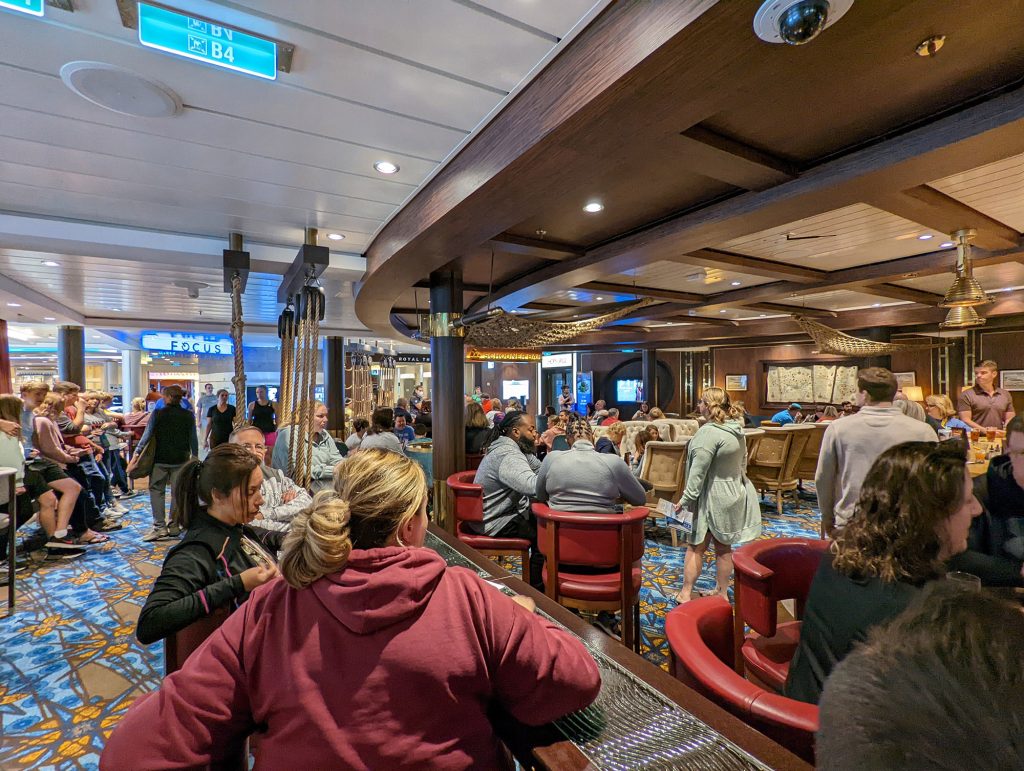 Another issue was that the main walkway on Deck 5 cuts through the Schooner Bar. So, in the middle of trivia, people were constantly pushing their way through to get to other places on the ship. It was one of the more puzzling design aspects of this class of ship.
The trivia itself was pretty good. It was general trivia, so topics covered everything from geography and history to pop culture. To play, you pick up a sheet of paper and pencil from the host. She would then read aloud the questions, and you'd write down your answers and self-score. In this case, there were 20 questions, and we got 17 right, tying for first. The prize? A Royal Caribbean key chain.
This event was the first time I interacted with the ship's entertainment staff, and as I noticed throughout the cruise, it just wasn't the best. The staff were all fully competent and polite, but they almost felt removed from the ship. There was no spark, no energy, no personality. Often, the hosts never even introduced themselves. They just came, read out the questions, and left. It was very odd. 
First Lunch at the Dog House
For lunch, we decided to check out the Dog House. Designed to resemble a food truck, the Dog House is a no-charge food venue tucked away in the back of the Seaplex, conveniently right next to a door so you can access the outside deck. Here, you had a choice of four hotdogs; classic, chicken and apple, smoked bratwurst, and German sausage. You could top your hot dog with sauteed peppers, onions, or sauerkraut, as well as the standard ketchup, mustard, and relish. Hotdogs come with a standard roll by default, but they also had everything rolls, although they frequently ran out of these. As for sides, they had potato salad and coleslaw.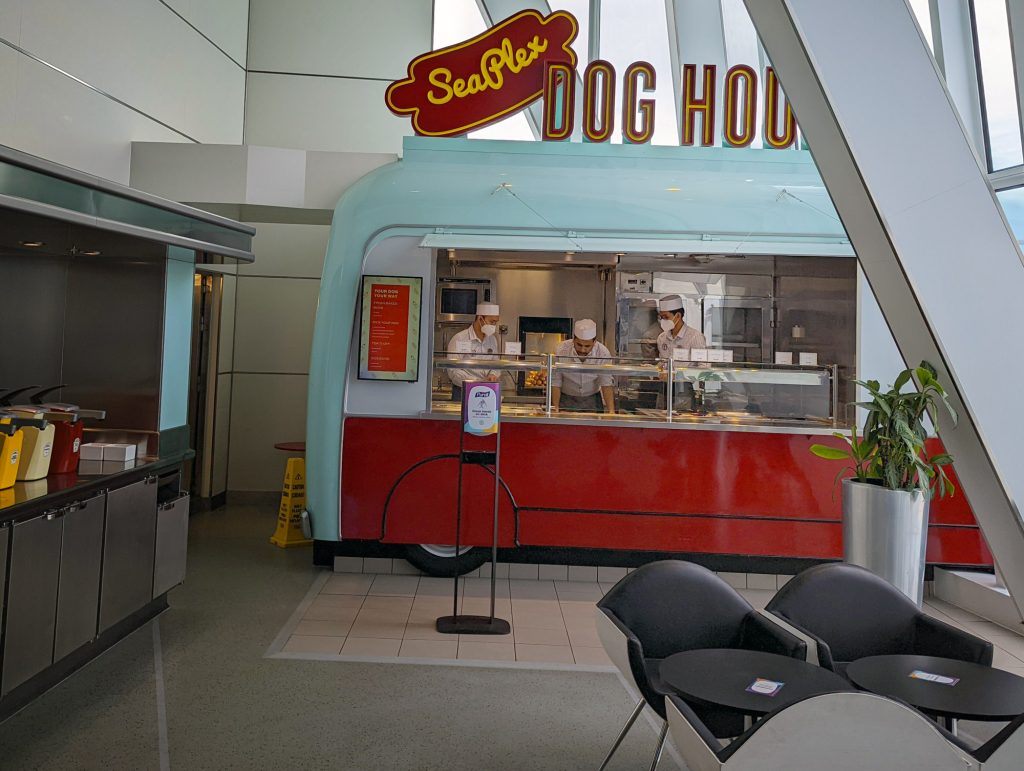 It was 11:40, so a bit early, and there was about a 10-minute wait. The line moved quickly but was sometimes delayed by people who couldn't decide what they wanted. When we visited the Dog House other times during the cruise, the line was less than 5-minutes. 
Overall the hotdogs were tasty and of higher quality than those served in the Windjammer Marketplace. One odd thing is that the Dog House doesn't serve any chips or fries, just hot dogs. The hog dogs were served in a convenient box so you could take your food anywhere on the ship.
Coke Freestyle Machines on Ovation of the Seas
The Dog House is also one of 3 locations where you could get soda using a Coke Freestyle Machine. If you get the Soda, Refreshment, or Deluxe Beverage package, you receive a cup that you can fill yourself throughout the cruise (you can also get soda from any bar without your cup). The cup has a chip in it that lets the Coke Freestyle machine know that you paid. Using the touch screen, you can choose from a lot of different combinations. I always get the soda package because of a bit of a Diet Coke addiction, and it was nice to have these machines available. 
The cup they give you is an insulated mug that holds 16 ounces of soda. I also brought this handy sleeve for my cup so I could carry it around (here's the link on Amazon). The tumbler they give you is well-insulated, so you don't need the sleeve for that purpose, but it makes it easy to keep the cup with you. You can even clip it to your belt so you can carry food at the same time.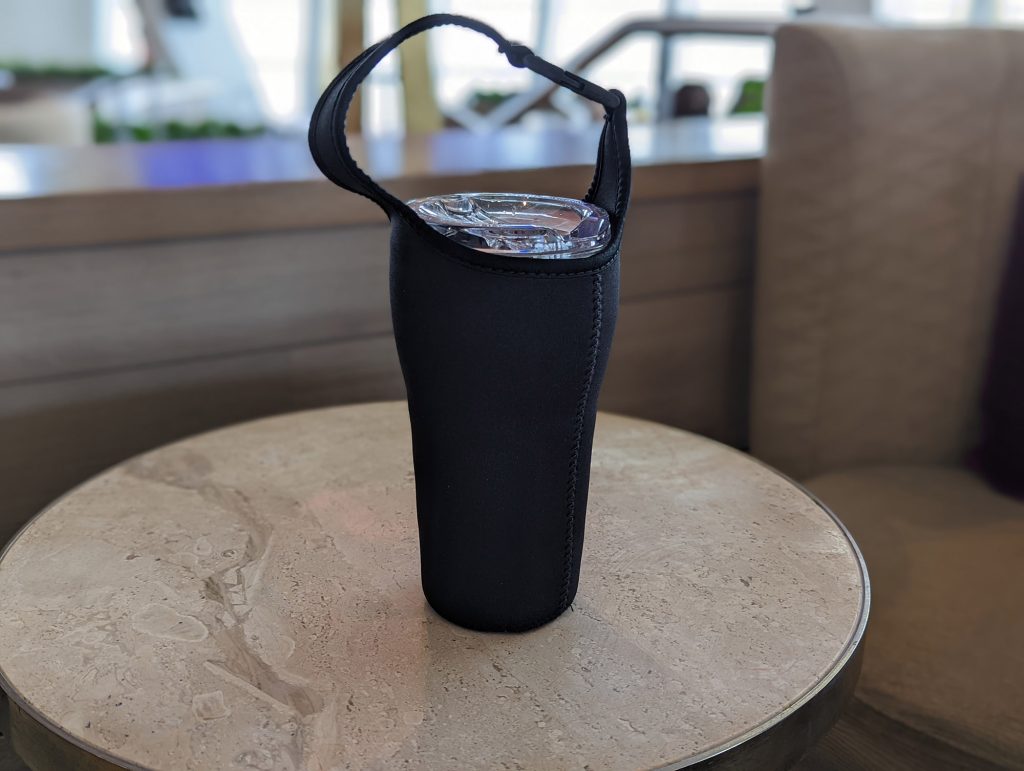 Few announcements or directions from the cruise director and captain
Usually, throughout the day, you'll hear helpful information and announcements from both the cruise director and the captain. It's especially evident on sea days since there's so much to do, and you're on the ship all day. 
On the Ovation of the Seas, you were pretty much on your own. Announcements were few and far between, and they were very difficult to hear. For some reason, very few announcements were broadcast into the staterooms. You'd have to be in a public area to hear them, and even then, they were so quiet that you wouldn't hear them unless you were right next to the speakers. 
The lack of communication made me feel much more disconnected compared to other cruises where you feel like you're all in it together. It's also frustrating that with all the emphasis Royal Caribbean puts on using their app on board, they have no way to push messages to you on there. For example, if the cruise director makes an announcement, it'd be great if it was also typed out and pushed to the Royal Caribbean app. 
Second lunch at Cafe Two70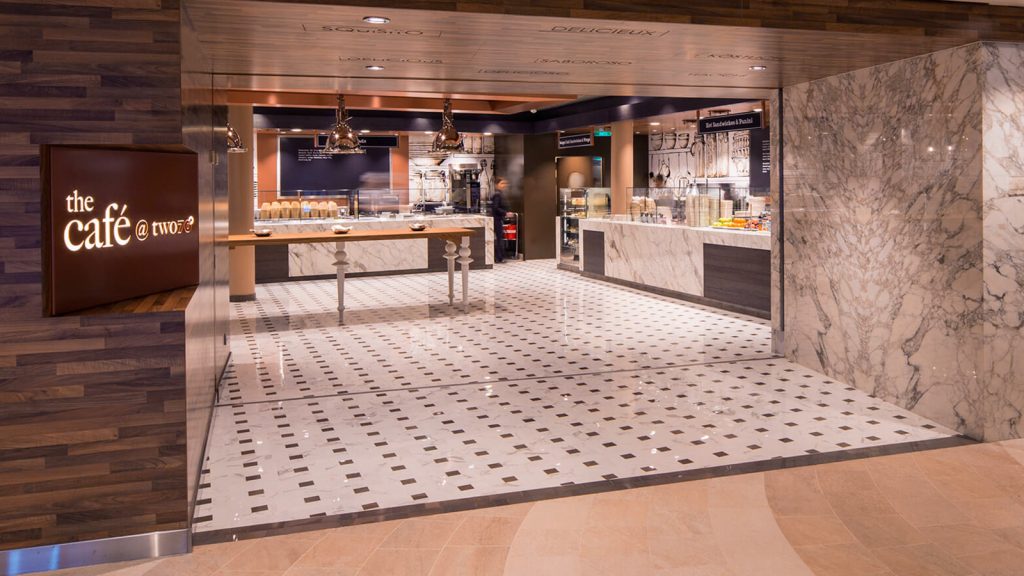 The hot dog wasn't enough to be a whole lunch, so we headed to another alternate food venue, Cafe Two70. This small restaurant is located in the Two70 lounge at the back of the ship on Deck 5. It's an included food venue, so there's no extra charge to eat here. The cafe also has a small coffee stand serving Starbucks coffee. 
Most of the food at Cafe Two70 is made to order, so it takes some time to get your food. The sandwiches are pre-assembled, so you can't adjust them based on what you want, but they are cooked to order, and nothing is sitting around. You can get things like hot and cold sandwiches, custom salads, and pastries.  
By the time we got to the cafe, it was a little after noon, and Cafe Two70 had a decent crowd. It took 11 minutes to get my food and find a table. I had a turkey club sandwich which was very tasty but also very small. If I had realized the size, I would have gotten a couple of sandwiches. 
Skydiving on a cruise ship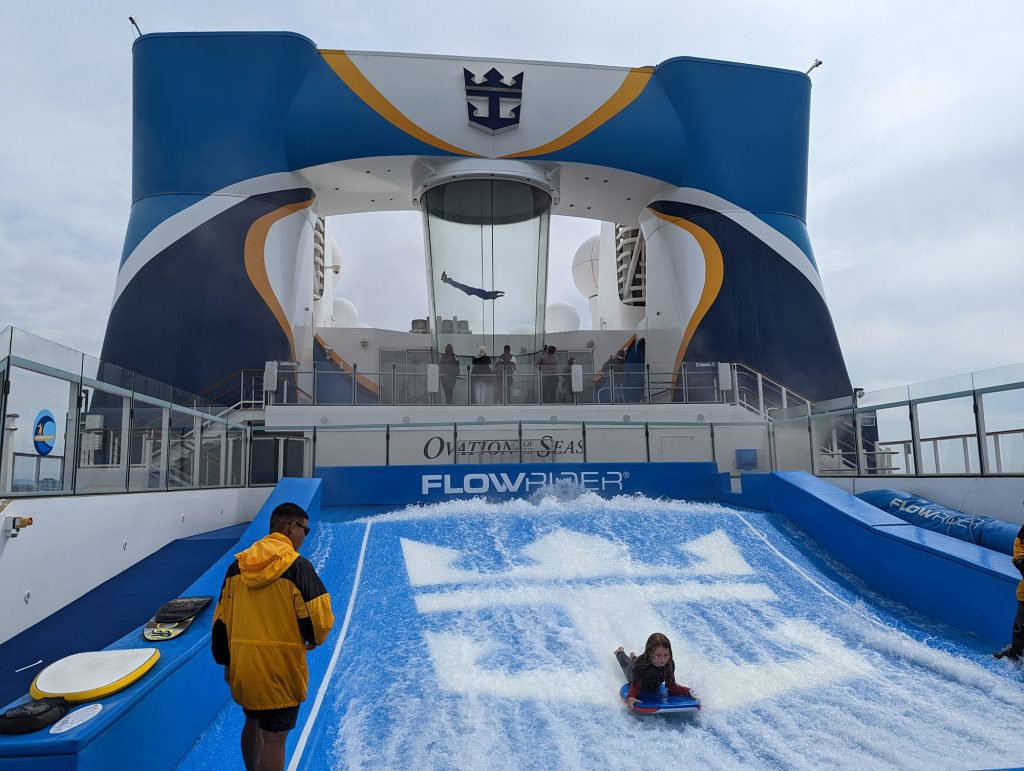 Ovation of the Seas has an iFLY attraction, a skydiving simulator where a wind tunnel suspends you in the air using 150 mph gusts of wind. Located on Deck 16 at the rear of the ship, near the FlowRider, the iFLY attraction is unique for a cruise ship. On our sailing, there were offering two versions; a complimentary version and one for an additional fee which cost $19 per person. You get more time in the tunnel with the paid experience, but we opted for the complimentary (free) version, which still gave us plenty of time.
While we were on line to board the ship the previous day, we were able to snag one of the free iFLY sessions on a sea day. These went quickly at the beginning of the cruise, but there seemed to be more openings on the last days. 
TIP: Sign up for iFLY using the Royal Caribbean app as soon as you board the ship. A lot of people don't know you need reservations or can use the app, so the line at the iFLY desk gets long.
15 minutes before our appointment, we went to the iFLY office to fill out and sign the waivers. Then, we went into a room to watch a quick 5-minute video about the experience. Then we headed into the "hanger" to get suited up. You have to wear a blue jumpsuit, goggles, a helmet, and earplugs. You can't have any loose articles on you, and even rings have to be removed or taped down. They have storage shelves there to put your stuff, but they're not locked, so if you have anything very valuable, leave it in your cabin beforehand. 
Once we all suited up, we walked up the stairs to the large wind tunnel, which just appeared to be a tube at the top of the ship. Our group consisted of 10 people who spanned all age ranges, from a 10-year-old boy to a woman in her 70s. The instructor would call us into the tunnel one at a time, and we'd jump into the column of air. The instructor uses several hand motions that help communicate what you need to do in the tunnel, like pick up your chin, straighten your legs, and curl your legs.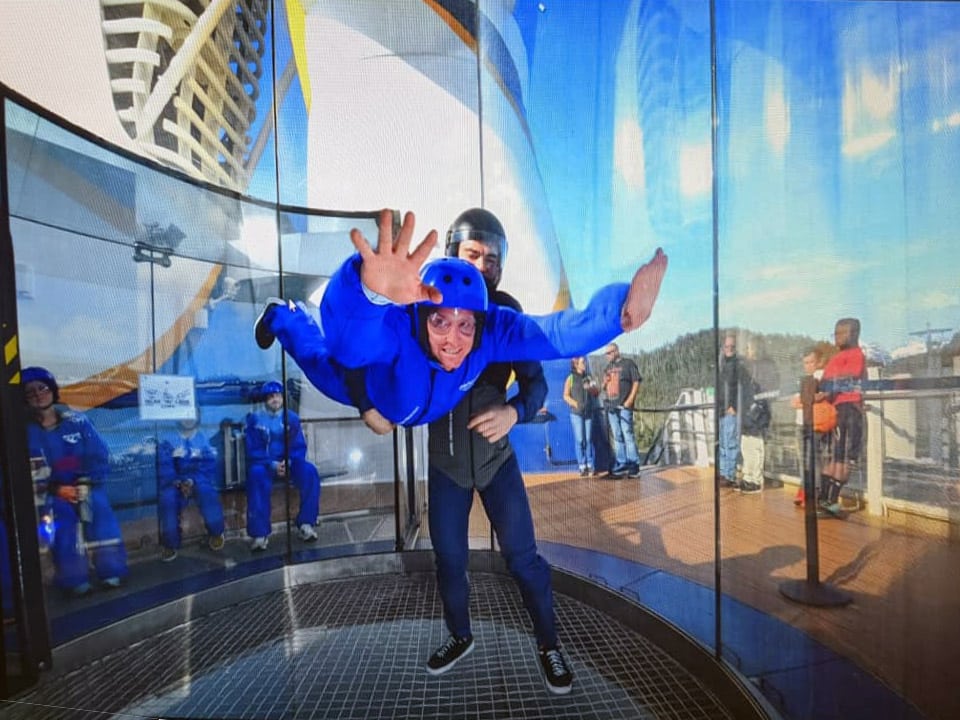 It was much harder to get the hang of than I thought. You have to be in tune with your body and "feel" the air to understand how to position yourself in it. The instructor is in there with you, keeping you steady and making sure you are stable and don't fall. Overall, I would rate my performance as solidly mediocre. I just couldn't get the position perfect, but I still had a lot of fun. The people who struggled had more time with the instructor holding them in place. For the people who got the hang of it, mostly the kids, he'd do tricks like spin them around in circles and let them go for a bit. Just note, no matter your skill level, you're not going to be flying high in the chamber like the professionals. But, as someone who couldn't quite get the hang of it, it was still a fantastic experience. 
While we were flying, a photographer sat outside the tube and took a bunch of pictures. After we finished, we had a chance to review them and purchase them. They were $45 for a set of 3 and a "folio" with your official certificate. They let you mix and match, so if you have three people, you can get one photo of each of you and split the $45. The price was a bit steep for me, so we passed on the pictures. We tried to look at them again later on in the cruise, but those pictures aren't loaded into the ship's system. So if you don't buy them at that time, you're out of luck. There's space around the wind tunnel where people can stand and take pictures, so I suggest having a friend or loved one wait outside and take pictures instead. 
Formal Night for Dinner
In the Cruise Compass, this evening was listed as "Formal Night." It's a time when they encourage guests to dress up for dinner. They suggest "suits and ties, tuxedos, and evening gowns." We saw everything on this sailing, from full suits to khakis and a polo for men and sundresses to full-on ballgowns for women. 
Photographers were stationed throughout the Royal Esplanade, offering to take pictures against stock backdrops. A lot of the people who dressed were getting pictures taken. Getting your picture taken is free, and then, later on, you can go to the computers in the photo lounge and look up your shots and see if you want to purchase them. It's annoying that you can't do it on the Royal Caribbean app or even search by your face like some other cruise lines. Instead, you put your cabin number in and hope the photographer entered it correctly. Unfortunately, the two pictures we took weren't correctly matched to our cabin number, and we weren't going to scroll through the hundreds of photos to find it, so we gave up.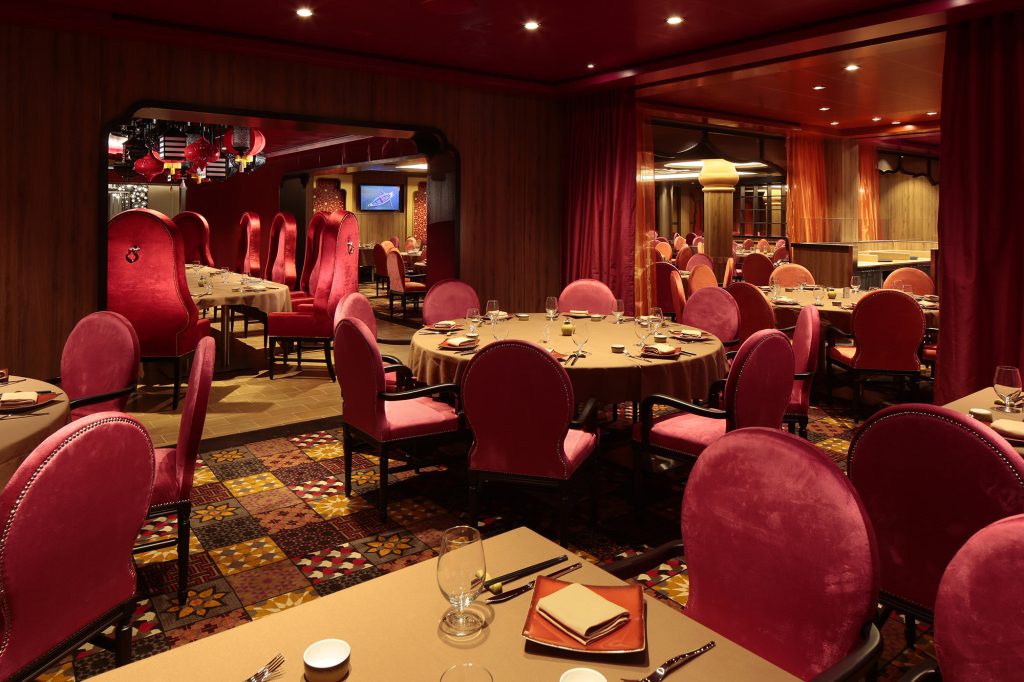 We scheduled dinner for 7pm, and the line was much smaller this time, taking only 5 minutes to get seated. We were seated in the Silk dining room. Decorated with a beautiful red and gold color scheme, the Silk Dining room has a distinctly Asian flair. Personally, this dining room was a bit dark for me, but some people preferred that vibe. Our waitress was prompt and courteous, but she was very busy, and she had a lot to do. Overall, the service was just "okay." Still, we were done in about 55 minutes.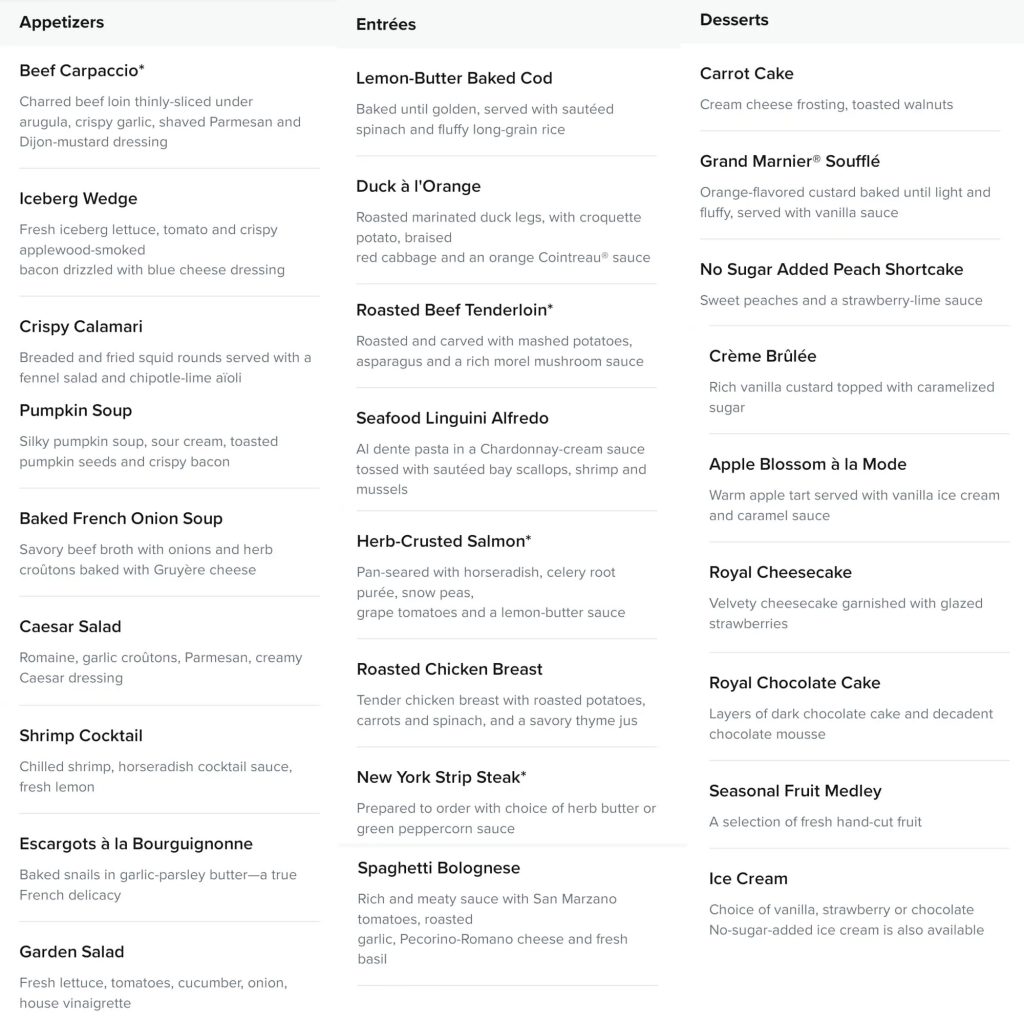 Cocktails crafted by a robot
For after-dinner drinks, we stopped by the Bionic Bar. Here, you order your drinks using a tablet, and two robots rotate around a platform and make your cocktail. There's a variety of pre-populated recipes to choose from, or you can make your own. It came out to $12 per drink after gratuities (I don't know why you are required to tip the robot bartender 18%). We noticed people who made their own drinks were often unhappy with the quantity they received. The premade recipes and made to be the optimum size. If you make your own and miss things like a mixer or ice, your cup will look empty even though you got what you asked for. I suggest sticking to the premade recipes.
Silent Disco in Two70
The last thing we did on day 2 was the Hush, Silent Disco in the Two70. If you've never been to a silent disco before, they're a lot of fun. When you arrive, you get a headset which will be the only music playing. You'll be able to choose from two different channels, in this case, blue or green. Each channel has a different DJ, and people can switch between them as the night goes on.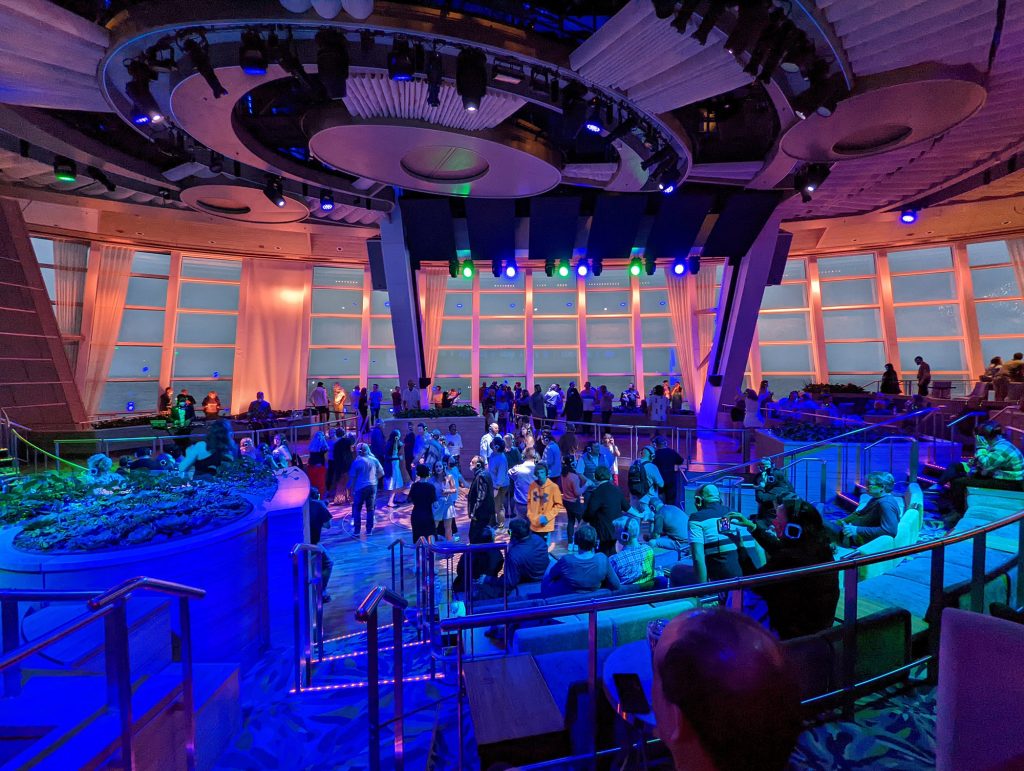 We arrived at the Silent Disco at the start, 10pm, and there was a lengthy line outside of Two70. People were getting antsy and angry about the line, but apparently, they didn't think it'd be so popular and didn't bring enough headsets to the lounge. So they sent someone for some more, and once they arrived, the line flew. Overall, it took us 12 minutes to get into the venue. Most of the time after that, people could just walk in without any line.
The Two70 lounge is impressive in the day, with its floor-to-ceiling windows, but I was surprised it was just as remarkable at night. The dynamic mood lighting made it feel hip and trendy, and the multiple levels around the room left lots of room for dancing and congregating. As a result, it didn't feel crowded at all, and people were able to spread out.
One of the best parts of a Silent Disco is taking your headphones off and watching people dance around in almost complete silence. There were several group dances, like the Cha-Cha slide, and it was fun watching a whole group of people do a choreographed dance with no discernable audio cues. Looking at the sea of people, you could also see when one DJ was doing better than another. Overall, it was a fun experience, and I would definitely recommend checking it out. Even if you're not a dancer, there is plenty of seating and drink service so you can people watch. It's even more fun when you don't have to deal with screaming over the music to talk to the people you're with.
The Silent Disco is one of this ship's longest activities at an hour and a half (they usually stick to 45 minutes max). We stayed for about an hour and then headed back to the cabin.
Ovation of the Seas – Day 2 wrap-up
Overall, the day at sea was a great success. Ovation of the Seas is a big ship; there was so much to see and do. Although we hadn't left the ship, we managed to walk 4.8 miles over the day! That's the downside of a large ship like this; there can be a lot of walking.
Even though it was operating at near full capacity (we were told around 4,000), it was amazing that it rarely felt crowded on this sea day. It would have been nice if they used bigger venues for some of the trivia and had more activities throughout the day, but overall, it was a great day.
Follow along on the rest of our Alaskan cruise on Ovation of the Seas
Ovation of the Seas – Cruise Blog - Day 1 – Seattle
Ovation of the Seas – Cruise Blog - Day 2 – Sea Day
Ovation of the Seas – Cruise Blog - Day 3 – Juneau
Ovation of the Seas – Cruise Blog - Day 4 – Skagway
Ovation of the Seas – Cruise Blog - Day 5 – Sitka
Ovation of the Seas – Cruise Blog - Day 6 – Sea Day
Ovation of the Seas – Cruise Blog - Day 7 – Victoria
Ovation of the Seas – Cruise Blog - Day 8 – Debarking in Seattle
6 Hits & Misses of Ovation of the Seas
If you want to stay up to date with what we publish, sign up for our monthly newsletter
CruiseSpotlight is an Amazon Associate. We may earn a commission when you click links to retailers and purchase goods.